Aaron Ramsey targets FA Cup glory for Arsenal
Aaron Ramsey was left in tears after trudging off Wembley following Cardiff's defeat to Portsmouth in the 2008 FA Cup final. It is an experience he does not intend to relive this year. We look at his preparations for the clash with Hull City
Last Updated: 16/05/14 9:37am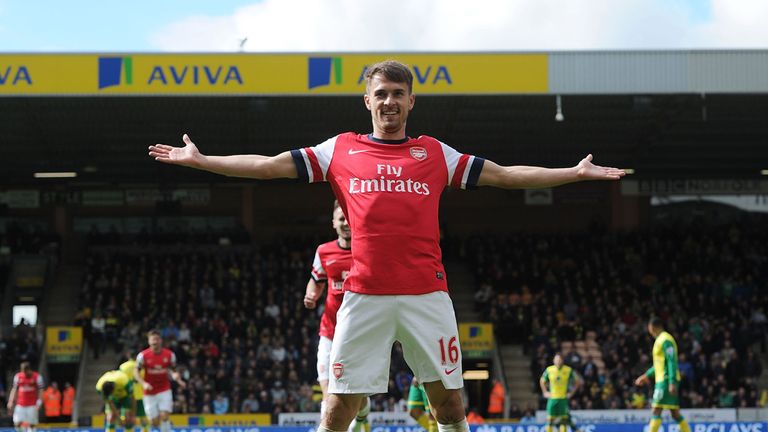 Ramsey was aged just 16 and 142 days when he came on for a cameo in the final half-hour of the 2008 final as the Bluebirds looked to wrestle themselves back into the match, but could not cancel out Kanu's late first-half strike for Harry Redknapp's men.
Having come through the youth ranks of the Welsh club it was a huge disappointment for Ramsey.
The midfielder subsequently joined Arsenal in a £5million deal that summer, spurning the advances of both Manchester United and Everton to further develop his game under Arsene Wenger.
Still only 23, Ramsey has come along way, recovering from an horrific double leg fracture at Stoke in February 2010 which would sideline him for some nine months, as well as questions over his long-term Arsenal future.
It is testament to the Welshman's determination to serve up a rather large helping of humble pie that his return from three months out with a thigh injury earlier this season could not come soon enough following a blistering start to the campaign, with some 13 goals.
Ramsey fought through a gruelling extra-time and penalty shoot-out win over Wigan in the semi-final, and after such a collective effort, is determined to secure another happy memory on return to the national stadium to take on Hull.
"I have had a disappointment at Wembley in a final before with Cardiff and hopefully this time it will be different," Ramsey said.
"It is really exciting for us, and it is where we want to be, competing to win silverware and we have a big opportunity to do that."
Ramsey is confident if this Arsenal squad can get their hands on that illusive long-awaited first trophy, then it could be just the start for Wenger's latest generation of talent.
"Hardly anyone of us in the dressing room has won anything, so hopefully it would drive us on," he said.
"We have people here who are hungry to win and we are still a really young team and were top of the league right up until February.
"We are close, maybe we just need to win one thing to go on and be successful for five or 10 years."
While Arsenal could yet secure a successful end to the campaign, there will always remain a sense of what might have been had Wenger not lost the services of key men like Ramsey, Theo Walcott, Jack Wilshere and Mesut Ozil all to different spells on the sidelines as their Premier League title challenge fell by the way side and European ambitions were ended by Bayern Munich.
"It was really frustrating being out, missing so many big games and it took longer getting back to fitness than I would have liked, but it is great to be back," Ramsey said.
Gunners fans will be hoping this time when Ramsey walks off the Wembley pitch, they can all share a few tears of joy and perhaps the start of another sustained period of success clearly craved as much inside the Arsenal dressing room as on the terraces.