Hull's greatest?
Who has been Hull's best manager? Sky Sports is launching a vote to discover the finest boss in the history of each current Premier League club and we want your opinions
Last Updated: 13/08/13 4:25pm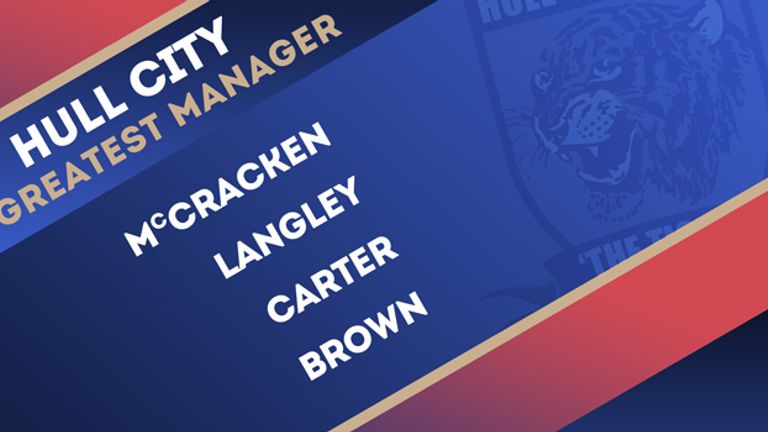 Steve Bruce has earned many plaudits for his part in helping Hull City return to the Premier League, however, he has still got some way to go before he can be considered the best manager in the club's history. But who is the greatest? Sky Sports has narrowed down four leading managers from Hull's past and we want your opinion and vote on the best of the bunch. Have your say and we will announce the winner in the week commencing 12th August.
Phil Brown (2006-2010)
Brown was manager of Hull when they reached the Premier League for the first time in their history for the 2008/09 season. It is an even more remarkable feat given that when he took over in 2006, Hull were in the Championship relegation zone. A play-off final win secured the place in the Premier League and they took the top flight by storm in the first half of the 2008/09 campaign which ultimately proved enough to keep them up.
Raich Carter (1948-1951)
He joined the Tigers in 1948 and was player-manager for the next three years. Carter is regarded as one of Hull's greatest players and as manager helped the team to the Division Three (North) title in the 1948/49 season. Carter left Humberside and took over at Irish side Cork Athletic in 1953. The first game at the KC Stadium with Sunderland was played for the Raich Carter trophy, a sign of the impact he had on the club.
Billy McCracken (1923-1931)
The former Newcastle United playing legend took over as manager at Hull in 1923 and seven years later he was to guide them to an FA Cup semi-final. McCracken would leave Hull in 1931 but had left his mark at the club. He went on to manage Gateshead, Millwall and Aldershot.
Ambrose Langley (1905-1913)
Langley secured fifth, fourth and third-place finishes in the Second Division after taking over as Hull player-manager in 1905. Their third place in 1910 was only not enough to earn promotion due to goal difference. Langley left Hull in 1913 after eight seasons. He would later become manager of Huddersfield Town.
Who do you think has been the greatest manager in Hull's history? Have your say via the feedback form below and vote in our poll. Voting closes on 9th August