Football Commentator & Columnist
Capital getters
Martin Tyler brings you stats on Sturridge, Gabbidon and more...
Last Updated: 03/09/13 12:36pm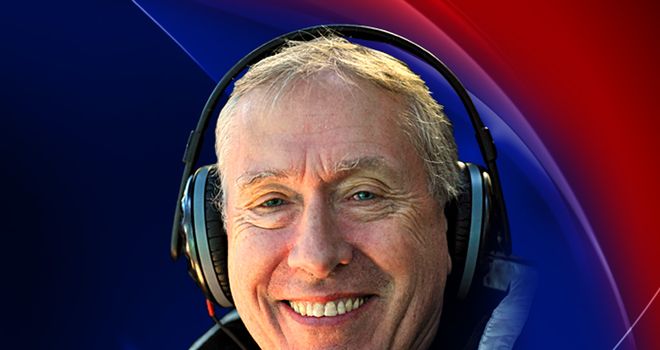 Tyler's Teaser
Every week, Martin will set you a question of his own to get your grey matter working. Click above for this week's Tyler's Teaser - delivered to you direct from the Emirates.
Send your questions to Martin
1: Email your posers to skysportsclub@bskyb.com
2. Use the feedback form at the bottom of this page.
Martin's starting stats
I was at the 153rd game between Tottenham and Arsenal on Sunday and witnessed Arsenal's 63rd win. Spurs are still stuck on 49 wins and there have been 42 draws between the sides. In the Premier League there have been 43 meetings with Arsenal winning 17, Tottenham winning nine and 17 draws.
Spurs have still only won two of 22 games away to Arsenal in the Premier League. The first was in 1993 when they won 3-1 - though Arsenal rested a lot of players for the FA Cup Final as it was the final game of season. The other win was November 2010 when they came back from 2-0 down to win 3-2.
Olivier Giroud has scored in all three of the Premier League games this season, but Roberto Soldado couldn't keep up his record after scoring in the first two.
Capoue, Paulinho, Townsend, Soldado, Chadli and Lamela all played in their first North London derby, but Arsenal had no derby debutants on the day. The game was Spurs' first defeat since they lost 1-0 to Fulham on March 17 and was only their third Premier League defeat in their last 25 games.
Giroud has now scored 14 Premier League goals, all in London, and that leads us nicely on to our first question this week...
Kings of the capital
Dear Martin. After watching the North London derby on Sunday afternoon I read that Olivier Giroud has scored all of his Premier League goals in London. This got me wondering which player has scored the most Premier League goals in London? Could you find out or ask the people at Opta? Keep up the good work. Gareth Christie (Arsenal fan)
MARTIN SAYS: You mention Olivier Giroud, but you may not be surprised to hear that the answer to your question is another French Arsenal striking hero: Thierry Henry.
The Arsenal legend scored 133 Premier League goals in London in his career with 120 of those coming in home games at the Emirates or Highbury. He also scored four at Charlton, three at Fulham, two at Chelsea and one at Crystal Palace, Tottenham, West Ham and Wimbledon.
According to Opta, only one other player has scored more than 100 goals in London and that man is Frank Lampard, who has of course only played for West Ham and Chelsea in the Premier League. He has notched 105 Premier League goals in the capital.
Below is a list of players to have scored more than 40 Premier League goals in London:
Thierry Henry - 133
Frank Lampard - 105
Jermain Defoe - 80
Les Ferdinand - 76
Didier Drogba - 76
Teddy Sheringham - 75
Ian Wright - 74
Robin van Persie - 71
Robbie Keane - 63
Jimmy Floyd Hasselbaink - 59
Dennis Bergkamp - 54
Chris Armstrong - 46
Nicolas Anelka - 45
Jason Euell - 44
Dean Holdsworth - 43
Paolo Di Canio - 43
Robert Pires - 43
Gianfranco Zola - 42
Emmanuel Adebayor - 42
Baggie blanks
Dear Martin. I have a question for your page. West Brom have not scored in three Premier League games. How long must they go before breaking the record for the longest start without a goal if they haven't already? Cliff (West Brom fan)
MARTIN SAYS: If West Brom fail to score in their next Premier League home game at home to Arsenal then they'll become only the fourth Premier League side in history to fail to score in their opening four games.
The other four were:
Sheffield Wednesday in 1993/94 - In the second Premier League season, Sheffield Wednesday failed to score against Liverpool, Aston Villa, Arsenal and West Ham before Mark Bright scored in the 12th minute of a 1-1 draw at Chelsea in their fifth game.
Swansea City in 2011/12 - Swansea's first season in the Premier League wasn't a fruitful one in front of goal at first. They failed to score against Manchester United, Wigan, Sunderland and Arsenal and only opened their account through a Scott Sinclair penalty in the 14th minute of game five against West Brom.
Newcastle United in 2005/06 - Newcastle failed to score against Arsenal, West Ham, Bolton and Manchester United in the first four games of the 2005/06 campaign and it took until the 78th minute of their fifth game before Charles N'Zogbia opened their account in a 1-1 draw with Fulham.
No side has failed to score in their first five Premier League games and West Brom will need to net before the 79th minute of their fifth game against Stoke to avoid becoming the side that has gone the longest without scoring at the start of a Premier League season.
They have much longer to go before they would record the longest overall goal drought in Premier League history, as Crystal Palace went 10 games without a goal between November 1994 and January 1995.
Liverpool's shut-outs
Dear Martin. As a Liverpool fan I'm pretty pleased with our start to the new season. For me, the most surprising aspect is that we are the only side in the league who haven't conceded a goal yet. Has a side ever started the season with three clean sheets before? Luke (Liverpool fan)
MARTIN SAYS: This is almost the inverse question to that posed by the West Brom supporter above!
Several sides have started the season with three clean sheets and in fact Liverpool would need to produce shut-outs in another three games if they want to match the best defensive start to a Premier League season. In 2005/06, Chelsea didn't concede in any of their first six games of the season (against Wigan, Arsenal, West Brom, Tottenham, Sunderland and Charlton) before Aston Villa's Luke Moore broke the streak in the 44th minute of their seventh game on September 24.
Two sides have gone five games before conceding their first goal: Portsmouth in 2006/07 and Manchester United in 1997/98.
The overall longest streak of clean sheets came in 2008/09 when Manchester United kept 14 clean sheets in a row from November 2008 to February 2009. That streak was ended by Blackburn's Roque Santa Cruz in a 2-1 win for United at Old Trafford.
On a personal note, my Kingstonian side kept a club-record six consecutive clean sheets at start of this season before finally letting in a goal against Maidstone on Saturday! We were very pleased with that!
Sturridge's streak
Dear Martin. Liverpool have won all of their games 1-0 this season and Daniel Sturridge has scored in all of them. Has anything like this ever happened before? How many other players have scored in the first three games because I can't imagine it happens very often? Lucas Glover (Liverpool fan)
MARTIN SAYS: Daniel Sturridge became the first player in Premier League history to score in three successive 1-0 wins for a team, but as mentioned last week we did see something slightly similar in the very first Premier League season when Dalian Atkinson scored in Aston Villa's first three games and all of those matches ended as 1-1 draws.
In total, 26 players have scored in a team's first three games of a Premier League season so it's not exactly a rare occurrence. Indeed, Arsenal's Olivier Giroud has also done it this season alongside Sturridge. He is in fact the second Liverpool player to achieve the feat after Robbie Fowler in 1994/95.
The record streak for a player scoring at the start of a season is FIVE matches. That was achieved by two players:
WAYNE ROONEY scored in the first five games of Manchester United's season in 2011/12 against West Brom, Tottenham, Arsenal, Bolton and Chelsea.
JOSE ANTONIO REYES scored in the first five games of Arsenal's 2004/05 campaign against Everton, Middlesbrough, Blackburn, Norwich and Fulham. He also scored in the Community Shield that year too!
The 26 players to have scored in the first three games of a club's Premier League season are:
| | | |
| --- | --- | --- |
| Player | Team | Season |
| Olivier Giroud | Arsenal | 2013/14 |
| Thierry Henry | Arsenal | 2003/04 |
| José Antonio Reyes | Arsenal | 2004/05 |
| Sylvain Wiltord | Arsenal | 2002/03 |
| Dalian Atkinson | Aston Villa | 1992/93 |
| Ivan Klasnic | Bolton Wanderers | 2011/12 |
| Michael Ricketts | Bolton Wanderers | 2001/02 |
| Darren Bent | Charlton Athletic | 2005/06 |
| Florent Malouda | Chelsea | 2010/11 |
| Branko Strupar | Derby County | 2000/01 |
| Ian Marshall | Ipswich Town | 1993/94 |
| Robbie Fowler | Liverpool | 1994/95 |
| Daniel Sturridge | Liverpool | 2013/14 |
| Emmanuel Adebayor | Manchester City | 2009/10 |
| Edin Dzeko | Manchester City | 2011/12 |
| Carlos Tévez | Manchester City | 2012/13 |
| Wayne Rooney | Manchester United | 2011/12 |
| Ruud van Nistelrooy | Manchester United | 2005/06 |
| Dwight Yorke | Manchester United | 1999/00 |
| Andrew Cole | Newcastle United | 1994/95 |
| Brian Deane | Sheffield United | 1992/93 |
| Michu | Swansea City | 2012/13 |
| Bobby Zamora | West Ham | 2006/07 |
| Antoine Sibierski | Wigan | 2007/08 |
| Carl Cort | Wimbledon | 1999/00 |
| John Fashanu | Wimbledon | 1993/94 |
Low-scoring Saturdays
Hi Martin, I noticed this Saturday there were only 9 goals scored. So I wondered is this the lowest amount of goals scored on a Premier League Saturday? Thanks, Robert
MARTIN SAYS: In order to provide a fair comparison, we asked Opta to look at the lowest-scoring Saturdays where six or more games were played. I can tell you that there has only been one such Saturday in Premier League history when fewer goals were scored than last Saturday.
That memorable (or not!) day was November 24, 2001 when six Premier League games were played but just three goals were scored. There were three goalless draws and three 1-0 wins. The results on that day were as follows:
Bolton 0-0 Fulham
Chelsea 0-0 Blackburn
Leicester 0-0 Everton
Newcastle 1-0 Derby
Southampton 1-0 Charlton
West Ham 0-1 Tottenham
Last Saturday was the sixth occasion in Premier League history with at least six Premier League games when there were less than 10 goals.
Also, there was only one first-half goal on Saturday, the fewest ever in Premier League history on a Saturday with at least two matches played. That goal was scored by Danny Gabbidon who knew very little about it - and that leads us nicely on to our final question...
Waiting to break your duck
Dear Martin. Like many Crystal Palace fans I never expected to see Danny Gabbidon score a top-flight goal, so I was very happy to see him get one against Sunderland. Has any player played more games than he has before scoring his first Premier League goal? Ed (Palace fan)
MARTIN SAYS: Danny Gabbidon scored his first Premier League goal in his 116th Premier League appearance, but there are several players who have had longer waits to break their goalscoring ducks. I have detailed those for you below.
This list excludes those players who are yet to score their first Premier League goal as we felt this was not the question you asked. Top of that list is Kenny Cunningham, who played 335 Premier League games without scoring, followed by Des Walker (264 Premier League games) and Tony Hibbert (259).
I have also excluded goalkeepers. Peter Schmeichel actually played 260 Premier League games before scoring his first goal (for Aston Villa against Everton), while Tim Howard waited 250 games, Paul Robinson waited 199 and Brad Friedel waited 124.
In terms of outfield players, the longest wait was Richard Dunne who scored his first Premier League goal in his 169th Premier League game. The memorable moment came on April 20, 2005 when he scored Manchester City's second goal in a 3-0 win at home to Birmingham.
18 outfield players who played in more than 100 Premier League games before scoring their first goal (excludes players yet to score):
Richard Dunne - 169
Francis Benali - 168
Steve Clarke - 164
Steve Chettle - 158
Luke Young - 151
Ben Thatcher -143
Gary Kelly - 132
José Enrique - 127
John Beresford - 121
Wes Brown - 117
Jonathan Spector - 117
Daniel Gabbidon - 116
Wayne Routledge - 116
Spencer Prior - 113
Ryan Nelsen - 112
Stephen Carr - 110
Gaël Clichy - 110
Phillip Bardsley - 104
Finally, it's the international break so this column will also take a break for a fortnight. Keep your questions coming in during that time. I've really enjoyed looking at them so far this season.