Chris Kamara's verdict on Ozil, Fellaini, Sterling, Bale and Lukaku
Are Arsenal contenders? What now for Sterling? Should Lukaku have left? Kammy has his say...
Last Updated: 03/09/13 4:12pm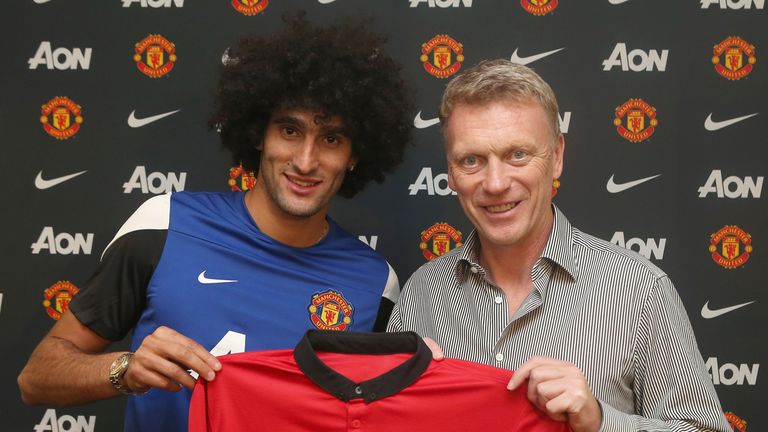 I never had any concerns for Arsenal this season and I couldn't believe the vitriol and abuse I received from the fans when I told them not to panic after their opening-day defeat to Aston Villa. Well, what a difference a fortnight makes! I obviously don't see them every week and I understand the supporters wanted to see signings, but what they had was ok. Now they've brought in Mesut Ozil, which is a really good signing. Anybody leaving Real Madrid this summer was always going to be expensive after the Bale deal and Arsenal have probably paid £10million over the top for him (but how much over the top have Real Madrid paid for Bale???).
They always were title contenders in my eyes because of the new managers at Chelsea, Manchester City and Manchester United and I felt Liverpool, Spurs and Arsenal had an opportunity to break through. As I wrote in this column earlier in the season, the Arsenal fans were ecstatic after beating their neighbours to fourth on the final day of last season after being written off and then all pandemonium broke out after one defeat. From experience of being in football for a long time, you knew things would turn and thankfully from Arsene Wenger's point of view the fans have started to trust their manager and are much happier again. You can't guarantee they're going to win the league, but the personnel and brand of football means they'll be in the mix.
Should David Moyes have widened his horizons?
You live and die by results at football clubs, so it can't have been good for Manchester United to lose to Liverpool. People will say they wouldn't have lost had Sir Alex Ferguson been in charge and now questions are being asked over the signing of Marouane Fellaini. When you're Manchester United manager you can sign any player in the world. Any player. You've got the pick of it. People don't turn their nose up at Manchester United, just as they don't turn their nose up at Real Madrid or Barcelona.
The way that a lot of other managers do things is to go back to your old club for players who never let you down - and David Moyes has gone back to Everton to sign Fellaini. But does he need to be going for tried-and-trusted or do you need to widen your horizons and look elsewhere? Now it's a case of "time will tell" as to whether Fellaini will be a hit at Manchester United or not.
It will be interesting to see where Moyes plays Fellaini
Fellaini thinks his best position is as a central, holding midfield player. If you ask the player that's what he'd say. I think he must have knocked on Roberto Martinez's door because in his last game for Everton that's where he played, but I didn't think he was very effective there, based on that one performance. However, if I lined up 20 scouts or managers to analyse him they would probably all say he's better in an advanced position behind the striker because of his height and ability to get forward. So it will be very interesting to see what Moyes does. Will he knock on Moyes' door and ask to be a holding midfielder, spraying balls around?
What Martinez has done is gone out and bought players who fit the role he wants. Maybe Martinez decided Fellaini wasn't a holding midfield player and brought two midfielders in James McCarthy and Gareth Barry who fit that position. The transfer window might have worked out really well for Everton.
I'm surprised Jose Mourinhio let Romelu Lukaku leave Chelsea
Romelu Lukaku's performances for West Brom last season were fantastic and usually when you send someone out on loan it's to ask them to earn the right to play for your team. Sir Alex Ferguson did it many times and other managers have done it as well, bringing loanees back as better players. I felt Lukaku earned his stripes, but there has been a change of manager and maybe Mourinho feels he wants to bring in his own players. I think he'd have got lots of credit for playing Lukaku as an out-and-out striker because he's got the potential to be every bit as good as Didier Drogba.
Do they have enough options going forward? When you consider they didn't play a single striker against Man United you'd have to say there's more than enough because they have plenty of flair players elsewhere in the team. It seems Jose's tactical nous might play a bigger part than we expected - but if you want to be champions then you can't simply stifle games. You need to go out and play football yourselves.
Liverpool have done good business, but I'd be upset if I was Raheem Sterling
In Victor Moses it seems Liverpool have brought in a young player similar to Raheem Sterling and you can't say the lad has done anything wrong. Maybe Brendan Rodgers thinks he'll require two wide men in certain games and that having a bit of competition for places might improve Sterling and his football education. Maybe there's some method in the madness.
Overall, Brendan has done good business, though. Keeping hold of Luis Suarez is like another new signing and they are in good health after three wins in the league. That said, all of the top teams are in good health and it will be interesting to see how all the new players will fit into their respective clubs.
Tottenham were clever to go about their business before Gareth Bale was sold
If you go after players after selling Bale for £85million then you'd end up spending a fortune more, so Daniel Levy was very shrewd to make all of his signings first. By doing things that way around he avoided paying over the odds. If he'd gone out the day after the Gareth Bale sale then he'd probably have needed to pay double the price for the players he brought in.
Tottenham knew the Bale thing was going to happen because if Real Madrid come knocking and say they want to make your player the biggest transfer in history then you know you're going to have to let him go. You can't keep someone under those circumstances, so they brought their players in and it's now up to AVB to gel them all together. The one thing I know for sure is the competition has never been stronger at the top of the Premier League. I couldn't pick a winner at this moment in time and I probably couldn't even pick a top three because all of the top sides have their strengths and flaws.