Tiger Tom
When a teenage Tom Huddlestone joined Tottenham more than eight years ago, he could not have asked for a better role model than Edgar Davids. He might not plan to copy the iconic Dutchman's hair but Hull's new No.8 tells Sky Sports about returning to Spurs & not holding an AVB grudge
By Peter Fraser - Follow me on Twitter @SkySportsPeteF
Last Updated: 25/10/13 11:29pm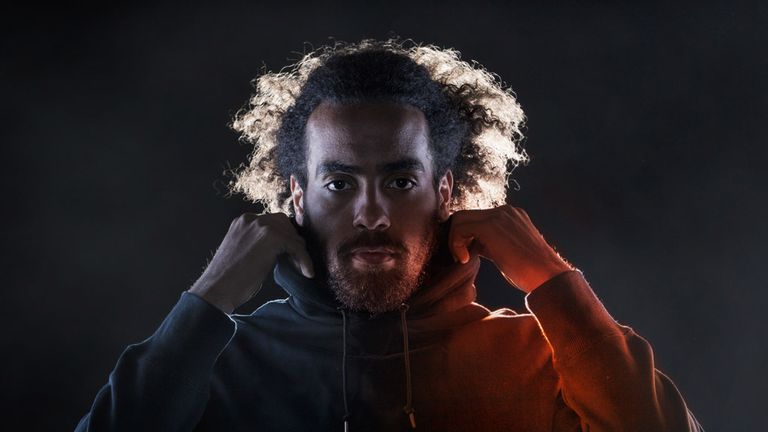 "It is scary how good he is. If there is a better passer of the ball... I do not think there can be," said Steve Bruce of Tom Huddlestone in September. The Hull City manager of course has a vested interest in talking up the talent of his club-record signing but there is no denying the £5.2million, powerful-yet-classy midfielder is having an excellent season.
Now playing on a regular basis, Huddlestone is demonstrating the ability which he has always possessed. His are attributes which are often overlooked in Englishmen. Such has been his form - the manner in which he controls games from the centre of the pitch with a mixture of a superb passing range, ability to tackle and positional awareness - the now-26-year-old received the acclamation from Bruce at a time when a potential return to the England set-up was being debated for the concluding World Cup qualifiers against Montenegro and Poland.
Huddlestone, who at a muscular 6' 2'' strikes an imposing figure - particularly with his current long-haired afro which is being allowed to grow as part of a wager which has already raised more than £12,000 for Cancer Research and will continue to do so until he ends a 30-month goalscoring drought - has not played for his country since earning his fourth cap in England's friendly defeat by a Zlatan Ibrahimovic-inspired Sweden in Stockholm last November.
But that did not stop Bruce from further saying regarding Hull's new No.8: "He has great players ahead of him - the [Steven] Gerrards and [Frank] Lampards of this world and the [Jack] Wilsheres. But there is no reason, playing week-in, week-out and performing like he has been doing, why he cannot [get in the England squad]." A place in Roy Hodgson's plans for the eventual wins over Montenegro and Poland in October proved just out of reach but, from his days as a Derby County youth product, Huddlestone's talent has never been in question.
His skill as a teenager led Tottenham Hotspur to pay £2.5m in order to secure his signature in the January of 2005. He was allowed to stay at Derby for the remainder of that season before then moving to White Hart Lane that summer. A loan at Wolverhampton Wanderers followed in the first half of the 2005/06 campaign prior to Huddlestone then staying with Tottenham. In his eight seasons with the London club, he made 209 appearances and was even captain in UEFA Champions League games having played a key role in helping Tottenham finish in the Premier League's top four under Harry Redknapp in 2009/10. But an ankle operation ended his 2011/2012 season prematurely and stalled his career. When he returned to fitness, Andre Villas-Boas had taken over as head coach at Tottenham and Huddlestone found himself out of a midfield with an increasingly foreign influence. That led to this summer's record-breaking move to Hull, which also saw Jake Livermore join last season's Championship runners-up on loan, and it means Huddlestone will now be on the opposing team when facing Tottenham on his first return to White Hart Lane on Sunday.
Spurs' new, imported midfield is in stark contrast to when Huddlestone first signed for Tottenham more than eight years ago. It was a time when the club were buying young, British talent, including Michael Dawson in the same January along with Wayne Routledge and Aaron Lennon that summer while Gareth Bale - now the world's most expensive footballer - would follow two years later. But in that same summer as Huddlestone moved and Routledge and Lennon arrived, Tottenham - then under the management of Martin Jol - were of course still signing some foreign players and one man in particular.
Dutch legend Edgar Davids joined in the August of 2005 on a free transfer from Inter Milan. The midfielder moved to Tottenham as a 32-year-old in the latter years of his career but he still arrived in England with a world-class reputation and a CV which included a European and UEFA Cup with Ajax along with three Eredivisie titles, and three Serie A titles with Juventus. He had also played for AC Milan and Barcelona. Now managing at Barnet in England's non-league Conference, Davids, with his trademark ponytail and spectacles, was, and still is, an iconic football figure. For an at-the-time 19-year-old Huddlestone, probably as Jol planned, there could have been no better on-field role model in his early years at Tottenham, in terms of honing the passing and midfield skills for which he is now being praised. But perhaps not in a sense of style...
"No, no, I would never consider having mine like Edgar's," laughed Huddlestone with reference to the ponytail potential of his own long hair when speaking to Sky Sports at a Battlefield 4 event. "I do not think I would want to wear glasses when playing a game either! [But] when I was growing up as a kid, he was probably one of the most recognisable footballers in the world. You look at his record and the things he has won at club level in different countries with different teams, and he also played for Holland. Seeing the way he was around the training ground even in his thirties, he was always trying to improve. He would always be in the gym or doing extra on the pitch after training. He was someone you looked up to. He was someone who had won lots in his career but was still trying to improve. As an 18 or 19-year-old kid, I knew I should be doing the same thing.
"He was probably a bit intimidating. Not through any fault of his own but just because of his legendary reputation. But as a guy, he was very nice and very easy to get on with. Throughout the few years he was there, he always spoke to the younger players and was giving us advice about things we needed to tweak in our game if we needed. It was general advice about all of football. Having been there and done it for a number of years, and especially as he broke into the team at Ajax at such a young age, he could relate and understand what we were going through."
Davids' impact upon Huddlestone before he returned to Holland with Ajax in 2007's January transfer window is clear. Although they only played together on the field for Tottenham on six occasions, in which they started just four matches together - including against Port Vale in the fourth round of the 2006/2007 League Cup when Huddlestone scored his first two Tottenham goals to scrape a 3-1 win after extra-time, Davids left a lasting impression. It was one of several factors which helped Huddlestone - as a young, Nottingham-born lad - settle when making what could have been an overwhelming step up from Derby to a club of the size of Tottenham and life in London.
"It was a bit daunting, I guess," said Huddlestone about his move to Tottenham. "But where I signed in the January and did not join up until the summer, it gave me a chance to get everything off the field sorted out - like a place to live. But there were a few of us in the same position, like Aaron and Wayne. We all knew each other from England's Under 21s so we bounced off each other. But it was a great experience. I had two good years at Derby and then going into a massive club like Tottenham was a dream come true and I was playing with full internationals throughout the team. Training with them every day, you had to pinch yourself at times."
Apart from that 2009/10 season when he played 43 times in all club competitions as Tottenham qualified for the Champions League, there is a sense Huddlestone never quite fulfilled his potential at White Hart Lane before his injury. The counter argument is that perhaps he was never given the full opportunity.
But Huddlestone said as to whether there was a feeling of what might have been: "Not really. Obviously when I did get injured, I had come off the back of a good season where we had finished fourth. I was captaining the team in a few of the Champions League games. The injury was a bit of a nightmare at the time, if I am honest, and, if I had not got injured, who knows what might have happened. But I do not think about what might have happened at Tottenham."
Villas-Boas - along with new Tottenham technical director Franco Baldini and chairman Daniel Levy - seemingly decided he wanted to go in a different direction to Huddlestone with non-British midfielders. There is, of course, one English winger making a name for himself at Tottenham and Huddlestone knows the threat of his former club-mate, Andros Townsend: "I spoke to Andros a couple of times around the England games but it was just general congratulations messages." But, on Sunday, Huddlestone will probably be facing an opposing central midfield which contains Brazilian pair Sandro and Paulinho. There are, however, no hard feelings towards the man even Huddlestone calls "AVB" or Tottenham's new direction.
"It was a normal relationship," said Huddlestone of his time with Villas-Boas. "He is approachable if you need to speak to him. On the training pitch or in and around the hotel on away games, he would have a laugh with the players. He was easy to get on with."
Huddlestone added when asked if he was surprised by the foreign influence now at Tottenham: "A little bit. But the chairman and the manager are within their own right to do what they see fit to get their main objective, which is finishing in the top four. The way they [Tottenham] have started [the season], they have justified their decision."
Regardless, Huddlestone will likely want to prove a point when he returns to White Hart Lane this weekend. He will hope to continue with the fine personal form which led to the talk of his England return. Another star performance to compare to that which helped defeat Newcastle United at St James' Park in September could help Bruce's Hull collect just their second set of away points of the season, having lost at Chelsea, Manchester City and Everton, in what has otherwise been an impressive return to the Premier League for a club who were considered relegation candidates by many before the campaign.
"I am pleased with my form," said Huddlestone. "I think myself and the team collectively have started the season well. The manager has given me a new lease of life and an extra bit of confidence. Playing more regularly, you are going to feel the benefits - whether that is a bit of extra sharpness or fitness. It gives you the confidence to try more things during the games.
"A lot of the squad have not got the credit they deserve, footballing-wise. But, in the upcoming weeks, I am sure the way we do play will make people sit up and take notice. But we know we have got some tough games to go. We cannot get carried away. Our main objective is to stay in the league next season and we are on course to do so. But we have still got a lot of hard work in front of us."
Tom Huddlestone was speaking at a Battlefield 4 event, available to pre-order now and on general sale on November1st on Xbox 360, PlayStation 3 and PC. Watch the trailer for the ever-popular shooter series here.