Football Commentator & Columnist
A touch of class
Martin Tyler brings you stats on Cattermole, Hart and Begovic...
Last Updated: 06/11/13 5:50pm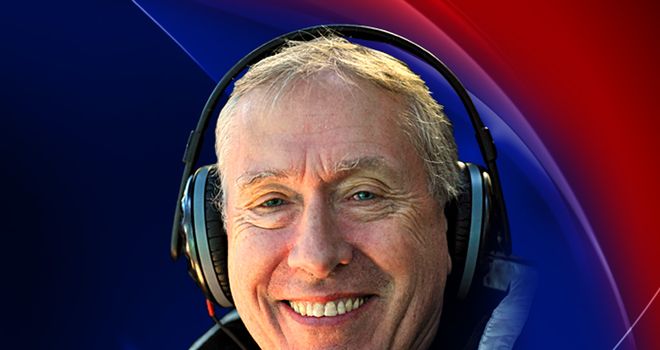 Tyler's Teaser
Every week, Martin will set you a question of his own to get your grey matter working. Click above for this week's Tyler's Teaser - which comes from Goodison Park.
Send your questions to Martin
1: Email your posers to skysportsclub@bskyb.com
2. Use the feedback form at the bottom of this page.
Martin's Starting Stats
Everton v Tottenham was not a great game but there were some pretty good stats to report.
Spurs have now conceded just one away goal in nine games in all competitions this season (quite an expensive one, as it was Olivier Gorud's for Arsenal). Everton have continued their unbeaten home Premier League record in 2013, which now stands at 14 games.
The match was Everton's 4,300th in the top flight - that's more top-flight fixtures than any other club.
Spurs haven't lost outside London since mid-March when they lost two in a row to Liverpool in the Premier League and Inter in the Europa League - but got through on away goals, so even that was technically not a defeat. This was also the eighth of their 10 Premier League games to be staged on a Sunday - and they are live on Sky on Sunday again against Newcastle.
Spurs haven't won at Goodison Park in the league since February 2007 - Michael Dawson and Aaron Lennon played in that win and also played on Sunday. It was Seamus Coleman's 100th league game, including a loan at Blackpool, and he has conceded two of the three pens they have conceded this season - and should have conceded a third against Everton (and had one himself).
Mousa Dembele came on as a substitute to become the only Spurs player to have taken part in all 17 games in 2013/14. Andre Villas-Boas has not beaten Roberto Martinez in four managerial meetings.
Vlad Chiriches has started six games since signing from Steaua and has not conceded a goal. This was also the first game where he didn't win. Also Sandro, who has been there longer, has this season started eight games and they had won the previous seven and not conceded a goal in all eight. Remarkable.
Seven scorers
Hi Martin. In Manchester City's 7-0 defeat of Norwich we saw seven different goal scorers which must be close to being a Premier League record. My question is, has there ever been a game where more than seven players have scored a goal for one team? Thanks, Stu (Man Utd fan)
MARTIN SAYS: Whilst seven different names appeared on the scoresheet on Saturday, Opta have only recorded six goalscorers for Manchester City as one of the goals was a Bradley Johnson own goal. I don't mind which definition you would prefer to use.
If we go with Opta then that means the Premier League record for the most individual goalscorers from one team in a game stands at the seven names that appeared on the scoresheet for Chelsea in their 8-0 home win over Aston Villa last season. Fernando Torres, David Luiz, Branislav Ivanovic, Frank Lampard, Oscar, Eden Hazard and Ramires (2) all scored for Chelsea in that game.
Excluding Saturday, there have been six further games where six players have scored for one side in a single Premier League match. I've detailed those for you below.
Most individual goalscorers for one team in one Premier League game:
SEVEN
23/12/2012: Chelsea 8-0 Aston Villa (Torres, Luiz, Ivanovic, Lampard, Oscar, Hazard, Ramires 2)
SIX
11/05/2005: Arsenal 7-0 Everton (Van Persie, Vieira, Edu, Bergkamp, Flamini, Pires 2)
04/10/2009: Arsenal 6-2 Blackburn (Vermaelen, Van Persie, Arshavin, Fabregas, Walcott, Bendtner)
12/04/2008: Derby 0-6 Aston Villa (Young, Carew, Petrov, Barry, Agbonlahor, Harewood)
14/10/2001: Blackburn 7-1 West Ham (Flitcroft, Dunn, Johnson, Tugay, Jansen, Hignett)*
13/05/2001: Leeds 6-1 Bradford (Viduka, Harte, Bakke, Smith, Kewell, Bowyer)
21/09/2008: Man City 6-0 Portsmouth (Jo, Dunne, Robinhi, Wright-Phillips, Evans, Fernandes)
02/11/2013: Man City 7-0 Norwich (Silva, Nastasic, Negredo, Toure, Aguero, Dzeko)**
*Plus a Grant McCann own goal
**Plus a Bradley Johnson own goal
Regular reds
Dear Martin. I was amazed to see Lee Cattermole get sent off again. Does he have the highest red card-per-game ratio in the history of the Premier League? I cannot think of anybody who would have been sent off more? Mark C (Millwall fan)
MARTIN SAYS: Lee Cattermole picked up the seventh red card of his career on Saturday. Only three men - Duncan Ferguson, Richard Dunne and Patrick Vieira - have been sent off eight times.
However in terms of regularity, Cattermole has been sent off more often than all of those players. His seven dismissals have come in 186 matches, which is a red card every 26.6 games.
We asked Opta to look at players to have played more than 100 times in the Premier League and tell us which of those has played the fewest games per red card. Under this criteria, three men have been sent off more often than Cattermole.
One is Vinnie Jones, who received seven Premier League red cards in two fewer games than Cattermole. He has therefore been sent off every 26.3 Premier League games.
Another former Wales international, John Hartson, ended his Premier League career with a record of one red card every 25.8 games. He got six red cards in his 155 appearances.
However, the most regularly red-carded player in Premier League history is Gary Caldwell, who has only made 102 Premier League appearances and yet has been sent off four times. That's a dismissal every 25.5 games!
Fewest games per red card - Premier League history (100+ games):
| | | | |
| --- | --- | --- | --- |
| Player | Red Cards | Games Played | Games per red card |
| Gary Caldwell | 4 | 102 | 25.5 |
| John Hartson | 6 | 155 | 25.8 |
| Vinnie Jones | 7 | 184 | 26.3 |
| Lee Cattermole | 7 | 186 | 26.6 |
| Frank Leboeuf | 5 | 144 | 28.8 |
| Gianluca Festa | 3 | 100 | 33.3 |
| Franck Queudrue | 6 | 201 | 33.5 |
| Duncan Ferguson | 8 | 269 | 33.6 |
| Alex Rae | 3 | 102 | 34.0 |
| David Wheater | 3 | 105 | 35.0 |
A good touch
Dear Martin. I have a question for you following Asmir Begovic's amazing goal for Stoke at the weekend. I would like to know how many Premier League goals have been scored more quickly (I think Ledley King has scored the fastest). Also, has a goal ever been scored with fewer touches as it was only Stoke's second touch of the game. Mark (Stoke fan)
MARTIN SAYS: Asmir Begovic's goal was timed at 13 seconds and there have been four Premier league goals timed even quicker than that. As you say, the record for the fastest Premier League goal remains Ledley King's opener for Tottenham against Bradford in December 2000, which was timed at just 10 seconds. However, Tottenham touched the ball five times in the build-up to that goal.
The second fastest goal in Premier League history came from Alan Shearer for Newcastle against Manchester City. It was timed at 10.5 seconds and also only required two touches - both from Alan Shearer as he charged down a goalkeeper's clearance and then stroked the ball home into the net.
However, we have found an example of a Premier League team scoring with their VERY FIRST touch of the ball. The goal in question was scored by James Beattie in a 2-1 defeat for Southampton at Chelsea in August 2004. Chelsea kicked off and Joe Cole soon gave the ball away to Beattie who tried his luck from 30 yards and put his side 1-0 ahead with their first kick. The goal was timed at 12.5 seconds and so was quicker than Begovic's as well - and I commentated on it live as well!
Faster goals than Asmir Begovic's in Premier League history:
| | | | | | |
| --- | --- | --- | --- | --- | --- |
| Date | Player | For | Against | Time | Touches of ball |
| 09/12/2000 | Ledley King | Tottenham | Bradford | 10secs | 5 |
| 18/01/2003 | Alan Shearer | Newcastle | Man City | 10.4secs | 2 |
| 17/03/2001 | Mark Viduka | Leeds | Charlton | 11secs | 5 |
| 28/08/2004 | James Beattie | Southampton | Chelsea | 12.5secs | 1 |
Starts for Hart
Dear Martin. Apparently Joe Hart started in 127 Premier League games in a row before being dropped for the match against Norwich on Saturday. I was wondering if anybody is currently on a longer run than Hart and, if not, who has now got the most starts in a row? I assume it will be another goalkeeper? Cain (Man C fan)
MARTIN SAYS: Joe Hart's run of 127 starts in a row was an ongoing Premier League record, which came to an end on Saturday. The last game he didn't start was for Birmingham against Man City in April 2010 because of loan regulations. He played every other game that season apart from the two against his parent club.
You may be surprised to hear that the player that has currently started the most consecutive Premier League games is Stoke's Jonathan Walters. He has played in 99 games in a row and the last game he failed to start was on February 5 2011 when he came on as a second-half substitute at home to Sunderland. He can make it 100 starts in a row against Swansea at the weekend. Only one other player has started the last 50 Premier League games, which is Simon Mignolet who has started 50 times in a row in the league for Sunderland and Liverpool.
Most ongoing consecutive Premier League starts:
Jonathan Walters (99)
Simon Mignolet (50)
Leighton Baines (49)
Jussi Jääskeläinen, Asmir Begovic (48)
Brad Guzan (46)
Steven N'Zonzi (45)
Michael Dawson (29)
Ryan Shawcross (28)
Jonas Olsson (27)
However, none of these players can match the run of Brad Friedel who started 310 consecutive Premier League games between August 2004 and October 2012. That run was ended when he was named on the Tottenham bench behind Hugo Lloris against Aston Villa. In fact he only missed the final two games of the season in 2003/04 or the run would have been even longer. He is also stuck on 449 Premier League appearances and would have reached 450 if Spurs has taken Hugo Lloris off on Sunday.
Home shut-outs
Hi Martin, I am great fan of your column and always look forward to the interesting stats every week. I noticed this weekend that there were 10 clean sheets out of the 20 teams that competed in the league games. I cannot remember so many shut-outs in a weekend of the Premier League. Is this a record? Also, there were only 4 away goals in 10 games. Is this a record? Many thanks, Buddy Eastwood
MARTIN SAYS: The results this weekend were as follows and you're right to say there were 10 clean sheets and only four away goals. Only Southampton and Manchester United (3) scored on their travels.
Cardiff 1-0 Swansea
Everton 0-0 Tottenham
Arsenal 2-0 Liverpool
Fulham 1-3 Man Utd
Hull 1-0 Sunderland
Man City 7-0 Norwich
Stoke 1-1 Southampton
West Brom 2-0 Crystal Palace
West Ham 0-0 Aston Villa
Newcastle 2-0 Chelsea
Opta cannot go through the history of the Premier League, but we have found two weekends when more clean sheets were kept in 10 Premier League games. They are as follows:
Saturday 7 and Sunday 8 February 2009 (11 clean sheets):
Tottenham 0-0 Arsenal
West Ham 0-1 Man Utd
Man City 1-0 Middlesbrough
Chelsea 0-0 Hull
Blackburn 0-2 Aston Villa
Sunderland 2-0 Stoke
Wigan 0-0 Fulham
West Brom 2-3 Newcastle
Everton 3-0 Bolton
Portsmouth 2-3 Liverpool
Saturday 22, Sunday 23 and Monday 24 November 2008:
Liverpool 0-0 Fulham
Stoke 1-0 West Brom
Chelsea 0-0 Newcastle
Man City 3-0 Arsenal
Middlesbrough 1-3 Bolton
Portsmouth 2-2 Hull
Aston Villa 0-0 Man Utd
Tottenham 1-0 Blackburn
Sunderland 0-1 West Ham
Wigan 1-0 Everton
There were only four away goals this matchday, but matchday 24 in in 2007/08 saw only two away goals scored - by Man City at Derby and by Blackburn at Aston Villa (which was the only game played on the Saturday. The other nine fixtures were played in midweek due to the FA Cup).
Saturday 26, Tuesday 29 and Wednesday 30 January 2008:
Aston Villa 1-1 Blackburn
Arsenal 3-0 Newcastle
Middlesbrough 1-0 Wigan
Bolton 0-0 Fulham
Sunderland 2-0 Birmingham
West Ham 1-0 Liverpool
Derby 1-1 Man City
Chelsea 1-0 Reading
Everton 0-0 Tottenham
Man Utd 2-0 Portsmouth