Hull of a job
After ten games Hull City have three fewer points than Manchester United yet their start to the season appears to have gone unheralded. Alex Dunn looks to redress the balance by questioning whether snobbery is preventing Steve Bruce and his players getting the praise they merit
By Alex Dunn - @skysportsaldunn
Last Updated: 09/11/13 8:45am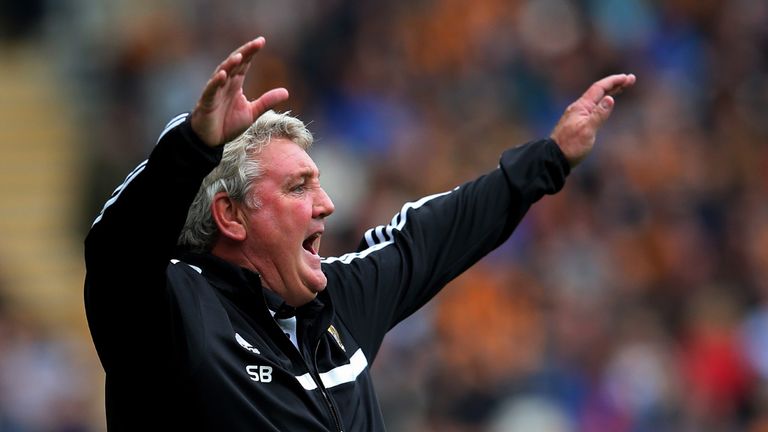 Oxford, Cambridge, Hull. A punchline to an old Blackadder joke about England's great universities seems to have little relevance to the latter's Premier League credentials, but for a city beaten to the point of being emboldened by the jibes of outsiders it echoes what was said about a Steve Bruce team unilaterally written off before the proverbial ball had been kicked in anger. The question at the start of the season was not whether Hull City would be relegated but rather by how many points.
Ten games in and Hull have three fewer points than Manchester United and have already played Chelsea, Manchester City, Tottenham and Everton away from home. It's a start that celebrates the transcendent potential of sport in all its glory and yet the platitudes afforded to Bruce and his team appear more transient, fleeting praise drafted in pencil not pen. Bruce is pragmatic enough not to be overly concerned about the failure of hardened hacks to effusively resurface predictions of a season akin to slow death in East Yorkshire, but it would be remiss not to at least attempt to redress the balance.
Hull's favourite adopted son, the late great poet Philip Larkin, described the place he made his home for 30 years before his death as 'a working city, yet one neither clenched in the blackened grip of the industrial revolution nor hiding behind a cathedral to pretend it is York or Canterbury'. It's also an apt description of its football team. Bruce has moulded a side in his own image, one without pretence or illusions of grandeur. It's a side that presses and harries, has an incessant work ethic and is built on a back four that has conceded the sixth fewest goals in the league (10) and chalked up four clean sheets already.
If Hull are tight at the back, they are positively miserly at the other end. Just eight league goals have remarkably earned them 14 points. In this respect they are an inverted Blackpool of a few seasons back. If you remember, Ian Holloway's cheery Seasiders were universally viewed as a 'breath of fresh air' before being relegated with a pat on the head as the Premier League's hegemonic order was restored with a collective sigh of relief.
And yet it would be wrong to label Hull ugly and unapologetic; you don't make Tom Huddlestone your marquee signing if the plan is to go direct at every opportunity. Only five other clubs have played fewer long balls than Hull this season.
"Steve Bruce has a lot of belief in me and hopefully I've implemented what he wants. I think we've shown we're not one of those newly-promoted teams who just lump it forward. We have good footballers who are all comfortable on the ball. Playing regularly is helping me find the rhythm and the sharpness you lose when you don't play every week," Huddlestone said recently.
Any side that is more than the sum of its parts owes a nod to its manager and Bruce has proven quite the alchemist since joining Hull. Over the summer, he was allowed to bring in 11 new faces, five of which required fees to take his spending to around the £12.5million mark. Curtis Davies has been a revelation at the back, while the early promise shown by Sone Aluko suggests another astute acquisition. Huddlestone's capture at £5.2million was comfortably the highest fee paid, with Bruce having expressed his surprise at being able to sell a club he conceded were 'probably unfashionable' to a four-cap England international. He was probably even more surprised when he convinced Huddlestone's team-mate Jake Livermore - capped by Roy Hodgson just last season - to make the same move north. It's proven a fruitful midfield partnership, with Huddlestone's guileful straight-back playmaking complemented by Livermore's pugnacious promptings alongside him.
Both are revelling in the knowledge they will be playing week in, week out and Bruce has tipped an England recall for Huddlestone: "It's scary how good he is. If there's a better passer of the ball ... I don't think there can be. He has great players ahead of him: the Gerrards and Lampards of this world and the Wilsheres. But there's no reason playing week in, week out and performing like he has been doing, why he can't."
Bruce knows all about being unfashionable. Upon being sacked by Sunderland in November 2011 following a torrid end to the previous season and a slow start to the new one, Bruce spent 18 months licking his wounds and wondering if he was yesterday's man. Jobs at Norwich, West Brom and Aston Villa bypassed him without even a cursory call to ask of his potential availability. For a manager who sits eighth in the all-time list of matches clocked up as a Premier League boss and in his two full seasons at Sunderland achieved 13th and 10th-placed finishes respectively, it was quite the kick in the teeth.
Changing game
With football's zeitgeist favouring methodologists over motivators, Bruce's oft-trotted out confession that he is 'not really into tactics' looked to be as injudicious as when Gerald Ratner described the products he sold in his chain of jewellery stores as 'total crap'.
In an age when football is increasingly interpreted through the clinical prism of numbers, Bruce is seen by many to be old school, a Luddite who in his failure to embrace modern technology has fallen behind a new breed of clipboard managers, who wouldn't raise an eyebrow were they to turn up to training in a lab coat. It's an accusation he bristled at in an interview with The Guardian last month.
"There was an article that said I was not internet-friendly and how could I be a Premier League manager? Those slurs are just an insult. You get tarred with that tag. I don't trawl the internet, but I can send an email. We have six of our backroom staff into sports science and it's vital."
Bruce was doing a spot of punditry work when the offer came in from Hull. Before accepting he asked himself the ultimate rhetorical question: "Do I want to be sitting beside Alan Green?"
Whilst it's fair to say Bruce is unlikely to chair a convention on tiki-taka any time soon, it's worth noting that Hull played 3-5-2 for much of last season's promotion winning campaign, which somewhat undermines accusations of an archaic tactical inflexibility. Being out of vogue is hardly a new experience for the 52-year-old though. This is a man who managed to make 309 appearances for Manchester United, captain them to a first title since 1967 and score 19 goals in a single season from centre-half without winning a solitary England cap. Even when he was fashionable he was unfashionable.
At the same time, Bruce concedes his ability to coax the best from his players remains the central facet of his managerial make-up: "Man-management far outweighs sports science. Is Sir Alex Ferguson old-school? Arsene Wenger? David Moyes?"
The manner in which he has transformed Paul McShane's standing to cult hero when he was previously referred to in a similar but less complimentary term by many Hull supporters is testimony to his skill in this department. The ever-present Ahmed Elmohamady and Davies have both credited Bruce with reviving their careers this season.

Selective criteria?
Take a trip down the coast and Southampton have been credited with writing a potential blueprint to save English football. There's much to admire about the way Mauricio Pochettino has his side playing and given they have lost just one league game all season, the copious column inches dedicated to what's brewing at St Mary's is well deserved. This isn't a slight, but they have four more points than Hull having spent £35million on the back of a £20million investment the previous summer. If Pochettino really is the anointed one for building a side capable of punching above its weight, surely Bruce also merits a feather in his cap.
It is fantastic what Southampton are doing, Swansea too, but is there not a similar romance with what Hull are achieving on a modicum of the budget? It's here where we've become a nation obsessed with football as entertainment over sport. Aesthetics trump effectiveness every time. Possession stats are more prized than points. No longer are we united in support of the underdog but patrons of the artist, willing on those that play the prettiest football, are the easiest on the eye. We're in danger of turning into tennis fans, roaring on every Rafael Nadal volley that further demoralises some no-mark wildcard from Liechtenstein.
Southampton's best Barcelona impersonation is the cute girl next door who reduces Louis Walsh to tears with a passable Celine Dion cover, whilst Hull are Paul Potts or Susan Boyle, condescended to the point that merely getting their name out without falling over is greeted with a standing ovation from a rent-a-crowd reared on Cowell's dastardly teat. A jaw dropped 'I. Was. Not. Expecting. That' response to a fat person's act being singing well as opposed to breaking world records in hot dog consumption is the equivalent of a commentator's disbelief that Hull can frustrate Tottenham at White Hart Lane.
Hull folk are 'sarcastic and retiring' according to another of its adopted sons, Paul Heaton of Housemartins and Beautiful South fame, so perhaps the mainstream's inertia in their praise will not rankle as it might in other cities but whilst they continue to grind out success in their own unique way, it is another Larkin description which holds greater truth.
"Hull is a city that is in the world yet sufficiently on the edge of it to have a different resonance."