Soaring Magpies
Tony Cottee told Soccer Special Newcastle's 2-0 win over Bolton was slightly flattering.
Last Updated: 10/04/12 7:48am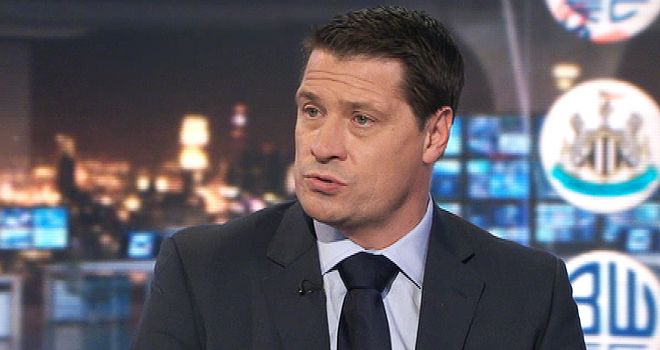 Newcastle cemented their chances of a late surge into the Champions League places with a hard-fought 2-0 victory over Bolton at a relieved Sports Direct Arena.
Relegation-threatened Wanderers were always in it and had several chances to take the lead themselves - but ultimately it was an inspired run and finish from Newcastle playmaker Hatem Ben Arfa that broke the deadlock 17 minutes from time.
Owen Coyle's visitors then pushed forward in search of an equaliser, and the Magpies exploited the space by putting the result beyond doubt with an 83rd-minute second - Pape Cisse keeping up his goalscoring form from close range.
Tony Cottee told Soccer Special afterwards: "They had to be patient. I felt the first half was particularly poor from both teams and Newcastle couldn't create anything. They didn't get any shots on target and it was a very good defensive performance from Bolton.
"Bolton then came out and had a couple of decent chances - especially Chris Eagles' one. I think he could've done better there and if he scores it's a completely different game, but it was a good save from Tim Krul.
"Mark Davies also had a shot that was saved and if they'd have just taken one of those chances then it would've been a completely different game."
Class
"Then the ball came to Hatem Ben Arfa and he spun the first player inside his own half with a great turn. He then started to run with the ball, and Davies tried to hack him down but he went past him. Then he nudged the ball between the two centre-halves - so he'd beaten four defenders - and he's then added the quality to beat the 'keeper. He just side-footed it and it was a wonderful individual goal.
"It was completely out of context with the game really because Newcastle hadn't played well and needed that little bit of magic that they got from Ben Arfa.
"Cisse then got a fairly easy goal from Ameobi's cross and 2-0 maybe flattered them a little bit, but everyone will be talking about Ben Arfa's goal.
"He showed glimpses before his injury but since he's come back he's looked sharper and Cisse has obviously been banging the goals in too. I think the one concern at the moment is Demba Ba. He isn't playing particularly well and when he was substituted, Alan Pardew went to say something to him and he brushed him off.
"Ba wasn't happy at being taken off. I'm sure Pardew will gloss over that and say that it's good to be unhappy at being taken off, but I think Ba is the one of the front three that they're worried about at the moment."
Chance
Pardew's men remain outsiders to reach the Champions League places - and with Chelsea, Manchester City and Everton as their closing three fixtures, it's easy to see why.
But Cottee insists that anything is possible at this panicky stage of the season, and feels Newcastle should continue focusing on applying the pressure by racking up points of their own.
He said: "They've got to beat Stoke at home and then Wigan away. If they win those two games then they give themselves a chance of making the top four.
"I think we all said we felt that Newcastle couldn't get there, and the reason being was their last three games (against Chelsea, Manchester City and Everton).
"All you can do in a situation like this - and Newcastle have done it so great credit to them and everyone at the club - is do your own business, do your own job and just win the game.
"Newcastle didn't play well today in the first half but nobody is going to remember that. They're just going to remember the wonder goal and the three points."