Former Bolton midfielder Fabrice Muamba told Goals on Sunday about his on-field heart attack
Fabrice Muamba told Goals on Sunday about how he feels knowing he can't play football again.
Last Updated: 05/11/12 8:13am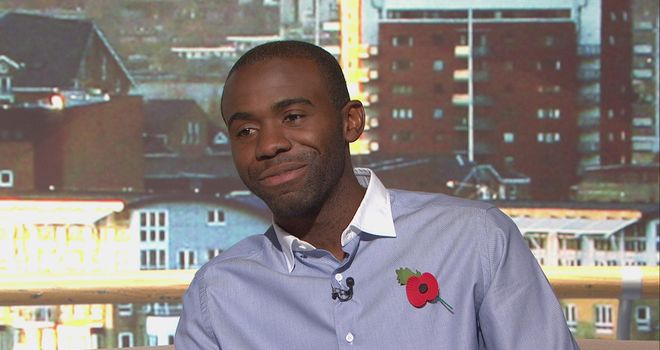 The former Arsenal, Birmingham and Bolton midfielder made headlines around the world when he suffered a heart attack on the pitch against Tottenham in an FA Cup quarter-final in March.
Despite being clinically dead for 78 minutes Muamba has recovered, although he is unable to play football.
Recounting the incident Muamba said: "I wasn't playing regularly for Bolton at the time and I was getting frustrated and angry.
"I got a chance to start against Spurs and I wanted to go out there and prove that I deserved to be in the team.
"I didn't feel unwell before the game or anything it was just like a normal game but during the match I started to feel very dizzy, I was seeing double and then I lost control and fell down.
"It happened so quickly. Fortunately I had the right people there at the right time. They all came together and put in an unbelievable shift to keep me alive and I'm grateful for that."
Grateful
Muamba revealed he didn't fully understand what had happened to him until the following Monday and was soon told that due to permanent damage to his heart he would have to retire from football.
"I wanted to come back to play again," he said. "But because my left ventricle is badly damaged it wasn't the best option.
"When I was told I wouldn't play football I just shook the doctor's hand. I didn't shed a tear.
"To come back would have been an unbelievable achievement but I'm so grateful I can do the little things and, most importantly, see my family.
"I enjoyed football and I'm grateful for the opportunity to play in the Premier League. But I'm just grateful I'm alive to do different things and meet different people.
"There are people out there who have done an amazing job to get be back to the stage where I am now."