Peter Beagrie
Football League Expert & Columnist
Blazing Saddlers
Peter Beagrie talks Walsall, Paul Ince, Edgar Davids, Carlisle and more in his latest Football League blog.
Last Updated: 14/03/13 4:48pm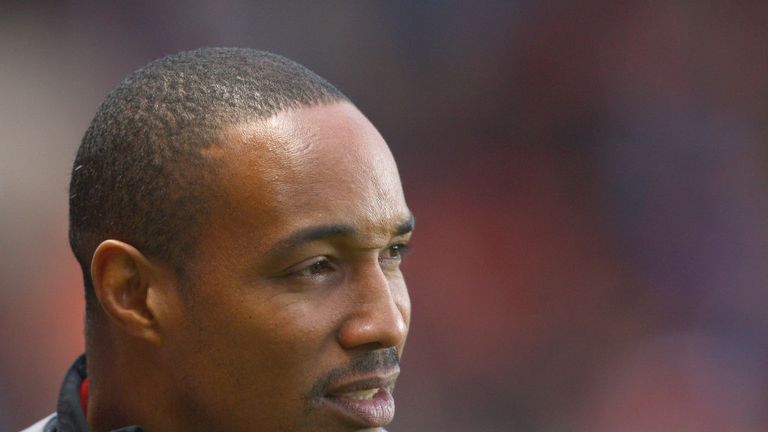 Peter Beagrie is here every week on skysports.com answering YOUR Football League questions.
The former winger, who played over 770 games, representing clubs in all four tiers of the English footballing pyramid, including Manchester City, Everton, Bradford, Sheffield United, Scunthorpe, and Grimsby, forms part of the Sky Sports punditry team for all the big matches in the Championship, League One and League Two.
So if you have a poser for Peter, whether it's about your team, a player, match or incident that has caught your eye, or a wider point on the Football League, make sure you send it in.
Read below for this week's column where Beags gives his take on in-form Walsall, whether Blackpool and Paul Ince are the right fit, Barnet chief Edgar Davids and more...
Send your question to Beags
1. Mail them to skysportsclub@bskyb.com
2. Use the feedback form at the bottom of this page
INCE PERFECT?
Hi Peter, Is Paul Ince the right man to lead Blackpool forward and do you think Tom Ince is under more pressure now that his dad is his boss? Thanks, Steve Collinson (Blackpool fan)
BEAGS SAYS: I still need convincing that Paul is the right man but he has a brilliant opportunity to prove himself with a very talented squad at Bloomfield Road and rebuild his reputation after his tough spell at Blackburn. Paul's relationship with Tom is such that the younger Ince will continue to improve and be a real menace to Championship defences until at least the end of the season - but Ince senior has a much better chance of being successful if his son remains in an orange jersey for much longer than that.
DEAN'S SUPER SADDLERS
Hi Peter, I was just wondering what your views are on Walsall? Do you believe that this relatively young group of players is capable of achieving the play-offs this season, and will Dean Smith stay with the club should a bigger one come in for his services? Thanks, Howard Hale (Walsall fan)
BEAGS SAYS: Hi Howard. As you say, the Saddlers are a predominantly young side, with the exception of Adam Chambers, Dean Holden and flying winger Craig Westcarr, but they have grown into the division and now have massive belief. After winning five of their first 10 matches to sit fifth in League One, a 13-game winless streak followed, in which the Midlanders took just six points from 39. It was a real test of whether Smith (pictured) had what it takes to be a good boss and one loss in 13 games since, and seven points from their last three games against Shrewsbury, swashbuckling Swindon and overachieving Tranmere, has proved that Dean has talent in abundance; he has given the older players responsibility and the younger ones self-belief and the confidence to express themselves.You also ask, Howard, whether Dean would leave if a bigger club came calling but I think you already know the answer; it's not a question of loyalty but more about maximising your opportunities when your star is in the ascendancy. However, if Smith continues to get the best of Messrs Will Grigg (seven goals in four games) and the enigmatic Westcarr, Walsall can gatecrash the top six at the expense of some of their more illustrious and financially-sound rivals.
CAR TROUBLE?
Hi Peter, Do you think Carlisle will be relegated to League Two next season? Tom Kenmare (Carlisle fan)
BEAGS SAYS: I have a huge belief that Carlisle will remain in League One this season and next as they have some excellent young players who, if not sold, will be mainstays of the side next term. Saturday's win over promotion-chasing Brentford was a huge one and could keep the Brunton Park side up considering their run-in, but things are going to be tough, and Carlisle fans may have to suffer a menu of fingernails followed by fingernails with fingernails for desert until May. Results against Shrewsbury, Oldham and Colchester will determine the Cumbria side's survival chances rather than the five games against clubs in the top 10, though.
BEAGS' DREAM TEAM
Hi Peter, If you had gone into management, which friends/former team-mates would you have wanted on your coaching staff? Cheers, James Stride (Stoke fan)
BEAGS SAYS: Your question is one that I have asked myself a lot but while the answer changed as my career took me to different clubs and divisions, trust, respect, compatibility, knowledge and ability have always been the fundamentals. When I was asked if I would consider manager's jobs at the tail-end of my career I would have been a player-boss, therefore, I would have needed an experienced number two. My choices would have been my former manager at Man City, Brian Horton, or his first-team coach, David Moss; both had been players, coaches and managers and shared the same ethos on how the game should be played and were big enough characters not to be yes men. However, as I got older I would have loved to have my ex-Man City colleague Uwe Rosler (pictured) as my assistant and former Bradford team-mate Stevie Wright as my first-team coach. Uwe, who is doing a great job at Brentford, has a passion for the game that rivals mine, while Stevie, who is now looking after the academy at Dunfermline, has an eye for a player and would be the voice of reason and stop me going too far. They are great friends but, more importantly, great at their jobs.
WINNERS AND LOSERS
Hi Peter, Who do you think have been the biggest over and underachievers in League One this season? Thanks, Dean Ripley (Leyton Orient fan)
BEAGS SAYS: Thanks for the question, Dean. When answering it I must take into account finances and squad quality, which more often than not go hand in hand, and here is what I have come up with. My overachievers are Tranmere, whose manager Ronnie Moore is doing his very best Jeff Bridges impression from the film Against All Odds; Walsall; and your boys Leyton Orient, who have been beaten just five times in their last 22 matches after losing four in a row without scoring. As for the underachievers, I would have to say Preston, where the Graham Westley experiment went drastically wrong; MK Dons, where it appears it may be a season to far and time for a change for both club and their excellent young manager, Karl Robinson; and Shrewsbury, who would have expected more after finally getting out of League Two.
WISE ED
What have you made of Edgar Davids' spell at Barnet? I was sceptical when he was appointed but he seems to have had a real impact? Thanks, John Bakewell (Barnet fan)
BEAGS SAYS: When you have a man who has performed on the world and domestic stage and amassed a list of accolades like Edgar has and can still stretch every sinew for a League Two club, it shows you that he cannot live without football, while his celebration after scoring in a 2-0 win over Southend recently leaves you in no doubt that he is in love with the best game ever to be invented. We have seen superstar former players like Gianfranco Zola and Paolo Di Canio operating very successfully in the Football League as managers as they generate instant respect. Davids is in the same camp and could perform a minor miracle if he keeps the Bees out of the relegation zone between now and May. I never back against a champion and Edgar is certainly that.