Free Agent - Kevin Davies
The next free agent to fall under our microscope in his search for a new club is former Southampton and Bolton striker Kevin Davies. Over the next month or so we'll be speaking to a host of footballers at a crossroads in their careers as they look to get hooked up for next season.
By Chris Burton
Last Updated: 28/06/13 4:52pm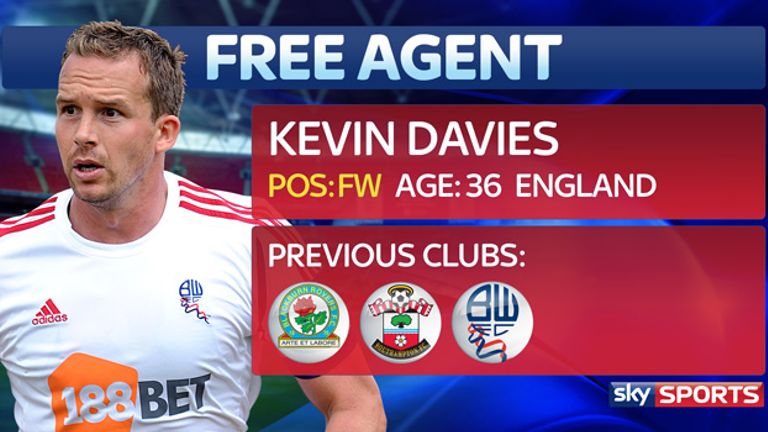 There will not be too many players dropping into the free agent pool this summer that have an England cap to their name, so it is easy to see why Kevin Davies is generating plenty of interest.
After a decade of loyal service at Bolton, the 36-year-old is readying himself for a fresh start and a new challenge.
A man who once commanded a £7.5million transfer fee, and turned out for his country as recently as October 2010, has lost none of his appetite for the game and is ruling nothing out as he considers offers from across the Football League and from overseas.
What's your mindset heading into the summer? How are you approaching being a free agent?
I've just been working on part one of my A license, which was a positive two weeks and I really enjoyed that. Then I have been on holiday, had two weeks with the family which I really enjoyed. Now it's just a case of coming back in and my agent lining clubs up for me, which is happening this week. I've got a few meetings set up with clubs this week, some up here and some down south, so that's where we are with it all. Hopefully by the end of that, somewhere down the line, we will have a few options and make some decisions.
If you believe what you read, you have got a fair few options to consider haven't you?
I have got a few. There are a good few clubs interested. Some are initial enquiries, some a bit further down the line to the point where we think the offer has been made. In the next few days we will have some offers to think about. It's all very positive and I'm more than happy with the clubs that have made the enquiries. I'm pleased with the way things are.
So you are seeing this as a positive are you - this is only the second time you've been a free agent isn't it?
Going back to when I was told (I was being released), it came as a bit of a shock. It was difficult from then on until the last game of the season. It was hard not being involved in the side and not being able to take part in trying to get to the play-offs. At the final whistle it was all over and the lap of honour was amazing - all the fans stayed behind. It was quite emotional at that time. It really meant a lot to me after the 10 years. Then it was a case of saying your goodbyes and then straight away get on with the A license. I didn't have much time to think about it. On the journey home it kind of felt that it was closure, really. It had been a hard few weeks being in and out of the squad and not knowing where I stood, and it felt like closure and I could move on from it.
Is it quite nice in a way to be in control of your own fate, rather than have your future dictated by a club?
It's not something that I've had. I obviously had it when I was released by Southampton, that was when Bolton came in and we all know what happened there. These things happen in football. Especially when you get a little bit older, it can happen. That's just the way it is. I'm not the first and I certainly won't be the last. There will be lots of ins and outs at every club in the country. Players can use it to their advantage. If you're in good form and playing good football you can use it to your advantage and move on and choose where you want to go and at what price. For me it's a bit different. But a good number of clubs have shown interest and we can now make a decision.
I take it you are hoping to get something sorted out quickly, as you don't want to miss too much of pre-season do you?
Definitely. I have had a couple of discussions with managers already. The first question is 'When are you back in?' I'm old and wise enough to know what I need to do during the off-season. Players look after themselves a lot better, but it's always difficult to do it by yourself. I've had discussions with managers and I certainly don't want to leave it too long. I don't want to be rushed into anything, I want to make sure I make the right choice, but I don't want to take too much time over it either. I want to get stuck in. I'm looking forward to playing another season, wherever that may be.
You've spent the vast majority of your career in the top two divisions, so is that where you are looking to stay?
We have had a couple of really interesting offers outside the top two, which I'm really looking forward to exploring. They sound ambitious and if they have shown an interest I'll be looking forward to speaking to them and seeing what they are offering. I'm not ruling anything out in this country, in Britain, and we have certainly got a good bit of interest from abroad as well. As a family we are very open to anything and are looking at all avenues.
As you're working on your coaching badges, are you looking to combine your duties on and off the field or is it all about playing at the moment and just learning as you go?
I have taken part one of my A license, which was two weeks down at St George's, and then you are required to go away and it's quite a lot of hours to put in, but that's something I can juggle. Playing and giving 100 per cent to whoever I sign to will be the priority, and will be for the next however many years I decide to play. But I certainly want to get in somewhere and look to learn and work under a new manager and do a bit of coaching with whoever that may be with. I want to get a bit more experience in and start building up my hours and see where that takes me when I do decide to retire.
With offers from abroad on the table, does that mean you are prepared to relocate after 10 years in Bolton?
Definitely. We were very keen on moving to Toronto (in April). Obviously it wasn't quite right, but my wife has lived abroad, the children have travelled a lot and we want to get as much experience as we can in life. We are very open to offers from wherever in the world. We have had a few enquiries and we are pursuing them as well. We are very, very open. We have got fantastic friends and Bolton has been home, we know that, but we'll see what happens when the offers become a bit more serious.
Are you feeling fit, healthy and raring to go?
I have just come back from a good run and I'm aware that a few clubs are back now. I know some fitness people, coaches, so I've been asking them about what they are doing and what's new on the fitness side. I've been picking people's brains in an effort to keep myself fit. Hopefully when I go in somewhere I won't be too far behind. I will work extremely hard and make sure I'm ready for the start of the season, whichever league that may be in.
Are you at the stage of your career now where you are more concerned with finding something you will enjoy, something that provides a challenge?
A bit of everything. There have been a couple of clubs from League One which interested me with their ambition, they wanted to go and climb leagues. That's something I'm willing to listen to and look forward to seeing what they have to say. It would be nice to play at the top level. I'm not sure that's going to happen, but you never know. I still think I could do a job in the Premier League, but we'll see what happens. In the Championship, I have done a job there. We'll just see what happens this week. I'm looking forward to seeing where people want to go as a club, what their ambition is and things like that.
We would like to hear your thoughts on the best free transfers out there. Who should we be talking to? Who are this summer's bargains? Who should your club be targeting?
Maybe you are a player that would like to be featured, or an agent looking to get a client fixed up for next season. To offer your suggestions fill in the feedback form below or get in contact with either chris.burton@bskyb.com (@SkySportsChrisB) or alex.dunn@bskyb.com (@SkySportsAlDunn).