Peter Beagrie
Football League Expert & Columnist
Character builders
Beags says Ian Holloway and Chris Hughton have got their teams back in the promotion picture.
Last Updated: 09/02/12 4:23pm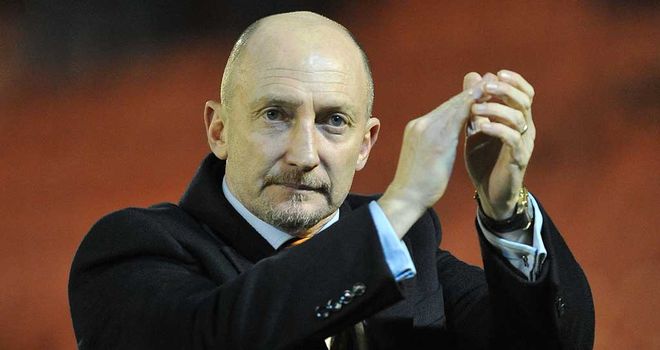 He might not be a contender for the England job, but there's no denying that Ian Holloway is a one-off.
The Blackpool boss wears his heart on his sleeve and is one of football's great storytellers. He has a fantastic attitude, despite being no stranger to adversity in his family life, and the pressures of football are actually a relief rather than a burden for him.
He gets that attitude across to his players and in a game that often lacks honesty, he is a refreshingly honest guy.
He has said that the system he employs at Blackpool was learned from Roberto Martinez when he was out of football - and a lot of managers wouldn't allow their egos to admit to something like that.
Holloway realises he's got flaws; he's very self-effacing and that likeability factor will only help a group of players to buy into his methods. If you put a shift in for him then you know he will be eternally grateful and will stand by you through thick and thin. He's very loyal to his players and he has never stood in the way of them moving on and furthering their careers if realistic offers come in for them.
He also has a tremendous way with words. His interviews are often more entertaining than entire games of football and I always set my Sky Plus if I hear that Holloway is going to be doing something on television!
He can put things in very simple terms, but if you take apart his comments he is often quite profound and prophetic. He might be classed as a clown by some, but believe me, when it comes to football his knowledge and his passion are second to none.
He took Blackpool to the Premier League, played exciting football and took a lot of scalps in the top flight. He lost the creative flux of his side in the summer with Charlie Adam, DJ Campbell and David Vaughan all leaving, but Holloway has reignited his squad.
It took them a while to recover from those losses, but they had a sensational January and are putting pressure on the sides at the top.
He lambasted myself and Don Goodman at the start of the season when we didn't predict a top-six place for Blackpool, but at that time he was struggling to get a team together. We made that call because he'd lost his main goal threats and the main heartbeat of his team, but for the reasons discussed above, he has got Blackpool up there.
Kevin Phillips has scored lots of important goals, but the star of the show has been Matt Phillips, who has put the gloss on their performances.
He was outstanding on loan to Sheffield United when he played with flair and exuberance - and he's now realising that potential at Blackpool. He's been a revelation and is destined for the Premier League.
He has been a key part of Blackpool's resurgence and they've had a fantastic run, but there is a long way to go.
They face Portsmouth in our live game on Saturday evening and it's been another difficult season for them - but if anybody can come out of it then it's the Pompey faithful.
They're used to fighting for their lives and everybody in football feels for them. The financial state of the club has restricted Michael Appleton, but we wish them all the best in fighting the latest threat to their future.
True Blues
Blackpool's run into the Championship promotion picture is all down to some contrasting form from the top eight.
The points totals in the last 10 games are: Reading (21), Hull (19), Middlesbrough (15), Blackpool (21), Birmingham (21), Cardiff (16), Southampton (10) and West Ham (16). You can see from those stats why things have tightened up and the log-jam at the top is marvellous for us neutrals.
Birmingham, in particular, have been in a brilliant vein of form and I think the European adventure has had a big bearing. Rather than looking physically tired, they look together and organised with everyone on the same wavelength.
The back four have played together so much and that is showing in their performances. And when you have travelled to the far reaches of the continent - often to less-than glamorous locations - it can build camaraderie and team spirit.
Their key man in the last month has been Curtis Davies, who is starting to realise his potential. With maturity has come better decision-making and he is becoming a very good defender and he has also been getting forward and scoring a few goals. We can now see why he was lauded by so many scouts when he was a youngster.
But their form also has a huge amount to do with Chris Hughton, who was the ideal man to step into a very uncertain job at the start of the season.
He took Newcastle to the Premier League, constantly putting out fires along the way, and they were in a comfortable position when he left. Everybody thought it was ludicrous when they sacked him (even though Alan Pardew has done a good job since) and they admired the humility he showed throughout his time there.
But Newcastle's loss was Birmingham's gain and he deserves a big pat on the back for getting them into the play-off mix, despite all the distractions for the club.
He is a straight talker, he's honest with his players and a bit like Steve Coppell, he is never too down nor too over-excited. He holds the middle ground and keeps everybody and everything in perspective.
He's done an incredible job and, in my opinion, he deserves to be named Manager of the Month for January.
What now for England
This may be a Football League column, but it would be remiss of me not to air my views on the England situation.
For me, the FA could not have been happy with the job Fabio Capello did when you consider the money that they invested in him. He didn't deliver and he felt undermined and under pressure with the Euros coming up.
With the circus that follows England , maybe it wasn't the job he wanted it to be. He wanted to go and The FA obviously wanted him to go, so that's why it happened so quickly.
The John Terry incident, which was the crux of this matter, has been far too protracted and I think Capello saw it as a way out. If his mind was fully focused on bringing silverware to England, as he promised when he took over, then I think that issue would have been a mere obstacle, rather than the end of the road.
Now if you talk to anybody in football, there's only one candidate to take over and that's Harry Redknapp.
I mentioned that Ian Holloway has great skill in portraying things in layman's terms, but Harry is the master of that. He's a great conversationalist and over the years he has taken maverick players and guided them into the framework of a team.
He makes people feel like they have a point to prove. Look at the turnaround in Emmanuel Adebayor; as a former Arsenal player that could have been a bad move, but Harry has turned that into his favour and the fans have now accepted him. He was probably the only manager who would be able to do that.
But don't be surprised if Harry signs a new contract at Spurs and uses it to his benefit in the negotiations! Daniel Levy has backed him to the hilt and I'm sure he'll fight tooth and nail to keep him - and it might cost The FA more than four years of Capello's wages to get Harry out of White Hart Lane.
But if you ask any England player then they will say he's the only choice - and 99 per cent of people would agree.