Rescue mission
Pompey Supporters' Trust chairman Ashley Brown talks about the bid to save the club.
By Peter Fraser - Follow me on Twitter @SkySportsPeteF
Last Updated: 20/11/12 5:47pm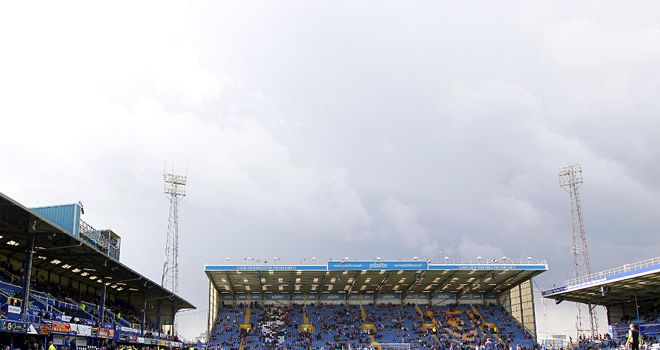 "Someone, I am sure, one day will write a book about it and the people who read it will probably think it is fiction and not fact," said Pompey Supporters' Trust chairman Ashley Brown as he reflected on what has happened at Portsmouth football club over recent years.
Brown and his Trust (PST) are on the brink of completing a takeover of the League One club to rescue it from administration amid a reported £61million worth of debt. The deal would also make Pompey Britain's biggest Community Club.
It is, however, dependent on the purchase of Fratton Park from current owners Portpin, represented by former Portsmouth owner Balram Chainrai. PST have offered £2.65m but Portpin want a higher price and the dispute is to be settled at a High Court hearing which is anticipated for before Christmas.
But if PST, who formed in late December 2009, are successful, it will be a monumental moment in the history of Portsmouth.
The former Premier League club, who won the FA Cup in 2008 under former manager Harry Redknapp, previous chief executive Peter Storrie and free-spending ex-owner Alexandre Gaydamak, have been in administration since February. It is the second time in two years and Chainrai was at the helm the first time before selling to Vladimir Antonov.
From the highs of winning the cup and the participation in Europe which followed, bringing dates with the likes of continental giants AC Milan, there have been a succession of strange ownerships from overseas and a myriad of uncertainty.
It has been a long and painful journey for all Portsmouth fans. But PST investors and their fan-share issue are now close to taking the club back to stability, transparency and accountability.
Brown, who is juggling the voluntary process of leading a takeover of a football club with his day job with IBM, told Sky Sports in an interview in central London: "We are trying to be a little bit guarded and not celebrate too much until the deal is done. But the group of people who have been involved in this - and there is quite a big group of people - have really shown how supporters, coming from all backgrounds, can work as a unified group and achieve something quite remarkable.
Tough
"The story at Portsmouth is not a simple club take over by any means. Some of the (financial) numbers that are talked about are huge, great, big numbers and may have made people think it was insurmountable from day one. But we have stuck at it and worked away at it. We have got over so many hurdles to get this far that now I do not think anything can stop us."
Public opinion often suggests Portsmouth brought their problems on themselves by 'buying' the FA Cup under the Gaydamak regime, when an expensive squad was assembled in a tactic of speculating to accumulate. This did not prove sustainable.
Portsmouth's problems were triggered when Gaydamak ran into money problems, which coincided with his father, Arkadi, seeing his personal fortune collapse. It has always been denied Arkadi put any money into Portsmouth accounts. Gaydamak's eventual exit in 2009 sparked the period of different overseas owners and led to Portsmouth's current status.
If and when they exit administration, they will incur a 10-point deduction by the Football League which is set to leave them in a League One relegation battle.
Administrator Trevor Birch is currently the main focal point of running the club, while PST have a "certain amount of influence" over important issues, outlined in a conditional signed sales and purchase agreement. This includes the topic of the team's management, which is currently in the hands of caretaker boss Guy Whittingham since Michael Appleton left.
Brown, a Portsmouth fan of 40 years whose mum used to take him to Fratton Park as a baby when his father was away in the navy, said: "People raise the point, 'did you buy the FA Cup?'. Everyone buys titles. Do not tell me Manchester City did not buy the Premier League last season. Is City's a sustainable model? No, it is not. But did we ever expect to find ourselves in such a bad position? No, absolutely not."
He added: "It has been very, very tough. A number of people (in 2008) had been worried and seen what they felt might have been coming and tried to do something about it at an earlier stage. A few of us have also been involved in this for two or three years since the first administration.
"The most painful thing is seeing people who have no passion or no real interest for your club using it as a bit of a poker chip in a card game. The stuff on the pitch - it was unbelievable to go to the Premier League and win the FA Cup - but, in 40 years, I have watched Pompey in the old Division Four so I can cope with that side of it. The boardroom stuff, some of the people who have got involved and the way they have treated the club, that is what really hurts."
Belief
One thing is certain, Brown and PST, unlike some of their predecessors, are not in this for personal gain or a quick buck. The stress has been immense but the desire has outweighed the pressure. PST hope they are setting an example. After an era of billionaire foreign owners coming to Britain, Community Clubs could be the next bubble.
Asked if there had been times when he considered walking away from the burden, Brown said: "Numerous. It has taken its toll on people. A couple of people who were frontline on this in the early days have had to drop away for personal reasons. From my own perspective, I can say that I have sat several times and thought I should give it all up, because it is just too much.
"But, in the end, your love of football, your belief that you are doing something right and fellow supporters coming and patting you on the back - that is what pushes you on and makes you keep working at it. It is not for any personal gain. No-one has had any personal gain. We have had a lot of personal loss out of this in reality."
For Brown it has also been somewhat of a surreal personal process. He has now been exposed first-hand to all the different factors - the media, boardroom issues and the rumour mills - of 21st Century football which fans do not always see. It is a different world.
"Talking to the journalists and the radio can be quite enjoyable," explained Brown, who was keeping an eye on his IBM job via a laptop computer throughout the interview. "I have learned a lot, because I have done so much (media work) now and had obviously never done anything before. You learn as you go along. The good thing is that people are really interested in what we are doing. That is what makes it good to talk to the journalists. But I do not like doing the TV. I find that more imposing, I guess, someone pointing a camera in your face."
Brown will know the spotlight will only intensify if PST complete their Portsmouth takeover. He, along with the group of individual investors such as prospective Portsmouth chairman Iain McInnes, will be a hero on the South Coast. They will be making national headlines for the foreseeable future. So what would Brown think if it was possible to go back in time and tell himself, the fan who has watched Portsmouth at 85-plus different opposition grounds, he would soon be owning the club?
After pause for thought, Brown said: "I would be thinking the person who was telling me that would be somewhat mad. But I would be equally excited. A year ago or less, trying to tell some people we could run the club, they thought we were mad. As the time has drawn on, more and more people believe in us. They believe that, not only can we do this, we are the best answer for the football club.
"Hopefully, supporters of clubs around the country are taking note and getting some belief they can do the same. This is what football should be about - the community and clubs being at the heart of the community. That is what has been lost in clubs in the upper echelons of football in recent years. The clubs have been taken away from the fans. It is time to get them back."