Sky Sports Scout - Jed Wallace
Sky Sports Scout is where we scour the globe looking for the best talent. Next up is Jed Wallace.
By Sky Sports Scout - Tweet me: @skysportscout
Last Updated: 21/05/14 11:44am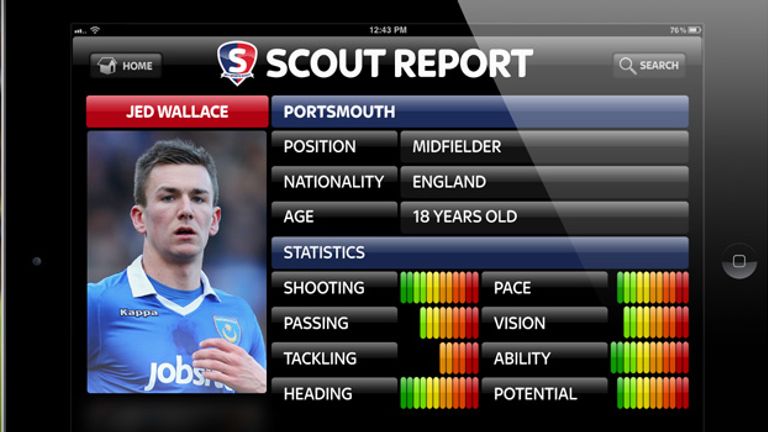 Sky Sports Scout is our exciting feature where we scour the globe looking out for the best talent and bring you a report on what we find.
Our Scout will report back and you can comment on what you think of our appraisal.
Also, in association with Football Manager, we give all readers the chance to win a copy of the latest game by nominating a player.
You can only nominate a player by emailing here, including the word 'Scout' in your subject line and please check to make sure we have not already covered the player.
Should your player get reviewed by our scout, and you were first to send in his name, then you will win a copy of Football Manager 2013.
You can also now interact with the scout via his all new Twitter feed! You can get in touch with him and interact here or just search for @skysportsscout!
Latest under our scout's gaze is Portsmouth's Jed Wallace
The scout reports...
We check on Portsmouth starlet Jed Wallace, who has made some startling strides in the game this season.
Wallace's footballing tale is becoming more and more common place. As a youngster he opted not to go in search of a league club at all costs - instead happy to finish his schooling whilst honing his skills in a Junior League.
Picked up by Farnborough - where he was playing first-team football at just 16, he was lined up for a move to Lewes in the summer of 2011 but after featuring for them in pre-season - he had league clubs then knocking on his door.
He accepted a move to Portsmouth as they handed him a two-year deal and he went straight into their Academy before a loan stint back at Farnborough in early 2012. After returning from Farnborough, Wallace made his Pompey debut in the League Cup.
Over the summer Wallace featured with the first-team but when the season started he was again sent out on loan - this time joining Isthmian League Whitehawk in October.
Wallace soon made an impact, scoring on his debut and going on to score an incredible 13 goals in 14 games. It was no surprise that his form soon began to attract the attention of other clubs, with Premier League giants Chelsea and Liverpool among those taking a keen interest.
With parent club Portsmouth struggling to keep players due to their off-field matters, Wallace was soon back at Fratton Park. January this year he made his league debut and continued his scoring form by getting on the score-sheet.
Since returning to Pompey, Wallace has been an almost ever-present and is increasingly becoming one of the most talked about players outside of the Premier League.
Wallace's form has also come to the attention of England and he has been placed on stand-by for the Under-19s - stunning progress for a player who only linked up with a pro club less than two years ago.
Wallace is a true prospect; he has taken to professional football like a duck to water, is full of running and guts and his box-to-box game is outstanding.
He is a genuine midfielder who likes a tackle and can pick a pass, but the way he has added goalscoring to his game in the last 12 months has seemingly taken him to another level.
The scout says...
If Wallace continues at anywhere near the sort of form he has produced in recent months it is hard to see how Portsmouth will hang on to him.
First-team football has done Wallace so much good and he is a real prospect to keep an eye on.
The Scout rating...
Shooting: 8 out of 10
Passing: 7 out of 10
Tackling: 7 out of 10
Heading: 6 out of 10
Pace: 7 out of 10
Vision: 7 out of 10
Current ability: 7 out of 10
Potential ability: 10 out of 10
OVERALL SCOUT RATING:59/80
Current value: £2million
Potential value: £14million
Your opinion...
You have read our opinion of Jed Wallace - now we want your views. Have you seen Wallace in action? Do you agree with our assessment? Do you think he will make it?
Get in touch, either using the form below, email or the scout's Twitter feed - @skysportsscout