Eugene McGuinness
Eugene McGuinness laments a time when having a German striker was the height of exoticism.
By Alex Dunn
Last Updated: 25/04/12 10:01am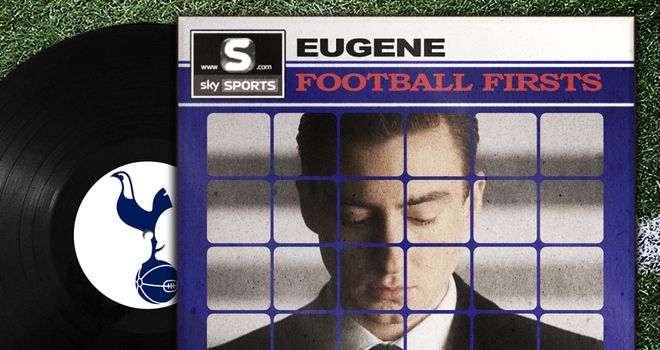 With a hotly anticipated LP set for release in June and new single Shotgun having garnered plenty of critical acclaim life is good for on the rise Eugene McGuinness.
The affable Londoner, with Irish roots, has just returned from touring as part of Miles Kane's band and is now ready to bring his own song writing skills to the fore.
McGuinness, who concedes he's 'relishing' being the 'main man' again having already released successful solo albums in the past, is also enjoying his football (with the exception of the past month) as a Tottenham fan.
He took time out to talk about his interest in the Beautiful Game; while at the same time lamenting the Premier League's halcyon days when having a German striker was the height of exoticism.
Tottenham
When I was really young, and I mean really young, I sort of supported Arsenal. This was in the George Graham era way back when, but that was only because all my friends were into them. Once I'd visited White Hart Lane on a matchday though that was it for me. I used to be a massive football fan but it's a little from afar at the minute. It used to be that a bad result could ruin my day but now I'm a bit more philosophical about it all. I still love it but I've distanced myself a little, which is pretty weird given Tottenham have started to play so well. Typical. I was born in Leytonstone, which is East London. I might be technically closer to Upton Park than White Hart Lane, but I'm not having that. The key is Harry Redknapp. Ever since he's got on board he's been a revelation. I think keeping Modric over the summer was so important too. I don't know how he did that and even if Modric goes in the summer the fact we've had him this term has been a major plus-point. If we get into the Champions League we'll continue to attract the players that until recently we never would have dreamed of signing. We're getting linked with the likes of Eden Hazard, players Man United and City want, which demonstrates the job Redknapp has done.
Tottenham v Manchester City
My first game that I actually went to was a Tottenham match in '95 or '96. Because the first was at White Hart Lane there was no way of going back after that. It was against Manchester City, I think we won 1-0. I'm guessing it was Chris Armstrong who scored. This was Manchester City of back in the day though, not the Man City that we know now. I think Ian Walker was in goal; definitely Armstrong was in there, Sol Campbell too. Klinsmann would have been gone at this point, before he came back for his second stint. At this point I was vaguely aware of who was who but it was early days as a proper supporter. I was about nine.
Jurgen Klinsmann
Klinsmann was the man. There was something about footballers of that era. There was a bit of theatre about them. As a kid, they were like super heroes. Cantona and Klinsmann, people of that ilk, were a different breed. There was something about them that was almost other worldly. They just had this thing, a command of your attention. You don't see it as much these days. There are better players in the Premier League now, of course, but fewer with that special bit extra about them. Drogba has got it. Klinsmann was a wonderful, wonderful player and at the time that Tottenham team was very lucky to have him. Then he had Ginola, who was amazing for us. He scored some absolutely blinders. Klinsmann was the one though that had the glamour. In the nineties, Tottenham having a German striker? It was a big deal back then.
It's changed a lot, it's hard to talk about it and not sound like an old fart but Spurs having a German striker really was something exotic. Klinsmann in London and Cantona in Manchester was like something out of space. There was a drama to it that made these players almost rock star like. They were from a different planet and the big question we asked was 'why are they here, when they don't have to be?' It was a mad period when the game here really took off. Arsenal and Manchester United were at loggerheads with genuine venom. Even now the rivalry between United and City doesn't seem as bitter or harsh. The Premier is very polite these days. Where are all the players who looked like they might just as well have been a doorman at a club? I miss the Dennis Wise characters. How the hell did they thrive? It was just an entirely different era. Those guys were necessary, those s***-kickers, whereas perhaps they're not these days. It's all fluid now and some of the football is beautiful but all the leagues are becoming closer together aesthetically. Italian football, I guess, still has its identity to a certain extent, but I'm not sure between the rest of them. The Spanish League, for me, is just a better version of the Premier League as they've slightly more technical players. It used to be you spot British football a mile off, now the gap with the rest of Europe isn't so wide.

Gareth Southgate
I feel out of order, and I wouldn't necessarily call him a villain, but Euro '96 circa Southgate springs to mind. It's fine about him missing the penalty, that happens, but I remember as a kid when I was watching TV later, Southgate was advertising some trainers and introduced himself as an 'England hero'. It was literally a week after, talk about timing! I've never been into Dennis Wise but it's always nice to have a pantomime villain to hate. Patrick Vieira was another, although over time I've grown to appreciate what he was all about. At the time he was a machine, who just went around the field eating other players.
Spain, circa Raul
I remember, bizarrely, buying the Spain kit. I've no idea why other than at the time I was a big fan of Raul. I liked Luis Enrique too. It might have been around the France '98 era. God knows why I chose Spain, they weren't even any good at that stage. Good kit though. I remember my mum going mad at the time about the cost of the shirts. I had a few Spurs shirts and the Kappa Italy kit. They always know what they're doing those Italians when it comes to a good kit. What I always wanted, but never got, was a Kappa Barcelona shirt, the one 'old Ronaldo' used to wear. I'll get one, one day.
Lakeview
I've been meaning to get back into playing for ages. Back in school it's all we ever did, we used to play non-stop. Our school team was pretty amazing; we had a couple of lads who were in Tottenham's youth team. My cousin actually has just signed a little deal at Arsenal. He's got a two-year contract with the youth team. It's great and he's doing really well but there's a long way to go. It's ruthless at that level. When I was a kid I played for a team called Lakeview, whose main rivals were David Beckham's old side Ridgeway Rovers. I loved those days, I fancied myself as a Beckham on the right-hand side of midfield. So did the rest of my school though. We never actually played any football it was just kids trying to score from the other end of the playground like Beckham against Wimbledon. Chaos. Whenever we go on tour there's always a ball lying around. We'll find a car park and the van usually takes a battering. In a band you become grand masters of killing dead time travelling. Miles (Kane) is good, you'd be surprised about the number of musicians who are a bit nifty.
Fatboy Slim
The first album was Fatboy Slim, or Oasis. I'm trying to remember. I first started buying CDs when I was 11 or 12 and I remember at the time loving Fatboy Slim. I can remember Surrender by the Chemical Brothers and also Standing on the Shoulders of Giants too. I was massively into Oasis back then. I grew up with the Beatles being thrust on me by my parents and then Oasis was the natural thing to get into after that.
Eugene's new single Shotgun was released digitally on 26th March 2012. Visit www.eugenemcguinness.net for more info.