Defoe defies wisdom
Andre Villas-Boas has a few problems, and Nick Miller thinks one of them might be deciding between the logical Emmanuel Adebayor and the in-form & convention-defying Jermain Defoe
Last Updated: 17/09/12 12:01pm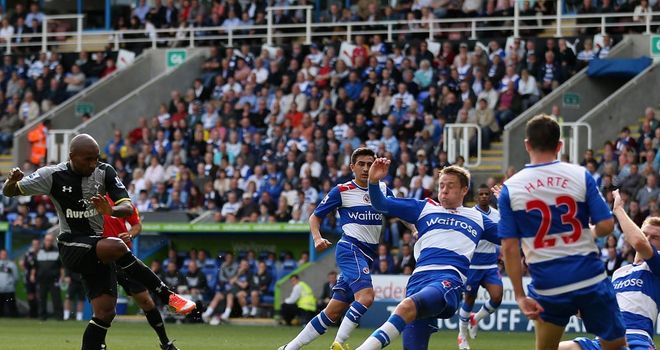 Andre Villas-Boas has a few concerns at the moment.
Some, such as the happiness of his new goalkeeper or the idea that he might be sacked before the end of September, are not real. They are phantoms. Apparitions. Second cousins to Harvey the Rabbit. The tabloid press conjured them out of thin air, like Andy Dufresne did with Randall Stevens in The Shawshank Redemption.
Others, such as the apparently rapidly deteriorating state of his voice, seem to be real. He went past 'gravelly' some time ago and now seems to be in 'ill' territory. Seriously, the man now sounds like Princess Leia when she disguised herself as a bounty hunter to save Han Solo in 'Return Of The Jedi'.
Another might be one of those 'nice problems' that managers so love to talk about.
If you spoke to a Spurs fan before this season, the thought of Jermain Defoe starting on his own up front was enough to bring them out in a cold, cold sweat. The purchase of Emmanuel Adebayor was an absolute must, for Defoe simply could not play that role.
It was an understandable view. Conventional wisdom states that a wee lad like Defoe can't perform that role - a man with more physical strength is required to hold the ball up and bring the rest of the team into play. The lone striker is a team player, not a pure goal-scorer like Defoe.
However, Defoe is doing his best to defy conventional wisdom. For both Spurs and England, he has started as the point in attack in five games, and played it after coming on in England's friendly against Italy. In those five-and-a-half games, he has scored five goals. Of course, a couple of those games (including against Reading on Sunday) were against sub-standard opposition, but the goals speak for themselves.
Defoe was responsible for nine of Tottenham's 23 shots against Reading, and of course two of their goals. His 'shoot on sight' policy could be just what Spurs need, and while his general play has improved, he perhaps doesn't need to be the all-round forward that is traditionally associated with this role.
With the sort of five-man midfield that England and Spurs both currently play, the lone striker doesn't have to be quite so 'rounded', and a simple goal-scorer could be what is required.
With Gareth Bale and Aaron Lennon flitting around either side of him, and Gylfi Sigurdsson providing support from deep, Defoe can just do his thing. Indeed, his average position in the Reading game was exactly where you might expect - slap-bang in the middle of the goal, just outside the 'D' of the Reading area.
So the 'problem', if one can describe it as such, comes when Villas-Boas has to decide between Defoe and Adebayor. The latter currently isn't match fit, but will be soon, giving Villas-Boas a big call - the man currently in form, or the man who played so well last season?
Presumably Villas-Boas will prefer that to mysterious nonsense in the papers.
This article first appeared on Football365 here