Bench battles
Writer and goalkeeping coach Ian Watson kicks off our new column 'The Last Line' by looking at the battles for the No.1 shirt at Man United and Spurs respectively. Each week we'll focus on a topic of debate between the posts as our fully paid-up member of the goalkeepers' union has his say
Last Updated: 12/10/12 9:36am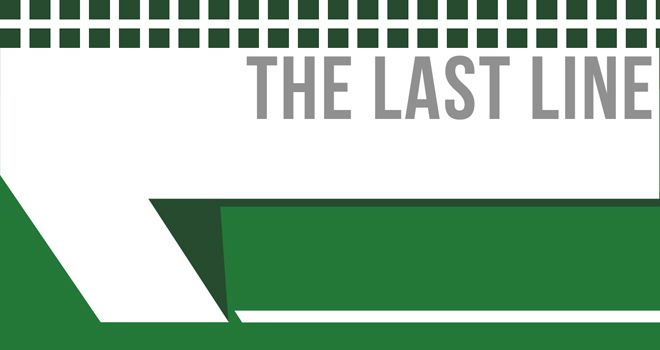 Tottenham's 3-2 win over Manchester United last weekend was notable not only for being Spurs' first win at Old Trafford since 1989, but also for the goalkeeping talent which occupied both the home and away benches.
An intriguing battle to be number one is raging at both clubs, with big-money buys forced to watch from the sidelines on Saturday, for very different reasons.
Hugo Lloris was signed by Tottenham for a fee that could reach £12million on deadline day, a year after David De Gea had become the second-most expensive goalkeeper of all time when United paid Atletico Madrid around £18million for the Spain Under 21 international.
Having spent such grand sums, both managers have spent much of their time this season fending off questions about their costly keepers' inactivity. What are Andre Villas-Boas and Sir Alex Ferguson thinking in keeping Lloris and De Gea on the sidelines?
Circumstances mostly beyond his control - the identity of his predecessor for one - have seen Villas-Boas subjected to incredible scrutiny since he arrived at Tottenham three months ago. Despite a number of astute signings, many in the media continue to use Lloris' lack of Premier League action as a stick with which to repeatedly beat the young manager. But his handling of the abundance of goalkeeping talent at White Hart Lane suggests he has learned some lessons from his misguided attempt to change too much, too soon at Chelsea last season.
Though unlikely to have been delighted about it, current number one Brad Friedel will doubtless have understood the need to recruit Lloris. But had Villas-Boas immediately installed the new boy as number one, then he would have alienated a key member of his squad and effectively put the veteran out to pasture at a time when the American was among Spurs' most impressive performers, while providing some stability during a period of great change at White Hart Lane.
Fuss over nothing
Despite having passed his 40th birthday, Friedel showed no visible signs of aging last season and, in fact, enjoyed one of his best campaigns in recent years. He was ever-present for the eighth consecutive season - an astonishing run which he has since extended to 310 matches - and finished with a saves-to-shots ratio of 74% - the seventh best of the 27 keepers who played more than five games last season.
Like the man he has to wrench the gloves from, Lloris is a fantastic all-rounder, with few obvious weaknesses and an unflappable temperament. The theory goes that foreign goalkeepers arriving in the Premier League are tested by more high balls than they have been previously used to dealing with, but Lloris' 55 catches - not one dropped - and 32 punches in 36 games for Lyon last season suggest opponents would be wasting their time by targeting that particular area of the 25-year-old's game as a weakness.
Regardless, though, of Lloris' obvious talent and hefty price-tag, Villas-Boas is absolutely right to make the new boy wait for his opportunity and there is nothing public to suggest that the need for patience has frustrated the Frenchman - a fact wonderfully rammed home by the manager at his press conference last week.
Even though he has to wait, Lloris was an absolutely necessary signing, not an indulgent luxury, as some have suggested. Impressive though his form may be, 41-year-old Friedel cannot go on forever and Spurs - unlike their opponents at Old Trafford - acted to solve a goalkeeping problem before it arose.
Everything about the deal makes sense. Villas-Boas signed a 25-year-old national team captain who has 40 caps and four seasons' experience in the Champions League already under his belt. At £8million, £12million or anywhere in between, Lloris will likely prove in the long-term to be a bargain. More immediately, Villas-Boas can relax, content in the knowledge that his goal is in safe hands, be they Freidel's now or Lloris' in the not-too-distant future.
Chopping and changing
With Villas-Boas spoilt for choice, to his right at Old Trafford sat Ferguson, who appears reluctant to trust either of his goalkeepers.
De Gea started the season but was dropped after an error in the 3-2 home win over Fulham - the Spaniard's second benching in his brief time with the Red Devils. The 21-year-old has featured in three cup games since, but Anders Lindegaard has been handed the gloves for the four Premier League games which followed De Gea's mistake.
Ferguson claims to be comfortable rotating his "equally very good" keepers but you can be sure that this was not part of the plan when he hand-picked De Gea to replace Edwin van der Sar a year ago.
De Gea's first season at Old Trafford was, at best, mixed. He was culpable for half-a-dozen goals in all competitions before Ferguson lost patience 14 games into the Premier League season. Only an ankle injury for Lindegaard saw De Gea regain his place and, despite a solid end to his first year, De Gea's sophomore season was only two games old before he was dropped again.
Lindegaard has since kept United's only clean sheet of the Premier League season, but has returned to the bench for the subsequent Champions League and Capital One Cup games. This policy has seen a change of goalkeeper for each of United's last six matches. Despite Ferguson's insistence that he is satisfied with this chopping and changing, the present indecision suits no-one at OId Trafford.
De Gea has the backing a large portion of the United support but, crucially, he clearly does not retain the trust of his manager. Only a year after being head-hunted by Ferguson, the Spanish Olympian finds himself having to re-apply for his job.
So, who is the best candidate? The Spaniard and the Scandinavian, unsurprisingly, have very different styles: De Gea is more flamboyant, often thrilling when he's not spilling; in contrast, Lindegaard provides an extremely steady pair of hands. You will rarely see him make a mistake, but does he have the match-saving quality De Gea has shown glimpses of, most notably in added time at Chelsea last season?
Prem Lge - 2011/12 & 12/13
De Gea
Lindegaard
Appearances
31
12
Minutes On Pitch
2790
1080
Goals Conceded
32
10
Minutes per Goal Conceded
87
108
Clean Sheets
13
7
Saves
 
 
Saves
113
27
Saves per game
3.6
2.2
Saves from Inside Box
55
11
Saves from Outside Box
58
16
Saves to Shots ratio
78%
73%
Catches
 
 
Punches
24
5
Catches
27
10
Dropped Catches
2
0
Catch Success Rate %
96%
100%
Kicks
 
 
Long Kicking Distribution
260
93
Kicking Success Rate %
49%
48%
At 21, De Gea is understandably far from the finished article, but the spotlight on the Old Trafford goal makes it an extremely unforgiving place to develop. There are a number of technical kinks in his game that require some ironing out, such as his tendency to 'set' with his weight dropping back into his goal. This is often as much a confidence issue as it might be a technical problem, but it was evident again on Tuesday night in Cluj, when Pantelis Kapetanos' scuffed shot rolled past De Gea's out-stretched foot as his head and hands fell backwards. Otherwise, he showed a safe pair of hands and rounded off his latest audition with a fine late save.
Lindegaard's most recent chance to impress saw him concede three to Spurs - the first goals he has given up at Old Trafford. Some of De Gea's supporters have suggested Lindegaard should have done better with Clint Dempsey's winner, when he parried a Gareth Bale thunderbolt into the path of the grateful American.
That, to me, is an extremely harsh assessment. The power of Bale's drive combined with Lindegaard's positioning, the proximity of the shot to his body and the angle of his dive made it very difficult to manoeuver the ball around the far post. The mere fact he got a strong-enough hand to the ball in time to deny Bale a brace is to his credit. Perhaps Lindegaard, though, might reflect more on the Welshman's first-half goal, when he appeared not to plant his feet in time before the ball left Bale's right instep.
Like many continental keepers, De Gea often displays gravity-defying agility that would shame many of his British counterparts. He also looks to be extremely comfortable with the ball at his feet, a crucial trait in a modern goalkeeper, especially at a club like United. This quality may be one of the main reasons he was chosen to replace van der Sar, who it often seemed could land a ball onto an empty golf tee from 60 yards, let alone Wayne Rooney's broad chest.
Many of De Gea's backers point to this talent as justification for why he should get the nod. But are United really dominant enough to copy the approach of Barcelona, who can afford to think of their keeper more as a first line of attack than the last line of defence? Regardless, the stats do not back up the claim that De Gea keeps possession better than his rival.
Since the start of last season, Lindegaard has been accurate with 71.8% of his distribution during his 12 appearances, while De Gea has found a United team-mate 66.7% of the time in 31 Premier League matches in a United jersey. Neither have matched van der Sar, who had a 74.9% overall accuracy rate during his final season, and was accurate with 54.5% of his long distribution, an area which De Gea and Lindegaard can barely be split, on 48.8% and 48.4% respectively.
There is a precedent for Ferguson's goalkeeping indecision. The manager alternated in 2004-05 between Roy Carroll and Tim Howard, who both suffered as a consequence. Only the subsequent arrival of van der Sar solved a major headache for the manager.
Seven years on from his last goalkeeper job-sharing experiment, it is not a path Ferguson should be heading down again - certainly for no further than he absolutely must.
United have enough problems across their back four, primarily with centre-halves who can't stay fit, so to add to the uncertainty by changing the keeper on an almost weekly basis will not aid their bid to regain the title from their derby rivals.
Goalkeepers may be a curious breed, but they are not as different as you might think. They are creatures of habit and thrive on a healthy hierarchy, which is why a swift and decisive judgement is required from Ferguson. Last season highlighted how minute the margins are at the highest level and, more than anything, Ferguson has to consider whether United can really absorb whatever cost comes from allowing De Gea to learn on the job.