Harry Redknapp picks his #One2Eleven for Fantasy Football Club
The wait is over to find out if Paul Merson has made it into Harry Redknapp's first-choice XI of all time...
Last Updated: 16/08/13 1:34pm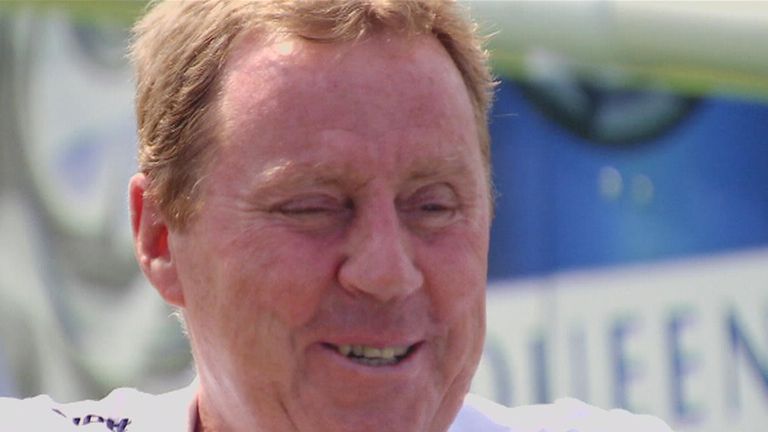 He's worked at numerous clubs in that time including two spells at Portsmouth, where he signed the one and only Paul Merson!
Merse headed down to QPR's training ground to find out if he'd made it into Harry's team.
This is Harry's #One2Eleven...
GOALKEEPER - David James: He was a fantastic talent - mad as a hatter, though! He'd stay behind for an hour after practice and loved being a 'keeper.
CENTRE-HALF - Rio Ferdinand: I signed Rio as a kid. He could do anything - he was a Rolls Royce. My Dad went to watch a game at Chelsea - the first team had a game at Newcastle that night - and he rang me to say 'I've just seen the best player I've seen in years, Harry; he's unbelievable; a real talent.
CENTRE-HALF - Sol Campbell: Sol was another fantastic player - strong, quick as lightning, powerful; he had everything.
CENTRE-HALF - Ledley King: He was just amazing. He wouldn't train, he would just have a little jog with the fitness coach and say 'I'm OK' and he'd play the next day. It's such a shame about his knee because it finished him in the end.
RIGHT WING-BACK - Glen Johnson: When I was manager at Portsmouth, Daniel Levy at Tottenham rung me and said 'what do you think about Glen, I've loaned him to you before? We're looking for a right-back and we're thinking about taking him'. I said 'no, he's not good enough for you; he's a decent player but if I was at your club I wouldn't be taking him', which was an absolute load of lies because I fancied him for my life and I wanted him at Portsmouth. Maybe that's why Levy got rid of me in the end! He never forgot that.
LEFT WING-BACK - Julian Dicks: He had a left foot like a magic wand. He didn't warm up, he didn't stretch. He just came out and would be flicking up balls, booting balls for 40 yards onto someone's chest - his technique was incredible. He was great in the air and you couldn't beat him because he was quick. He was determined and as hard as nails but a really good player as well. He could do anything with that left foot.
MIDFIELD - Frank Lampard: What a player he's become! As a kid he was different - he trained like a lunatic. At 15, 16 years of age he was just so determined to be a player that he'd be on the training ground every day after everyone had gone in, had their lunch and gone home - every day. The best trainer I ever saw before him was his Dad; that rubbed off on him without a doubt. He's top-drawer, there's no doubt about that.
MIDFIELD - Luka Modric: Luka is a great footballer - a super player.
MIDFIELD - Gareth Bale: Bale has got to get in my team because he's the full monty. He's six foot two, can head it, run all day, dribble, shoot; there's nothing he can't do. I think he's the third-best player in the world behind Messi and Ronaldo.
STRIKER - Paul Merson: There's only one man for the No 10 shirt because when I took over at Portsmouth I thought 'I've got it all on here'. Suddenly I get a phone call from Steve Kutner saying 'would you be interested in taking Paul Merson?' I said, 'I don't think he's going to come to Portsmouth'! But we took Merse and he changed the club around. He gave the whole place a lift - he made goals, scored goals. We walked away with the league that year.
STRIKER - Ian Wright: Wrighty was a great goal-scorer in his prime.
Sub
STRIKER - Paolo Di Canio: He was a genius. He wasn't easy to manage - every day was a test. He'd have days when he'd have the hump with the world and on other days he'd come in with his sun-glasses on singing. He was an amazing footballer. I'll always remember the game we had against Bradford when he had three penalties turned down. After the last one he walked over, sat in front of me, crossed his legs and said 'boss, I don't play'. I'm going 'Paolo, we're losing 3-1 to Bradford - get up and get out there'. I couldn't tell you what I said to him in the end. He got up, played on and we ended up winning. We got a penalty in the last two minutes. Frank's our penalty taker and got the ball and they were pulling the ball off each other for a minute; in the end Frank thought 'I can't win with this one' and he let Paolo take it and he scored.