Where's the subtlety?
There were many positives for Spurs in their winning start to the season at Crystal Palace, but Matt Stanger feels Andre Villas-Boas' side could still benefit from a playmaker who can offer subtlety...
By Matt Stanger
Last Updated: 18/08/13 4:50pm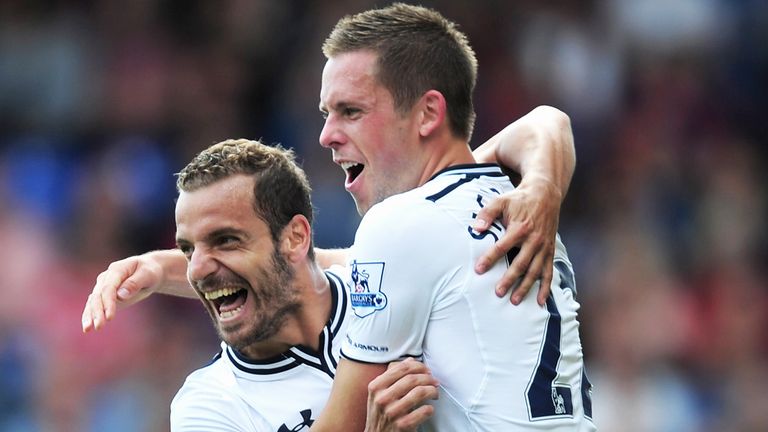 Arsenal's embarrassing defeat to Aston Villa on Saturday encouraged the narrative that fourth place - and possibly more - is well within Spurs' grasp this year but, despite kicking off with a hard-fought 1-0 win at Crystal Palace, Andre Villas-Boas' side still have plenty of room for improvement.
Spurs have strengthened well in pre-season, with Villas-Boas making it clear to Daniel Levy that he was not prepared to accept a repeat of the late rush for signings in August 2012. The manager has revealed that he turned down attractive offers to leave this summer - reportedly from Real Madrid and PSG - and his loyalty has been rewarded by Levy spending big on Roberto Soldado, Paulinho, Nacer Chadli and Etienne Capoue, all of whom played a part on Sunday.
After an agonising end to last season saw Spurs finish just one point behind Arsenal in the race for fourth, Villas-Boas' team now appear well-equipped to finally overtake their rivals. Arsenal look set to endure a tough start to the new campaign, with injuries and inaction hampering their preparation and, while it took Spurs four games to secure their first win last season, they are already up and running following victory at Selhurst Park.
Talk of a power shift is still premature, however, and Spurs' win against Palace - settled by a Soldado penalty - revealed teething troubles in Villas-Boas new-look side that will require urgent attention should Gareth Bale leave for Madrid before the end of the window.
Composure
The main issue with Spurs' style on Sunday was a lack of subtlety and composure in the final third. In Soldado, Villas-Boas finally has the number nine he needs to fire Spurs to fourth and beyond, but unless the striker is given the right service he will struggle to excel. Much of Spurs' attacking threat at Selhurst Park came from the wings and that only three of their 18 attempts hit the target underlines the point that they found it difficult to create clear-cut chances.
A midfield pairing of Mousa Dembele and Paulinho offered both mobility and resilience - not that much was required against an impotent Palace side in the first half - but with Gylfi Sigurdsson playing behind Soldado, the nuance previously provided by Luka Modric, and that Philippe Coutinho offers Liverpool, was absent. Villas-Boas' side didn't play a single through-ball throughout the match as the emphasis remained on Chadli and Aaron Lennon stretching Palace's full-backs.
If Bale ends up staying, his return will clearly help with the lack of incision Spurs exhibited on Sunday, but even then a player in Modric's mould, or long-term target Miralem Pjanic, would offer a different approach. When Sandro returns, either Dembele or Paulinho can move into the hole behind Soldado - a role Lewis Holtby can also fulfil - but all of these options are much of a muchness in an attacking sense and it's clear that more guile is required.
Indeed, while Spurs' latest signing, Capoue, was a star performer for Toulouse in Ligue 1 (and has spent much of the last two years being linked with Arsenal) he isn't the creative link needed in the final third. It may prove useful that Capoue can drop into defence when called upon - especially after Steven Caulker's sale leaves Spurs with only three first-team centre-backs - but Villas-Boas should now be focusing on finding the subtlety that was missing against Palace.
There was much to praise in Spurs' opening display, of course, but the best teams are those who possess squads that can adapt to different challenges. And in that respect, a new playmaker would greatly aid Spurs' pursuit of a place in the Champions League.