Football Commentator & Columnist
Gerrard's hot 100
Martin Tyler brings you stats on Gerrard, Pienaar, Poyet and more...
Last Updated: 22/10/13 4:50pm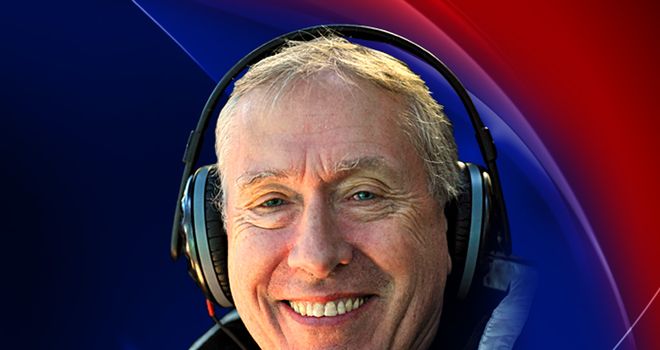 Tyler's Teaser
Every week, Martin will set you a question of his own to get your grey matter working. Click above for this week's Tyler's Teaser - which comes from Carrow Road.
Send your questions to Martin
1: Email your posers to skysportsclub@bskyb.com
2. Use the feedback form at the bottom of this page.
Martin's Starting Stats
Saturday was Sam Allardyce's 59th birthday, but there was not really a happy ending for him as his side lost 3-1 to Manchester City on Saturday Night Football. They have now lost three Premier League games in a row at home, having previously lost to Stoke and Everton at Upton Park. They only lost four home games in the whole of last season.
Man City became only the second team this season to score against West Ham from open play (and did so twice) after Romelu Lukaku's winner for Everton. City have now taken 17 points from the last seven games against West Ham - five wins and two draws. West Ham have won only one of the last 13 against City - a 1-0 win in 2009 through a goal from Jack Collison, who is now on loan at Bournemouth.
Sergio Aguero scored his first headed Premier League goal and City's fifth headed league goal this season. He also scored Man City's sixth goal from a set piece in the Premier League this season.
Man City have used five different centre-back pairings in just eight games. This was the second time the pairing of Javi Garcia and Matija Nastasic has appeared after the 0-0 at Stoke.
Heads up
I was interested to hear that Sergio Aguero had never scored with a header before Saturday against West Ham. I was wondering which Premier League player has scored the most goals without ever scoring a header? Kris (West Ham fan)
MARTIN SAYS: You're absolutely right to say this was the Argentinian's first Premier League headed goal. Sergio Aguero had netted 40 Premier League goals before Saturday without scoring with his head.
Opta's data on this topic only stretches back to August 2006, but in that time one other player has scored 40 goals without scoring with his head. That man is Theo Walcott, who has scored 40 goals including no headers. He's currently one goal ahead of Ashley Young, who has netted 39 times in the Premier league but has never scored a header.
Here are the nine players who've scored 20+ Premier League goals since August 2006 without scoring with a header:
Theo Walcott (40)
Ashley Young (39)
Samir Nasri (27)
James Milner, Aaron Lennon, Andrei Arshavin (23)
Seb Larsson (22)
Leighton Baines (21)
Mario Balotelli (20)
Superfast subs
Dear Martin. I love listening to your commentary on Super Sunday every week and I have a question for you following Everton's game with Hull. Steven Pienaar scored with his first touch after coming on as a substitute and I'd like to know if this was the quickest goal scored by a substitute in the history of the Premier League? Arnold (Everton fan).
MARTIN SAYS: Steven Pienaar's goal was timed by Opta as occurring 27 seconds after he entered the field of play on Saturday. Opta have been keeping records on this subject since August 2006 and in that period you may be surprised to hear that we've seen nine substitutes score even quicker than the Everton man did!
The quickest substitute goal we've seen in the last seven seasons came from Antoine Sibierski for Wigan against Derby in January 2008. You may also be surprised to learn that in those seven years, Matt Derbyshire has scored three goals as a substitute for Blackburn less than 45 seconds after coming on to the field. That's quite a record!
Quickest goals from substitutes in the last seven seasons (seconds on the field):
| | | | | |
| --- | --- | --- | --- | --- |
| Seconds on the field | Player | Team | Opponent | Date |
| 15 seconds | Antoine Sibierski | Wigan Athletic | Derby County | 01/12/08 |
| 17 seconds | Andrew Johnson | Fulham | Wolverhampton | 23/04/11 |
| 18 seconds | Apostolos Vellios | Everton | Chelsea | 15/10/11 |
| 18 seconds | Yakubu Aiyegbeni | Everton | Blackburn Rovers | 17/04/10 |
| 19 seconds | Andre Stephane Bikey-Amougou | Reading | Chelsea | 15/08/07 |
| 19 seconds | Stelios Giannakopoulos | Bolton Wanderers | Tottenham | 26/04/08 |
| 22 seconds | Shane Long | Reading | Newcastle | 27/10/07 |
| 22 seconds | Matt Derbyshire | Blackburn Rovers | Middlesbrough | 11/08/07 |
| 26 seconds | Patrick Vieira | Manchester City | Sunderland | 03/04/11 |
| 27 seconds | Steven Pienaar | Everton | Hull City | 19/10/13 |
So those are the quickest in recent years, but according to the Nationwide Annual, the fastest Premier League goal by a substitute came from Shaun Goater for Manchester City in a 1-1 draw away at Manchester United in February 2003. We've checked the footage and he did indeed score nine seconds after coming onto the field so that looks like the fastest of all.
No home comforts for United
Dear Martin. I'm an avid supporter of Manchester United and I can't believe we have failed to win in two home games in a row against West Brom and Southampton and I refuse to believe we will fail to beat Stoke in the next game on Saturday. Has Manchester United ever gone three Premier League at Old Trafford before without winning. Abduallah (Man U fan)
MARTIN SAYS: Manchester United drew with Southampton last Saturday and lost to West Brom in the previous home game and this is only the 25th time in Premier League history that Manchester United have failed to win in two consecutive home Premier League games. It's also the first time it has happened since August 2007.
To answer your question, there have been just five occasions in Premier League history when Manchester United have gone three home games without a win. We have detailed those for you below. Manchester United have never gone four straight Premier League home games without winning.
Manchester United failing to win in three consecutive home Premier League games:
April to August 2007: Manchester United ended their title-winning season of 2006/07 with two home games in which they did not win. They drew 1-1 with Middlesbrough on April 21 before famously losing 1-0 to West Ham on the final day of the season - a result which kept their opponents in the league. United then opened the next campaign with a 0-0 draw at home to Reading.
September to October 2005: United endured three winless home games at the start of the 2005/06 Premier League season when they drew 1-1 in the Manchester derby before losing 2-1 to Blackburn and drawing 1-1 with Tottenham.
March to May 2002: The last time Manchester United lost back-to-back home Premier League games was near the end of the 2001/02 season when they lost 1-0 to Middlesbrough and then lost 1-0 to Arsenal - the game that clinched the title for the Gunners through Sylvain Wiltord's goal. United then drew their final home game of the season 0-0 with Charlton.
April to May 1997: Manchester United won the league in 1996/97, but their home form was hardly scintillating at the end of that campaign. They lost 3-2 to Derby and then drew 3-3 with Middlesbrough and 0-0 with Newcastle. It mattered little as they won the league by seven points.
September to October 1992: Manchester United won the very first Premier League, but they were slow starters that season. They failed to win three straight games early in the season when they drew 0-0 with QPR and 2-2 with Liverpool before losing 1-0 to Wimbledon on October 31.
Ton up for Gerrard
Martin. Can you please settle a bet for us after Steven Gerrard scored his 100th Premier League goal at the weekend. My mate reckons he has scored more free-kicks than penalties, but I'm sure it is the other way around. Can you tell us who is right? Craig (Liverpool fan)
MARTIN SAYS: I'm very happy to pay tribute to Steven in this column and I was impressed he scored his 100th Premier League goal on the back of all the pressure of leading England for eight days while on international duty. He's a great guy and well done!
Craig, I can tell you that you have won your bet! Gerrard's penalty against Newcastle was the 20th he has scored in the Premier League - but he has only scored three league goals direct from free-kicks.
Maybe your friend is getting confused because he has scored a lot of goals from outside the area from open play. He has scored 27 goals from outside the area from free play with a further 50 inside the area.
We've asked the boffins at Opta to break down Gerrard's Premier League goals for you and I can tell you that 86 of his strikes have come with his right foot, eight with his left and six with his head. He's scored 61 times at Anfield in the Premier League with 39% of his league goals coming on the road.
It was no surprise to see him score against Newcastle as he's now scored against them eight times. However, his favourite opponent is Aston Villa, as he's scored 11 times against them, including his first hat-trick in 2009. His only other top-flight treble came against Everton in March 2012.
Steven Gerrard's Premier League goals by opponent:
Aston Villa (11)
Newcastle United (8)
Bolton Wanderers, Everton (7)
Birmingham City, Manchester United (6)
West Ham United (5)
Blackburn Rovers, Manchester City, Middlesbrough (4)
Arsenal, Fulham, Hull City, Sunderland, Tottenham, West Brom (3)
Burnley, Charlton, Leeds, Portsmouth (2)
Chelsea, Coventry, Crystal Palace, Derby, Norwich, Reading, Sheffield United, Sheffield Wednesday, Southampton, Stoke, Swansea, Wolves (1)
Poyet's poor start
Dear Martin. Love the column. Gus Poyet got off to the worst possible start with Sunderland at the weekend, losing 4-0 against Swansea and it got me wondering if this was the heaviest defeat that a manager has suffered in his first game in the Premier League. You would normally expect managers to do better in their first game. Carl (Sunderland fan)
MARTIN SAYS: Only two managers have suffered heavier defeats in their first Premier League game than that endured by Poyet against Swansea this weekend. The heaviest opening defeat we've seen from any Premier League boss was a former Chelsea team-mate of Poyet's - Roberto Di Matteo. His first ever Premier League game as West Brom manager was away at Chelsea on the opening day of the 2010/11 season and they lost 6-0 - not his finest game for the club.
One other manager has seen his side concede six goals in this first Premier League game and that man in Alan Smith, whose first game in charge of Crystal Palace was away at Liverpool in August 1994 and they lost 6-1.
Three other managers have suffered four goal defeats on their managerial debuts in the Premier League:
Brendan Rodgers' first Premier League game as manager was a 4-0 loss at Manchester City with Swansea
Phil Neal took over as Coventry manager in October 1993 and promptly lost his first match 5-1 away at QPR.
And finally, Steve McClaren's first game as Middlesbrough boss - and indeed his first full managerial appointment at any level - was one to forget as his side lost 4-0 at home to Arsenal.