My Career: Darren Anderton
From scoring goals at a World Cup with Becks, chasing Roberto Carlos, nights out with Gazza and, of course, losing to Germany - Darren Anderton tells Sky Sports about his highs and lows in an England shirt
By Peter Fraser - Follow me on Twitter @SkySportsPeteF
Last Updated: 20/11/13 11:45am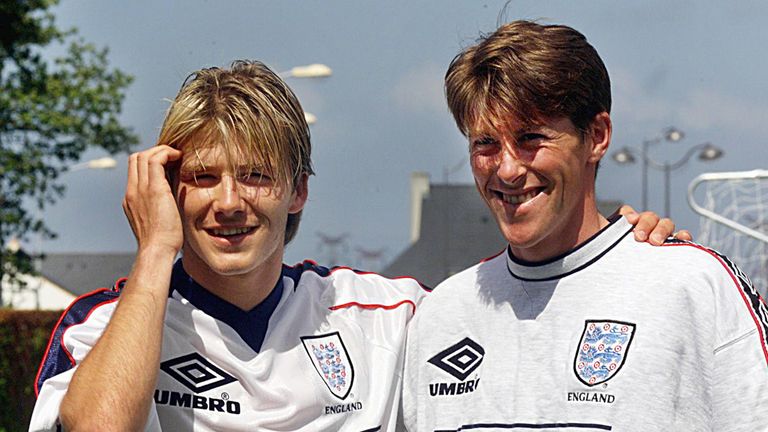 Darren Anderton was lucky enough to play for England at a time when the national team's popularity was arguably at its highest point since 1966.
Whether it is the nostalgia in the years since, the influence of the mid-1990s Britpop soundtrack, or the cultural shift the country as a whole underwent in this period, being a part of the national squads for both Euro '96 and World Cup 1998 earned most players an admirable status.
Former Tottenham Hotspur star Anderton was an integral member in both of these tournaments and therefore has some enviable memories from his playing career. He was involved in some of the epic international games of the decade and got to play with the likes of Paul Gascoigne and David Beckham.
Ahead of England's friendly against Germany on Tuesday night, the ex-winger talks Sky Sports through the glory of volleying goals at World Cup finals, showboating against Holland, playing against Brazil's Roberto Carlos... and the penalty shootout pain of losing to a familiar old rival.
Finest Hour - Scoring at the World Cup
"I managed it against Colombia in 1998. When you are a kid and you are kicking the ball about, you are dreaming of playing at the World Cup. To then also score at a World Cup finals is brilliant. Michael Owen had the ball out wide and crossed it in. The defender half-cleared it and it came straight at me. It was instinctive. There was pace on the ball but, luckily, I got my first touch right and it sat up invitingly for me to hit it into the top corner. It was a key game for England, as well. As long as we did not get beaten by Colombia, we knew we would qualify from the group stage for the knockout round. My goal was the first and then, of course, Becks (David Beckham) got the second goal from a fantastic free-kick. We won the game comfortably 2-0."
Toughest Opponent - Roberto Carlos
"He had just come on the scene when England played Brazil in 1995 at the Umbro Cup at Wembley. I was doing well myself but I almost spent the whole game defending and tracking back. It was the last thing you want to be doing as a winger. But Roberto had unbelievable quality on the ball and was so fast and strong. He was also super fit. I thought I was pretty fit, as well, and in the end I think we pretty much cancelled each other out. But, as the winger, it should have been down to me to get the better of him. It was a tough game and we got beaten 3-1. If I had to play any game now, Roberto would be the last person I would want marking me."
Favourite Match - England 4 Holland 1, Euro '96
"It was in our last group game and it was unbelievable. We spent the whole of the second half cruising and we were 4-0 up before Patrick Kluivert scored. The entire crowd at Wembley were singing 'Three Lions'. I was playing but had goose-bumps and the hairs on the back of my neck were standing up. It was an amazing time to be a footballer. The England players were a very good squad and also a good bunch of lads. I think that is a problem now, they probably do not bond as a team. They do not have that club mentality we had. That came from the manager, Terry Venables, getting the boys together. It was also probably down to a few nights out, for which we got in a bit of trouble, but it makes you stick together and you get to know your team-mates."
Heartbreaking Moment - Penalty Pain
"We had played so well against Germany in the semi-finals at Euro '96. As far as I was concerned, we were the better team on the night. Losing on penalties is the worst and the semi-finals are also the worst time to go out of a tournament. It was a real downer. The game finished and we went back to the hotel and it was all over. In your mind, you did not think it was ever going to end. With the mentality of the team, we thought we were going to go all the way and win the tournament."
Most Talented Team-Mate - Paul Gascoigne
"I am not even sure if I saw the best of him. He had been unbelievable at Italia '90 and then he picked up the injury. But to play with him, someone I looked up to, and for him to be a great lad was fantastic. He looked after me when I first got into the squad, as well. To be a part of the celebrations when he scored that wonder goal against Scotland at Euro '96 was also brilliant."