Finishing school
Twenty points from 11 games leaves Tottenham in the mix at the top of the table but it's their tally of nine goals that has supporters worried. Adam Bate explores the issues of creativity and finishing that are causing such problems for Andre Villas-Boas and his side...
By Adam Bate - @GhostGoal & Thomas McClure (artwork)
Last Updated: 23/11/13 12:54pm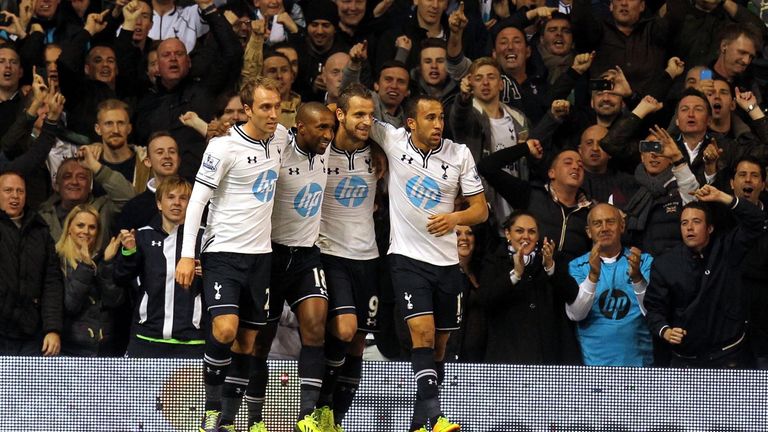 "I am a realist and I know that, on the pitch, I am not happy with everything," Tottenham striker Roberto Soldado admitted to the club's supporters this week. "I am not combining with my team-mates how I would like but I know I am very close. I'm striving to get to top form and play at 100 per cent. I am convinced that I am almost there."
'Almost there' seems to be the story of Tottenham's season. Just five points off the lead and having conceded only six goals from their 11 Premier League matches, there are plenty of positives. It's the miserable tally of nine goals that is threatening to scupper their ambitions. Only the bottom two have found the net on fewer occasions.
The problem is that opinion is divided as to why. Is it poor finishing or a lack of creativity? Here the matter becomes more complicated. "A riddle wrapped in a mystery inside an enigma," Winston Churchill might have mused, were he alive today and - equally bafflingly - more concerned with north London football than eastern European politics.
Spurs are the only team in the Premier League with more than 200 shots this season. Around Europe's top leagues only Barcelona, Bayern Munich, Borussia Dortmund, Juventus, Paris St Germain and Real Madrid can match that feat. Evidently, Andre Villas-Boas and his players are doing something right. The quantity is there. But the poor goal return raises questions about the quality of these shots.
The shot locations might elucidate the reason for this problem. Tottenham are the only team among the Premier League's top eight to attempt more than half their shots from outside the box. Long-range howitzers might make the headlines but they seldom find the net with quite the regularity of efforts from inside the area. It is indicative of a style of play that is proving ineffective.
Inverted wingers have become a source of frustration at White Hart Lane. With Andros Townsend preferred on the right, Aaron Lennon has been deployed on the left flank in recent matches against Hull and Everton to no great effect. One goal between the pair - and that a misdirected Townsend cross - represents an alarming return from over 18 hours of Premier League football.
Curiosity
It is a particular curiosity given that Townsend has emerged as the darling of English football following a series of impressive performances for the national team. But the nature of his eye-catching efforts in an England shirt hints at the difficulties the 22-year-old winger might endure when playing for his club.
Townsend has been at his best when using his dribbling skills to carry the ball forward at pace and give England a foothold in the attacking third. Once there, weaknesses in his game have been exposed. Decision-making remains a work in progress, while the vision and technical ability to pick a clever pass through a pack defence is lacking. In essence, Townsend's strengths appear ill-suited to a team that is committed to a patient build-up.
Christian Eriksen is a player capable of finding that pass to unlock a defence. The talented Dane has that creative spark, the imagination to produce a killer through-ball rather than a speculative effort on goal. Interestingly, between them Townsend, Paulinho and Soldado are missing the target more often than they're hitting it this season (39 of 79 shots on target), while Eriksen has troubled the goalkeeper with six of his seven shots so far.
But it's the key passes metric that really highlights Eriksen's worth. His performance against Newcastle divided opinion, but in creating nine chances for his team, the 21-year-old showcased his talent for making things happen. An average of 3.8 key passes per 90 minutes puts him well ahead of his team-mates in the creativity stakes and - given he is set to miss the next month of action through injury - highlights a key weakness among his colleagues.
Without a No.10, Villas-Boas' system doesn't seem to make sense. Strikers who thrive on service and wingers with end-product issues leave Tottenham reliant on goals and assists from the attacking midfield zone that have not been forthcoming. Perhaps this is where Erik Lamela, a young man with 15 Serie A goals to his name last season, could emerge as a player of substance for Spurs in the coming games.
And yet, it is worth noting that complaints of a lack of service are problematic. While the quality of Tottenham's shooting opportunities can be questioned, even when the goal has been gaping chances have come along and they've been wasted. Only Sunday's opponents Manchester City - the division's top scorers with 28 goals - have missed more of what Opta defines as 'big chances'.
While Soldado is among the top 10 culprits in the Premier League in this regard, the worst offender has been Paulinho. The Brazilian midfielder came with a reputation as a goal-getter from deep but only Sergio Aguero has wasted more clear-cut chances than the summer signing from Corinthians. The difference being that Aguero also happens to be the country's top goalscorer. Paulinho has a solitary goal to his name despite playing every minute of the Premier League season so far.
It hasn't stopped him trying his luck. As a consequence, of the 11 Premier League players to have 22 shots or more so far this season, Paulinho's conversion rate is dramatically worse than all but one of the other 10. The identity of that man? Andros Townsend. It's a damning statistic that, when coupled with the evidence that Spurs do create quality chances, suggests that execution is every bit as much of a concern as creation.
Both will need to improve if Tottenham are to fulfil their potential this season and one would expect some regression to the mean here: Townsend and Paulinho, for example, surely cannot continue to post such numbers, while goalkeeping performances such as the one Tim Krul produced for Newcastle last time out are unlikely to be encountered every week. An upturn in fortunes can be expected. And a trip to Manchester City would be a good place to start.