Gary Neville: Tottenham lack intensity and balance and need a proper No. 10
Tottenham must improve their 'big-game mentality' in order to end their current slump, says Gary Neville.
Last Updated: 25/11/13 8:54pm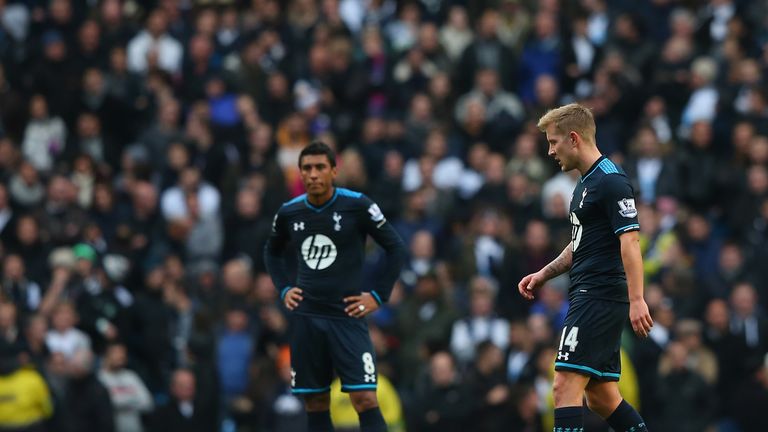 Andre Villas-Boas' men were thrashed 6-0 at Manchester City on Super Sunday, have failed to score in their previous three Premier League games and slipped to ninth in the table.
Speaking on Monday Night Football, Neville criticised Spurs' meek beginning to the game at the Etihad Stadium and their decision to play the ball back to goalkeeper Hugo Lloris from the kick-off.
The former Manchester United full-back also panned the Londoners' defensive set-up and feels that, unless they play with 'intensity' and find a support striker capable of both assisting and rippling the net, they will struggle to impact towards the top of the division.
"Tottenham created a lot of their own problems against Man City through mentality and 'sluggishly' is the word I would use to describe how they started," said the Sky Sports analyst.
"Five of Tottenham's back six weren't ready for it - some were tying their laces and some were playing with their socks at the kick-off - and they ended up passing the ball back to the goalkeeper, which is a pet peeve of mine.
"I am unashamed in saying I don't like playing backwards - at Manchester United the ball would go to Paul Scholes and it would get passed into a right-wing position.
"It is wrong to have the ball on the halfway line and give the ball back to your goalkeeper in a big game away from home and it is wrong to suggest you start a game any other way than playing forward.
"You must play with intent and so the mentality Tottenham showed was really poor."
Neville continued: "Tottenham's full-backs [Kyle Walker and Jan Vertonghen] were also too high considering they were playing with Michael Dawson and Younes Kaboul, who you wouldn't want to leave one-on-one.
"It's okay if you've got Ronald Koeman and Franz Beckenbauer as your centre-backs and you can play out like the best team in the world, but you've got to adapt your philosophy to your players and the situation you are in.
"This philosophy is from a perfect-world, utopian coaching manual, not reality, and they have square pegs in round holes, too.
"Lewis Holtby is not a number 10, neither is Gylfi Sigurdsson and while Christian Eriksen may be, if he was you wonder why none of the top European clubs have picked him up over the last couple of seasons.
"Number 10s for top clubs need to score 10 goals and set up 10-15 goals a season and at the moment I don't see a goal threat, while there is also a lack of balance in this team - but it's still early and Spurs are in touching distance."