A decent fit?
Whilst it's still very much up for debate whether he's a viable long-term candidate for the Tottenham job, Tim Sherwood's willingness to try something different could make him ideal in the short-term, says Nick Miller...
By Nick Miller
Last Updated: 22/12/13 9:42pm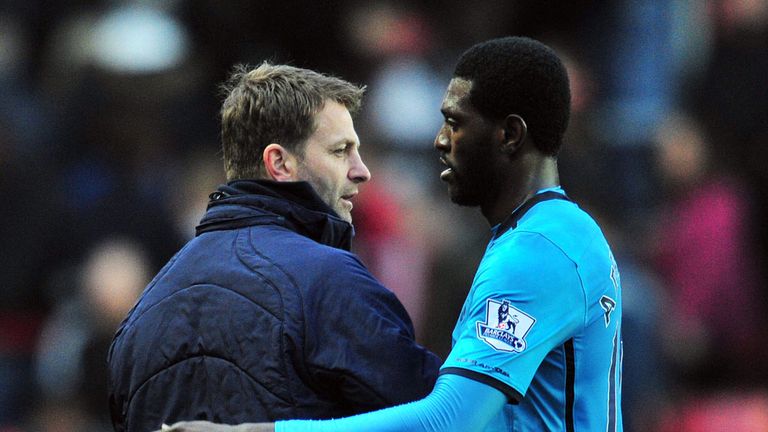 There was more than a hint of 'sod it' about Tim Sherwood's team selection against Southampton. Much as his team for the Capital One Cup tie against West Ham was the 'anti-AVB XI', a 4-4-2 with a big man/little man pairing up top, when he named his side on Sunday it looked like he was picking a deliberately attacking side as a counter to the relative caution of what came before.
It seems like Sherwood has picked teams to make a point first, and considered what might be appropriate to the situation second. The side at St Mary's made little tactical sense in theory, with two strikers that very much prefer to be centre forwards and no ball-winner in midfield, against a team famed for their quick play and pressing in that area.
It's understandable that Sherwood might want to make a 'statement' - he is, after all, basically auditioning for a job that he not only wants pretty badly, but seems to think he should have been given quite some time ago.
In his early days as Spurs manager, Sherwood has displayed potential as a mild figure of fun, seemingly trying to set himself up as a no-nonsense, tell-it-like-it-is sort - a return to 'proper' football management after that fancy foreigner came in with his 4-2-3-1s and his statistics and his sleeping at the training ground. In his interviews and press conferences so far, he has been keen to make sure everyone knows he is a 'football man', which could be the sort of cliche favoured by many managers, but could also be either a dig at Andre Villas-Boas or (probably more likely) an attempt to make clear he is very different to his predecessor.
All of that might read as a criticism, but in fact it might be exactly what Spurs need at the moment. Managerial appointments are often made as a reaction to the previous man, and there is a logical reason for that. Sometimes a change is as good as any sort of tactical innovation for a while, re-enthusing a collection of players after whatever the old guy was trying failed.
Sherwood seems to be - on admittedly scant evidence - a man not averse to taking risks. Quite apart from his starting selection, when Mousa Dembele was injured he chose to bring on Nabil Bentaleb instead of Etienne Capoue - not only a gamble because Bentaleb is an untried 19-year-old, but also because by all accounts he is a rather more attacking player than either Dembele or Capoue. "I don't know Capoue as much as I know Bentaleb and that's why I put the latter on instead of the former," said Sherwood after the game, pointing to his knowledge of the Spurs youth set-up rather than the big signings. Again, a key difference to Villas-Boas.
Also, with Spurs 3-2 up and at points clinging onto their lead, he chose to bring Jermain Defoe on for Roberto Soldado, instead of a more defensive option to help close out the game. If that had failed, he would have faced questions, but such is the nature of the gambler.
Incidentally, on the subject of Soldado, he was of course very bad against Southampton, but in a different way to his under-performance previously this season. Soldado has largely been quiet because he hasn't been given enough service - in this game he was given at least three chances on a plate, but made a mess of them. But at least he was given the chances.
Sherwood's approach was, at the very least, worth a go. One of the key criticisms about Villas-Boas is that he was too inflexible, too stubborn, and not willing enough to make positive changes. Sherwood might not be experienced, but he is at least willing to be a little more open-minded, as shown by his selection of Emmanuel Adebayor, a man clearly keen to make a point now, but one that history tells us will revert to listless and ineffectual after a while. All of this might be just what Spurs need, at least in the short-term.
Of course, we can't draw too many conclusions from the game against Southampton. So bad was the home side's defending - particularly from Joos Hoiveld, who appeared to be playing in a very large pair of shoes, having ridden to the ground on a tiny bike and thrown a bucket of glitter, which he pretended was water, over his colleagues - that it would be tough to argue that his tactics definitely worked. Indeed, at stages in the first half it looked like the decision to play that attacking but relatively lightweight midfield four was a suicidal one, folly that would be punished by an energetic Southampton. But, again, at least it was something 'different'.
I wrote recently it's possible that, with a few exceptions, there is rarely such a thing as a 'good' manager these days, simply the 'right' manager for any club or situation. While we don't know if he's a viable long-term candidate, in the short-term Sherwood might just be the right man for Spurs.

Tim Sherwood's view
"You enjoy when you win. I didn't enjoy the first half. I thought we were poor and didn't keep the ball enough. In the second half, after we had a chat, we took it on and showed what quality players we have. Emmanuel has not been playing so it doesn't take much (to inspire him). In the second half, they (Adebayor and Roberto Soldado) looked a threat. It's a squad game. They've all got to take their part. There are a lot of games coming thick and fast."
Jamie Redknapp's view
"Sherwood must take a lot of credit for bringing Emmaneul Adebayor back into the fold, going 4-4-2 and giving Spurs fans what they want. There is a DNA about this club that has stretched back many years and supporters want to see attacking football and players in the box - and that hasn't been provided in the last year or so."