Getting results
After Tottenham's 1-0 win over Everton at White Hart Lane on Sunday, Daniel Storey looks to their manager... It's easy to be snobbish about Tim Sherwood and his tactical simplicity but, whilst doubts will undoubtedly remain, you can't complain at his current record...
By Daniel Storey
Last Updated: 09/02/14 7:03pm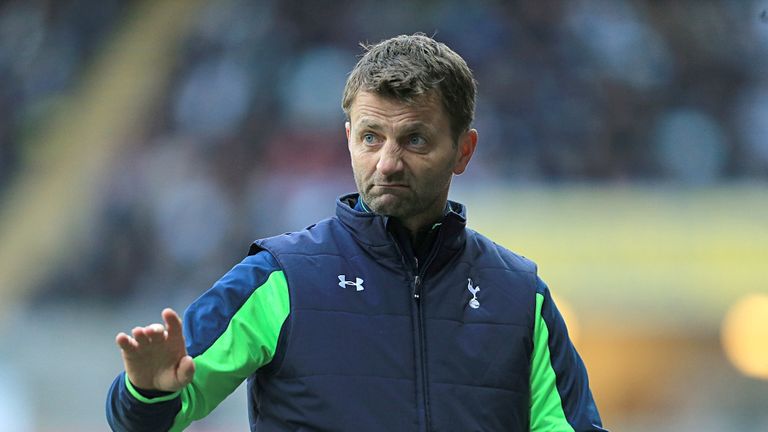 So Tim Sherwood and Spurs walk (if not march) on. Three points taking them to within three of the top four, the club's pre-season aim. There may have been very little vintage about the 1-0 victory over Everton on Sunday lunchtime, but the facts are undeniable - six victories from nine Premier League matches under Sherwood, and the only league defeat coming against a Manchester City side that were title favourites at the time.
Sherwood is a self-professed simple manager. His initial success at Spurs owed much to the huge gap between his ethos and that of his predecessor Andre Villas-Boas. This was football management chalk and cheese, and the club's players seemingly reacted positively to the fresh air Sherwood afforded to them after the perceived strangulation of the Portuguese's micro-management.
Sherwood's much-repeated mantra is 'players over systems', a belief stated once again in the build-up to Sunday's match against Everton. "I still maintain it's about individual players, not systems, and if there is a technical mismatch between teams, you should adjust accordingly."
For an hour against Everton, Spurs fans would have been forgiven for cursing such simplicity. There was little attacking coherence during a first half in which their side failed to have a single shot on target. Emmanuel Adebayor looked continuously isolated, having to drift out to the wings just to pick up the ball, and because Spurs operated with Nabil Bentaleb, Mousa Dembele and Paulinho in central midfield, there was no replacement for Adebayor when he came deep. Aaron Lennon, a potential focal point for attacking creativeness, touched the ball just 10 times during the first half and completed only two passes in the opposition half. This was almost complete bluntness.
Everton, meanwhile, were the polar opposite. Where Spurs had lassitude, their opponents were busy, Steven Naysmith, Leon Osman and Kevin Mirallas interchanging positions and buzzing round the final third with obvious intent. Gareth Barry and James McCarthy dominated the midfield battle and were able to constantly act as the initiators of attacks. The injured Romelu Lukaku was missed, possibly the final piece of a particularly attractive jigsaw, but this was overwhelming evidence for Sherwood's prosecution - Roberto Martinez had paid attention to both players and systems. What was this witchcraft?
Trump card
But then, just as the groans around White Hart Lane had progressed to audible disappointment, we saw Sherwood's trump card. The manager's treatment of Adebayor has been widely documented, but that makes it no less relevant. Whilst AVB was guilty of shunning the Togolese striker and his laissez faire attitude, Sherwood has harnessed it. He has made Adebayor feel loved, feel welcomed and feel important.
It has been his most prescient action by far. When Adebayor took down the ball from Kyle Walker's cross-field free kick, touching the ball away from Seamus Coleman before firing past Tim Howard at his front post, it was the telling point of the match.
It is clear that doubts still remain as to Sherwood's aptitude to guide Spurs beyond the end of this season, a campaign that (once again) supporters are preparing to draw a line under before looking ahead with (once again) positivity should they be (once again) left disappointed. Against both Arsenal and Manchester City, the lack of apparent plan led to Spurs looking disjointed and vulnerable, and there is a continued fear that when facing the strongest teams a managerial naivety will be revealed. In addition, Adebayor has perennially been an inconsistent performer, whilst Roberto Soldado has been consistent, but only through his ineptitude. These are now the only two strikers.
That said, this Everton team possess no little quality, and no Premier League team had lost fewer games this season. Tottenham's ability to take the first-half punches before responding after the break is a feather in the cap of Sherwood's resilience. Perhaps Champions League hopes are not yet lost.
It is easy to be snobbish and sarcastic about Sherwood's back to basics approach to management, but it is worth appreciating that there is more than one way to skin a footballing cat. If his record over his first nine league games was spread across a whole season it would return a haul of 84 points. That's been enough to guarantee a top-four place in every Premier League season, and indeed would have won the title just three years ago.
Daniel Storey - follow him on Twitter