Champions League Final: Jeff Stelling tips Gareth Bale to shine in Lisbon
but says Real Madrid will find Atletico's defence hard to crack...
Last Updated: 23/05/14 9:27am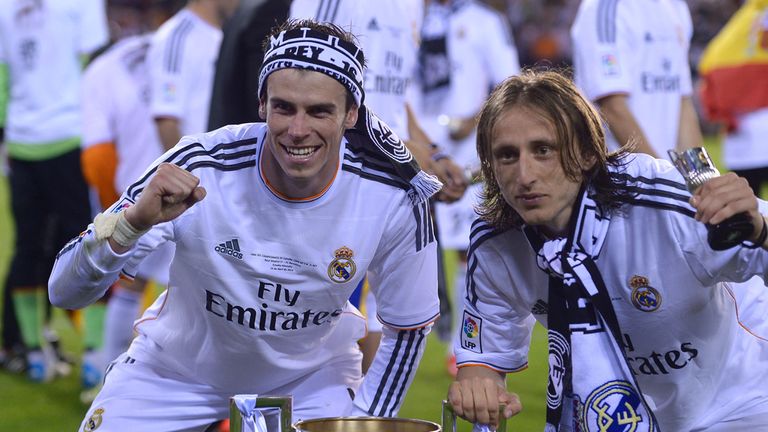 That's partly because they've got big-name players and big-game players. You expect, on a special occasion, the likes of Cristiano Ronaldo to perform.
It's the perfect stage for him, Gareth Bale, Karim Benzema, Luka Modric and the rest of the Galácticos. But, I wouldn't like to diminish the achievements of Atletico who, on a fraction of the budget and - with the exception of Diego Costa - no big stars, have done fantastically and are unbeaten throughout this Champions League campaign.
Atletico are going to be one tough nut to crack. With their first choice goalkeeper and back four they haven't lost - from the 33 games they've started together this season they've won 25 and drawn eight - and conceded just 26 goals in La Liga.
Welsh wonder
How absolutely amazing it must be for young Bale. Spurs fans should look away when we go on air from Lisbon. Not only will they see Bale, but they'll also see Modric, and no doubt be hugely regretting the departure of both of them - and regretting just as much how they squandered the money they earned.
Bale has done brilliantly since his move to Madrid. There were plenty of doubters; I got pilloried when I said Gareth Bale would be just as good as Cristiano Ronaldo. People will still argue to the toss over it at the moment, and I accept that, but I believe everyone would agree he's getting closer.
For a relatively quiet, unassuming young man he's gone out to mix it with the Galácticos and he's done incredibly in his first season. It must have been quite overwhelming playing in a foreign country - and not many Brits have been particularly successful overseas - he's got it right from the opening press conference where he did the few words in Spanish and paid tribute to Ronaldo.
I'd be surprised if he doesn't have a great game this weekend and I'm a massive, massive fan.
The best
However, it's hard to ignore Ronaldo because he is the best footballer in the world. This is his stage.
We've seen what he's done throughout the Champions League this season, where he has been absolutely brilliant. He hasn't always delivered on the world stage - just look at his World Cup record for Portugal, it's not that great - but he's a different player again this season.
Ronaldo seemed to always feel he deserved to be ranked as the best player in the world but never quite was, and that played on his mind, but now he's got that recognition, he's certainly got the belief, he's certainly got the ability; he has, unquestionably, overtaken Lionel Messi. Now he has to keep producing it to stay at number one.
Contrast
The final is going to be a fantastic occasion and a huge derby. There's such contrasting styles of play and they're such contrasting clubs.
On one hand you've got European aristocracy, while on the other side you've got the artisans - whose key attributes are team work and hard work - very different from Real Madrid.
This is a great day for Spain and all roads from Madrid to Lisbon are going to be jammed from top-to-toe. Both clubs have fanatical fans; Atletico view themselves as the working class club from the south of the city and Real Madrid the rich boys from the north.
It's got the makings of a final that should have a lot of flair and could be very feisty - as are local derbies. The atmosphere, on and off the pitch, is going to become pretty hot.
I still fancy Real Madrid but it's going to mighty close, maybe just one goal in it.