Decision time
Tony Parkes says Venky's must decide now whether Steve Kean is the right man to lead Blackburn.
Last Updated: 24/05/12 12:23pm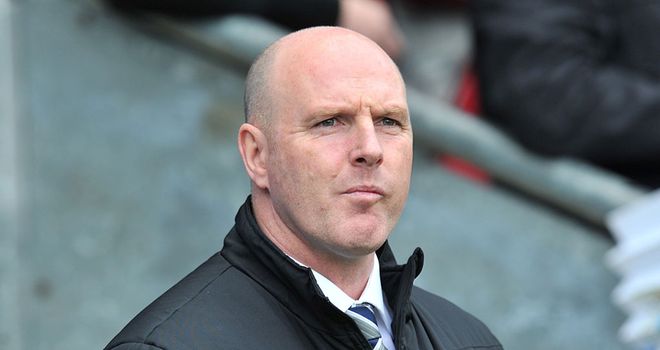 Blackburn legend Tony Parkes says he is shocked that the Venky's have not yet decided whether Steve Kean will be managing the team next season.
Rovers' co-owner, Venkatesh Rao, revealed on Wednesday that Kean's future at the recently-relegated outfit would be resolved in June.
But Parkes, who has led Blackburn as caretaker boss on six occasions, says that the club's hierarchy must act fast so that the Lancastrians do no enter their first Championship campaign since 2001 playing catch-up.
"I just can't believe that they haven't made a decision," Parkes, who made 350 league appearances for Rovers as a player, told Sky Sports News HD.
"Steve [Kean] is in limbo and really needs to know whether he will be manager of the club and whether he has got players to sell and players to get in. It's a big job and if you miss quite a few weeks some of your playing targets might have gone."
Parkes continued: "I have very little confidence in the owners as they know very little about football.
"When they came in 16 months ago, they got rid of people who knew something about football and could have helped them.
"From that moment on, there has been a lot of distrust in the owners. They are hiding away and letting Steve Kean take all the flak and, for me, they are not the right people to be running Blackburn."
Behind
Rovers' fans consistently voiced their displeasure at the Venky's ownership and Kean's management throughout the course of the season as the club finished 19th in the Premier League.
Parkes understands their frustrations and admits he is worried for the future of a side that won the top flight in 1995 under the stewardship of late chairman Jack Walker.
"Jack was in it for the right reasons; he was a Blackburn man, he built the academy and Ewood Park and he was in a class of his own," added the 63-year-old. "These owners are the opposite and I cannot see where Blackburn are going to go.
"They are talking about buying players but we have heard all this before. They came in with all guns blazing with mentions of Diego Maradona, David Beckham and Ronaldinho.
"But if they are going to stay there is only one way forward: the fans have to stick behind the owners and also the manager.
"It is going to be difficult because the fans really want change but we can't go through what we had last year, with Steve Kean being booed for 90 minutes every home game. It got ridiculous at times."