Tributes pour in
Rare is it that football is entirely united but in mourning the tragic passing of Gary Speed there is a universal sense of both disbelief and great sadness. We invite you to share your own tributes to mark the passing of a modern great taken too soon.
Last Updated: 28/11/11 1:14pm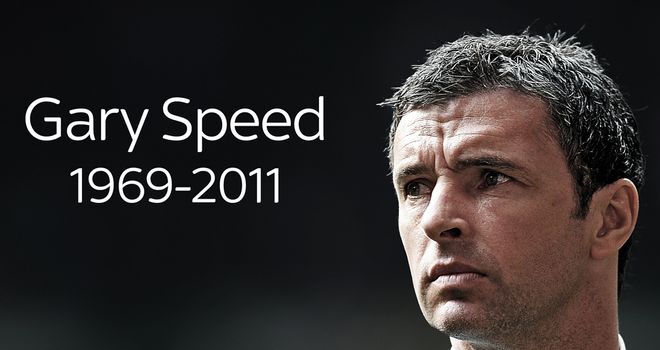 Alan Shearer: "Gary was a magnificent person, bright, fun and a wonderful family man - he lit up every room he walked into. I am proud to have been his friend and will miss him dreadfully."
Howard Wilkinson: "He was a star in the true sense. For him - at 42 - to leave us is such a tragic loss. He had a life of success to look forward to I'm sure. I've known Gary since 1988 and I've rarely come across a better person."
Aaron Ramsey: "I was given the tragic news this morning. To say I am devastated is an understatement. Today the world has lost a great football manager but even more sadly a great man. He will be missed by all."
Bobby Gould: "People are just stunned. I saw [former Wales striker] John Hartson earlier and I said 'have you heard about Gary?' The big man just cried and cried. We cuddled each other. Gary was the ultimate professional."
Robbie Savage: "The world has lost a great man in Gary Speed. I'm devastated spoke to him yesterday morning why! Why. Why. He loved life he loved his family. Devastated."
Dean Saunders: "He was one of those players who would stay behind all day in training. I can't believe what's happened. I just wish I could've spoken to him before. Maybe I could've just said something."
Kenny Dalglish: "He was a smashing lad and was really well respected. It's a times like this that the football becomes a wee bit irrelevant. He was a very respected man in and around football."
Richard Scudamore: "Gary was a wonderful ambassador for our league, and indeed all of football, but more than that he was a decent man widely respected throughout the game and beyond. Gary will go down in history."
Michael Owen: "Just cannot believe the news regarding Gary Speed. We waved at each other a couple of days ago dropping our kids off at school. I'm numb. So sad. He lived local to me and we knew his family. He leaves behind 2 sons. Tragic."
FAW chief executive Jonathan Ford: "I, and all of the football family of Wales, am devastated by the news of Gary's passing. My thoughts and prayers are with his wife and family at this difficult time."
FAW president Phil Pritchard: "I am completely shocked by this terrible news and my thoughts are with his family. We will do whatever we can as an association to help them in this difficult time."
Graeme Souness: You can call someone a great player if they've played for so long and won things. Some people are called great players after one season, but for me if you play for such a long time, it shows your character."
Phil Gartside: "Not only was he a top-class professional but was a wonderful person who is very fondly remembered by all of us and our thoughts and heartfelt condolences are with his family at this time."
Mark Bowen: "It's sad, sad news and it's a sad, sad day for everybody connected with football and anybody who knew Gary. I think everybody is totally stunned and shocked by the news."
Gary Neville: "It's absolutely devastating. My career and his crossed paths many times. I played against him many times and he was a fantastic professional. We think of football as being important, but it's not really."
Simon Grayson: "It is an unbelievably sad day. Speedo was a true friend and a very, very popular man. He was a good friend and this is a very sad day. It was just an amazement, it left you all cold and with a feeling of sickness."
Ryan Giggs: "I am totally devastated. Gary Speed was one of the nicest men in football and someone I am honoured to call a team-mate and friend. Words cannot begin to describe how sad I feel at hearing this awful news."
Ian Botham: "Not very often am I lost for words. I was with him just a few weeks ago. We played golf, he was enjoying himself and Wales were playing well - everything seemed to be rosy. It just goes to show you never know what quite goes on."
Leeds club statement: "Gary was very well thought-of throughout the game. He was a very likeable and popular man. It's very difficult to find words to describe how we're all feeling right now."
Newcastle club statement: "Gary was an inspirational and much-loved player at Newcastle United during his time with the club from 1998 to 2004. He was an excellent servant to the club and the ultimate professional."
Sheffield United club statement: "Everybody at Sheffield United is extremely shocked and saddened to learn of the death of former player and manager Gary Speed. Thoughts are with Gary's family and friends at this distressing time."