Chris Kamara on a inconsistent weekend for Premier League referees
Kammy has sympathy for Sunderland, West Ham and Palace after big decisions went against them.
Last Updated: 16/09/13 7:38pm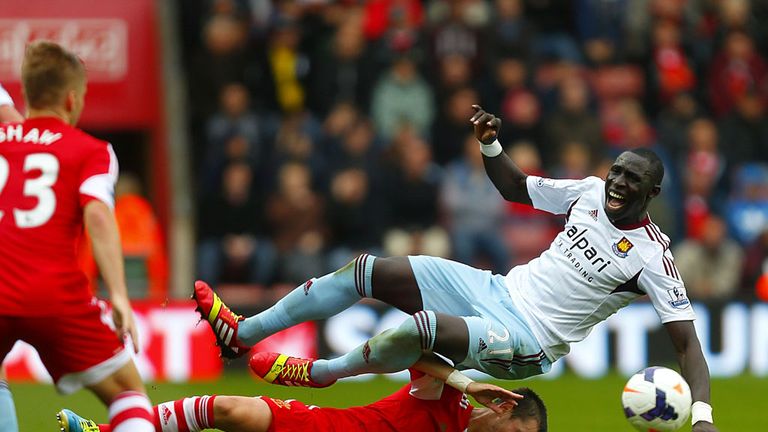 Listening to Sam Allardyce I understand where he's coming from. One week the Morgan Schneiderlin tackle on Mohamed Diame would be given as a sending off, another week that would be given as a yellow card. Consistency, that's all he's asking for, so that if one of his players does that in the next game - he doesn't a get a red card.
Personally I thought the referee handled it ok, but I understand where the managers are coming from. There's no consistency, it's the start of the season and nobody knows when a penalty is a penalty. Inconsistencies have come out straight away. At the start of the season two referees go around the football clubs and tell them what's going to happen in regards to decisions and then as soon as the game starts on a Saturday it's all down to interpretation of the game by the referee on the day. That can't be, it's got be one law for all.
Moyes should punish Young for diving
I think David Moyes summed it up at the end of the day that he's going to have words with Ashley Young. Diving can't be tolerated and it's unacceptable as far as he's concerned in a Manchester United shirt - which was nice to hear.
My opinion of the penalty is that, yes, it was a coming together that is for sure. Whether he had the ball under enough control to validate a goalscoring opportunity with the other defenders around him - I'm not so sure, I'm really not so sure. On Goals on Sunday Peter Reid said: 'If that would have been Moyes taking Everton to Manchester United then he wouldn't have got the penalty' - which I think is a fair comment.
I have sympathy for Paolo Di Canio
The Jozy Altidore 'disallowed goal' decision is one of those where the referee needs to hold his hands up and say he's made a mistake. The referees were given license to wait to see the outcome before they blow the whistle, but he reacted immediately and unfortunately it was only a spilt second before Altidore had struck the ball in to the back of the net, none of the Arsenal players had stopped playing. But as he'd already pulled blown up, he then couldn't allow the goal.
I understood where Paolo Di Canio's anger was coming from because of the difference in the halves. Arsenal could have been out of sight by half-time, but Di Canio got Sunderland together at the break and then the decision went against them. The referee blew the whistle earlier than he needed to. Who knows whether that cost them the game? Arsenal could have still gone on to win.
Ramsey and Ben Arfa are hitting heights after injury
We were talking on Goals on Sunday with Tony Pulis and he said: 'People tend to forget Aaron Ramsey had a serious injury' - when he was involved in a tackle with Tony's Stoke player Ryan Shawcross in 2010. Last season he was coming back, but never quite reached the heights that he'd got to before he had the injury; now he's got back to those heights again.
From my own experience, when I was out for eight months with Leeds, it took me more than a full a season to get myself back together and you can understand why he struggled last year. He's now free of injuries, he's had a pre-season and he looks like the player that Gary Speed, God rest his soul, made Wales captain as soon as he took the job.
Hatem Ben Arfa is another player, like Ramsey, who has come back from a serious injury, a really horrific injury after the blistering start he had when he first came to Newcastle and now he's is getting over that period.
He's been the shining light for Newcastle United this season. He got the goal against Fulham and he got the goal against Villa on Saturday. If you watch Ben Arfa, which I'm sure all these club do, the one thing he likes to do, whether it be on the right-hand side of the left-hand side, is come in and have a shot.
If I was Paul Lambert I'd have been telling my Aston Villa players to send him down the line. They might have to deal with a cross, but don't send him inside because he loves to have a shot, whether that be on his left foot or his right foot because he's got two fantastic feet, if you show him inside he'll punish you. He punished Fulham and he punished Villa on Saturday.
Anelka shone for the Baggies
I was at Fulham v West Brom on Saturday which ended 1-1. Its early days in the season and both teams are looking to get some kind of consistency.
I think Fulham thought they'd done enough on Saturday, but at 1-0 it can only come back to haunt you. They occasionally attacked West Brom in the second half, but they were trying to see the game out for most of the second half rather than thinking about putting the game out of sight and that gave West Brom a lifeline.
I thought Nicolas Anelka was excellent on the day. He was by far the best player on the pitch and there's plenty more of him and West Brom to come. As for Fulham, they're never going to be in the top six, but their home form will always be enough to make sure they stay in the Premier League this season.
That's Kammy's view but what did YOU make of the Premier League weekend? Let us know using the feedback form below...