Kevin Phillips
Football Expert & Columnist
Kevin Phillips: Sunderland need Tyne-Wear success to revive fortunes
A Tyne-Wear win can turn Sunderland's season around once again, says Kevin Phillips.
Last Updated: 29/10/13 12:13pm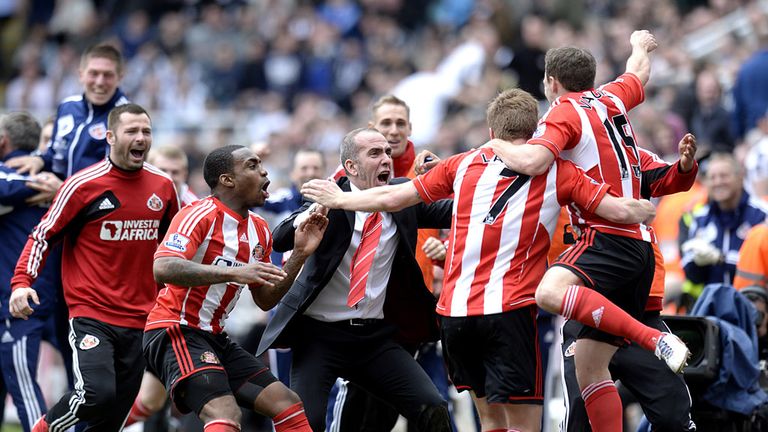 With Sunderland currently bottom of the table their fans will be even more desperate for their side to get all three points against their rivals.
Last season Paolo Di Canio took Sunderland to St James' Park and their 3-0 win there was a springboard to staying in the Premier League.
Similarly, if Gus Poyet can win his first home game in charge - and what a home game to start with! - then it might inspire Sunderland to turn around a bad start to the season and move away from the bottom of the table.
They'll be up against a resilient Newcastle team, though.
Although they've been a bit hit and miss this year, Alan Pardew's side have got some exciting players who, on their day, can really make a difference, so it should be a good game.
Either way, the atmosphere is going to be tremendous as the fans are second to none up there.
Magical
This is a game the supporters look for straight away when the fixtures come out.
When I joined Sunderland I didn't know too much about the derby but one of the first things a supporter said to me when I signed was 'I don't care what happens in the season as long as you beat Newcastle'.
And I remember my first Tyne-Wear derby well.
It was at St James' Park where Sunderland hadn't won for a very long time and the match was played in torrential rain. If it had gone on another 10 minutes it would have been called off.
But I managed to score the winner in a 2-1 victory with a nice finish - one of my best goals for Sunderland - and it was a magical feeling.
I made myself a hero with the Sunderland fans that night. There's certainly an opportunity for a current Sunderland player to replicate that on Sunday.
Fergie time
I don't normally read many books but I'll certainly be going out to buy a copy of Sir Alex Ferguson's autobiography to see what's in there.
When we played at Old Trafford earlier this season it was strange to look at the United bench and not see him sitting there.
He was a phenomenal manager.
For me, his achievements will never be matched and when I'm old and speaking to my grandkids I'll be proud to tell them I played against the Man United team that had the best manager of all time managing them.
I never played under him so don't know exactly what he was like as a manager, but you get the impression you don't mess about with him.
We've seen over the years with David Beckham, Roy Keane and Jaap Stam that if you don't abide by his rules you're out the door, no matter who you are.
Is that the right way to run a club? It seems that way, given the success he had. United have certainly missed his discipline and aura this season - but I'm sure David Moyes will come good.
It's only natural when you're following in the footsteps of the best manager of all time that it's going to be difficult, but Moyes is a strong enough character to deal with that.
He's not having the best of times at the moment but I'm sure he'd rather be having these problems than not be at the club at all.
Disappointing
We had a disappointing night on Monday, losing 4-1 to Fulham at Selhurst Park.
We had identified that game as a potential three points and started well, going one up, but there wasn't a lot we could do with the wonder strike from Pajtim Kasami - and Steve Sidwell's second for them wasn't bad either.
Those goals knocked the stuffing out of us and after a couple of lapses in concentration we were suddenly 4-1 down and it was game over.
Gary Neville talked about the shift in momentum Kasami's goal had on Monday Night Football, and it's true. Apart from the traveling Fulham fans, the whole stadium went quiet when that went in.
It doesn't get any easier for us now, with Arsenal on Saturday, but we need to pick ourselves up and go again.
We'll look back on what we did well and didn't do well in that game when we return for training on Thursday and certainly work on our set pieces after Fulham scored twice from that area.
But there are always surprises in football and hopefully we can cause one on Saturday against the league leaders. It's important we stick together.