Jeff Stelling: Let's bring in video referees for penalty decisions
Jeff Stelling agrees that goal-line technology money would be better spent on a penalty review system.
Last Updated: 15/11/13 7:37am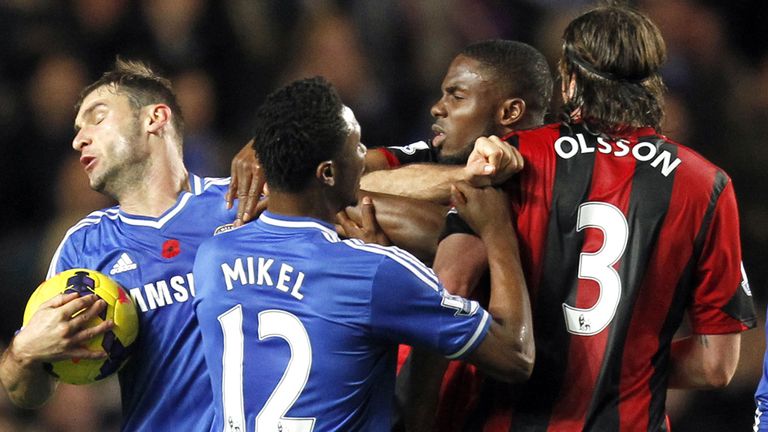 He says they've been happy enough to install goal-line technology at huge costs which will rarely be used, whereas the use of technology on penalty or non-penalty decisions would be far more beneficial to the game and I think he's got a point.
I've always thought the money spent on goal-line technology was a complete waste and so far this season it's proved to be precisely that.
I know people will fling their hands up in the air and say 'using technology to decide penalties?' To a degree they're right because if the game was being stopped constantly every time there's a brush in the penalty area and then being referred to a video referee, it would not be acceptable.
But I do think there's a lot of mileage in the idea. You might give each side two appeals in the course of the 90 minutes and it's up to them when they use them for instances within the penalty area - so if you thought you should have had a penalty and it hasn't been given you can appeal and refer it to the video referee; and if you've had a penalty given against you which shouldn't have been given, you can refer it to the video referee, but you only get two goes in the entire game.
The purists will argue that it undermines the referee's authority; but they do it in tennis and it doesn't undermine the umpire's authority there. They have the video referee in rugby league for tries and it doesn't undermine them.
I think referees would welcome the assistance and it would add a dramatic element. In cricket or rugby league when a decision is referred to the third umpire and you're waiting for the verdict to come up on the scoreboard it adds to the drama.
Points
I'm not sure Jeremy Peace is right when he says that there have been four occasions this season when penalties have been given against his side that weren't penalties. I think he's got a case for two of those, not four, but it is worth a significant amount of points to them.
With this system we probably wouldn't see a penalty given like we did last week in the last minute of the Swansea v Stoke game, when the Welsh side were winning 3-2 and Robert Madley gave an absolutely ludicrous penalty against them.
It would be interesting with this system how it would work, because Swansea may have used their two appeals before that last minute of the game. It would certainly give the manager something extra to think about.
In this day and age it is so hard to get decisions right for referees especially because the game is played at such a phenomenal pace and players go down at the brush of an arm.
Referees have assistants but they can't always see the incident and the additional referees in Europe don't work because they never move or give decisions.
It would be an interesting way forward if it could be experimented with in some way, maybe not in the Premier League immediately but perhaps in the Capital One Cup to see how effective it is.
I think it would be a far more beneficial use of technology and finance than goal-line technology is and at the end of the day the principal thing is to get decisions right and if it helps that then it would have to be a good thing.
So I'm backing the Baggies.
Jeff's Gem of the Week
There were a lot of possibilities last week. Obviously Sunderland and Newcastle got great results in the Premier League and down in the Championship I thought there were fantastic results for Nottingham Forest, Birmingham and Ipswich but I'm going to plump for Leeds who won 4-2 at Charlton.
Ross McCormack scored all four goals and it was the first time Leeds had won consecutive games all season, which tells you a lot about their inconsistency, but we always said what a good job Brian McDermott did at Reading and how unfortunate he was to lose it and I think he's proving once again, with minimal resources, that he can do an exceptional job.
Credit has to be given to the board as well because Ross McCormack got all the goals and he could have moved in the summer because there were several other clubs interested in him but Leeds clung on to him and they've been buying players from the lower levels such as Matt Smith from Oldham who's doing really well.
They're scrimping and saving as there's nothing to spend and I think bearing all that in mind they're doing tremendously well.