Kammy compares Suarez and Aguero and praises Chamakh and Meulensteen
Kammy explains why Suarez has an edge over Aguero - and how Chamakh shone against Cardiff.
Last Updated: 09/12/13 1:15pm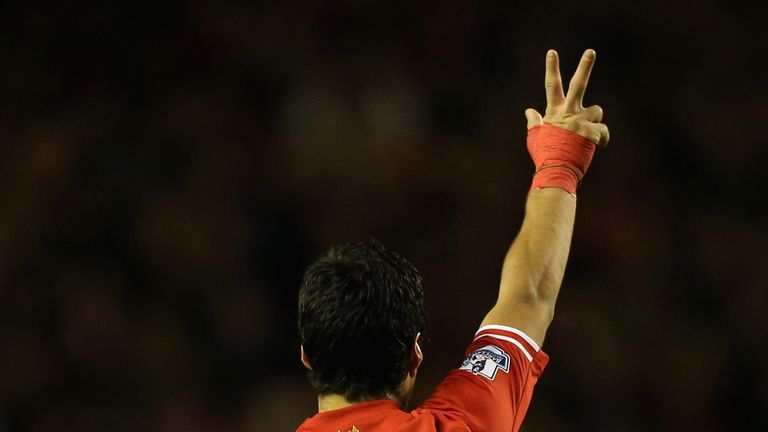 I think Luis Suarez offers you slightly more than Sergio Aguero
KAMMY SAYS: Man City manager Manuel Pellegrini says Aguero is a better all-round player than Suarez but I reckon Suarez offers you a little bit more outside the box. Aguero is an out-and-out goalscorer and a top-drawer finisher and while Suarez is great finisher, too, and has excellent movement, he can come deeper and play as a No 10, whereas I think Aguero is just a No. 9. It is always hard to compare different types of players, though. Take Cristiano Ronaldo and Lionel Messi for example. Ronaldo has become a machine and, in my opinion, has taken Messi's crown as the world's best player but they have varying strengths, as Messi can take players on like no tomorrow while Ronaldo has so much power and poise. Suarez shades it for me, but both he and Aguero are top-drawer players.
One red card was sufficient at Anfield
KAMMY SAYS: You are dealing with fractions when it comes to tackles and although Jon Flanagan's challenge did a bit of damage to Stewart Downing and the West Ham player had to receive stitches, it was a genuine attempt to play the ball. I wouldn't have been surprised if Flanagan had been red carded because tackling from behind has been outlawed but I don't think it was a sending off. Nolan's challenge was, though and it was out of sheer frustration at losing heavily at Anfield in the city he was born in. Kevin will know more than anyone else that he has let himself, his team and his manager down, but it is very rare for him to do that as he is a great professional.
I've never seen Marouane Chamakh work so hard
KAMMY SAYS: The Crystal Palace striker was throwing himself about and winning headers against Cardiff and put in a really determined performance. You could see the desire in his face to get back at his critics - but he did give those critics the ammunition in the first place by being a bit lazy. I remember in Arsenal's remarkable 7-5 win over Reading in last season's Capital One Cup that Chamakh scored twice but didn't appear to have the hunger - some people said he didn't deserve to wear a Gunners shirt and maybe they were right - but he showed quality and work-rate on Saturday, and if he keeps that up he could go back to the top.
Rene Meulensteen has organised Fulham
KAMMY SAYS: I watched Fulham play Tottenham on Wednesday when they were very strong and solid - Phillipe Senderos, in particular, put in a fantastic performance - and they could have won the game, so it was no surprise to me that they beat Aston Villa on Sunday. Fulham have got decent players, so if they stay organised you think they will move up the table - and, of course, they have Dimitar Berbatov. If they let him do what he is good at, then he can win a game in an instant with his ability, vision and control, so I don't think he should be criticised for not chasing back and defending because that is not his game. Fulham's 10 other players need to work around him.
Man United are not at their best but Newcastle should be praised
KAMMY SAYS: Manchester United are big club lacking confidence. The inconsistency is there for all to see, the pressure has started to mount and the fear factor is visible, but while everyone is concentrating on the decline of United, let's take nothing away from Newcastle as it was a magnificent achievement for them to go to Old Trafford and win. Alan Pardew's men were the team in form - if you take out Wednesday's defeat to Swansea - were resolute, restricted Man United to few chances and showed how well organised they are.
The smaller teams don't fear the big boys any more
KAMMY SAYS: Newcastle's result is typical of this Premier League season, which is going to feature unpredictable results all the way through, so I just want the teams that beat the big boys to get the credit their deserve as they are not going to places like Old Trafford and just sitting back, and that's great for the division. Chelsea and Manchester City also dropped points at the weekend, but, to be fair, they were done by absolute worldies; Stephen Ireland and Oussama Assaidi scored two for Stoke against Jose Mourinho's team, while Southampton striker Dani Osvaldo's strike against City - which he fully intended - was the goal of the weekend.
Arsenal and Everton can be pleased with their draw
KAMMY SAYS: Sunday's point was a good point for Arsenal as with Chelsea losing and Man City drawing they are still in a very strong position at the top of the table. However, the result, how well they played, and how they responded to going a goal down shows how far Everton have come and in Gerard Deulofeu they look to have some player. Roberto Martinez has a bundle of riches and he will be hoping that can continue and they can keep on doing well towards the top.
That's Kammy's view but what did YOU make of the Premier League weekend? Let us know using the feedback form below...