Saturday Summary
The Soccer Saturday panel give their verdict on wins for Manchester United and Everton and the draws at Spurs and Norwich, as well as discussing the recent transfer news.
Last Updated: 26/08/12 3:24pm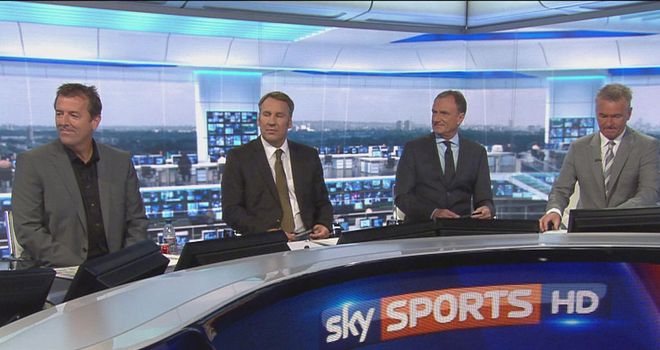 Charlie Nicholas on Manchester United's 3-2 win over Fulham
If Manchester United had kept their heads and kept passing it they probably could have won this 5-1 or 6-1, but credit goes to Fulham for never giving up.
In the first half Manchester United were very good after they went one down. But in the second half they looked vulnerable defensively again. As wonderful as Rafael is going forward - and he scored a goal and had one disallowed - he's got to learn the other side of it. He's a defender, that's what his job is. Michael Carrick was having to fill in again. We can pick faults with him because he isn't a natural centre-half, but he doesn't get the cover because Rafael is too busy bombing forward.
And the keeper, David de Gea, made a few mistakes too; the second goal from Fulham was shocking stuff. It's pitched in from the left-hand side, Vidic goes to head it, the keeper comes in between him to punch it, he misses it and it goes over the back of Vidic, hits his heel and goes in the net.
But what a goal from Robin van Persie. It was one of the toughest skills. The ball dropped five-yards in front of him, he's had to re-adjust and balance, and at the same time Hangerland was coming over to block him, but he managed to whip it in at the back post. It was a breath-taking finish.
Rooney's injury was a real blow for United. It seems like he'll be out for four weeks but there is an international week coming up so, from United's point of view, he's got the best part of two weeks to recover during that time. It's such a bad slash to the side of his knee but because it's close to the thigh muscle that stretches the skin and opens it up. It can look worse than it is. As long as it's clean and they seal it up it's just a process of letting the bruising and swelling calm down. But it did look awful.
Phil Thompson on West Brom's 1-1 draw at Spurs
It was a great game. It started off in torrential rain, finished in bright sunshine and it was a tale of two halves. Spurs were electric early on in this game, with Bale down the left and Aaron Lennon on the other side. They were creating all sorts of chances - but didn't make Ben Foster make a save until the 44th minute. West Brom were hanging on and, going in 0-0 it was a great result for them. There was no end result from Tottenham.
Assou-Ekotto broke the deadlock in the second half though. A corner got headed out to him and he blasted it through a ruck of players. It hit James Morrison and flew past the keeper. But West Brom brought Lukaku on for Shane Long and he caused absolute havoc in the backline for Spurs. He was running in between, backing in, turning his markers and all of a sudden they started getting chances. You wondered why they didn't start with him. They were a completely different team with him in it. It made for a great second half, absolutely wonderful.
West Brom eventually got their equaliser in the 90th minute when James Morrison steered it in after the ball had been cleared off the line. The way the second half was going I'd probably say they deserved that point.
Matt Le Tissier on Everton's 3-1 win at Aston Villa
It was straightforward for Everton. Villa had a little fight back at the end when they were down to ten men but Everton dominated the game throughout the whole of the first half. They were one up within three minutes, which always helps - and I've got to say it was an early contender for goal of the season. Steven Pienaar scored with a cracking strike from 25 yards into the top corner.
But there was another 28 minutes before the second goal arrived and in that time Villa didn't test Tim Howard once. They didn't look like getting close to testing him either. And then Shay Given made one of the worst mistakes I've ever seen him make, and Everton went 2-0 up.
Jelavic made it three just before half-time and at that point it was game over. Villa didn't test Tim Howard until first-half injury time when Barry Bannan hit a 30-yard drive straight at him, to ironic applause from the crowd.
Fellaini wasn't as dominant as he was on Monday night but he got his goal. Pienaar and Baines were the outstanding players for Everton this time. Villa got Ciaran Clark sent off after about 58 minutes but the game was already done and dusted then.
Villa failed to get much service to Bent today, but Bent's link up play wasn't very good at all. His touch didn't seem to be there. He had one half-chance late on but got blocked, and that was the only time in the whole game he got sight of goal.
Paul Merson on the 1-1 draw between Norwich and QPR
Norwich will be more buoyant about this game. I know they didn't win but they played some great football. They scored after ten minutes with Jackson - which was a great footballing move - then they were dominant. You can imagine Mark Hughes was working on the defence this week and not on the forwards because it didn't look like they were going to score. But out of nothing the ball gets rolled in to the box and Cisse gets there just before Bassong and he takes him out. Ruddy makes a great save from Cisse onto the post but Zamora puts it in. After that I can't remember QPR having a shot, it was all Norwich, but they just couldn't score that goal.
Snodgrass was outstanding. He missed a good chance with a header but he looked very good. He's comfortable on the ball and positive every time he gets it. He wanted the ball all the time.
The problem with QPR, when they were 1-0 down and not playing great, he brought Derry on for Samba Diakité and you thought why don't you bring Wright-Phillips on or Taarabt? You have to win this game, because their next three games are Chelsea, Spurs and Man City.
Clint Hill must have made about ten fouls on Grant Holt. At half-time he brought him off and Anton Ferdinand did ok but rode his luck at times. You can see why they're looking for defenders. But I don't know how they're going to score the goals.
Matt Le Tissier on Matt Jarvis joining West Ham
I'm a little bit surprised by the £10m price tag but I'm not surprised West Ham wanted him because he's a very useful player. Even though Wolves went down last season he didn't do his reputation any harm. It seems like a lot of money and Wolves are in a position where they can sit and hold out for it - and they did the same with Steven Fletcher - but he's a very good player. It depends how Sam Allardyce is going to set his team up this season as to how big a part he plays for them, but they've got Carlton Cole there who likes to feed off the crosses and Jarvis whips them in from both sides. He doesn't mind going on the left and checking back onto his right and he's got a decent left foot as well. For me he's a good option in your squad - and he's not shy of scoring a goal either.
Matt Le Tissier on Victor Moses joining Chelsea
That's a strange one for me. They've got so much attacking ability in their side already I struggle to see him getting a regular game. He's a very talented player, don't get me wrong, but when you look at what's already there...If I was in his shoes I'd have looked at the talent in that squad and thought 'how much football am I going to get?'. Yeah it's great being at a fantastic football club that's going to be challenging for trophies but if you're going to be sat on the bench for most of the season I wouldn't have thought twice about it to be honest.
Thommo on Liverpool's disastrous start
We can't keep having a moan about managers early on. It happened with Roy Hodgson, Rafa Benitez, Kenny Dalglish... we don't want everyone jumping on Brendan Rodgers case now and making it even harder for him to make decisions. It was the opening game. It was a rotten result, without a doubt, but you see some of the other results that happened - United lost on Monday night too. It was shocking but it happened to a lot of teams and that's what happens on the opening day of the season. I've got no doubt that if Daniel Agger hadn't been sent off Liverpool wouldn't have lost.
Paul Merson on City's lack of signings
I don't know if it's the people who own the club thinking: 'we won the league last year and we'll win it again this year - and Europe as well - without needing to sign anyone', but it doesn't work like that. It's easy to get to the top but the hardest thing is to stay there. The biggest fast food chain in the world, who sell more hamburgers than anybody, still do adverts on the telly. It's the same with City - they have to buy players. To stay where you are you have to keep on getting better and better. Clubs may be inflating prices for players but they've brought that on themselves by paying big money for players in the first place.