Blues cruise
Niall Quinn expects Man City's season to ignite after their comprehensive victory over Sunderland.
Last Updated: 06/10/12 3:44pm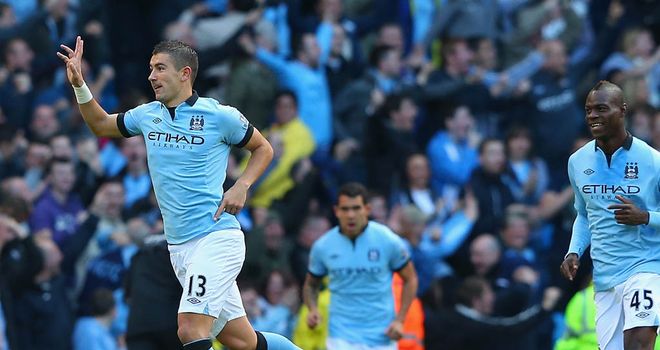 Manchester City's season has burst into life.
That's the view of former Citizens frontman Niall Quinn after watching Roberto Mancini's men dissect Sunderland at the Etihad Stadium on Saturday lunchtime, courtesy of strikes from Aleksandar Kolarov, Sergio Aguero and James Milner.
The reigning Premier League champions had drawn three of their opening six top-flight games, but after gaining a comprehensive win over the Black Cats - and a maiden clean sheet of the campaign - Quinn feels that City will now push on.
"City played with the swagger of true champions; the game was very comfortable for them and at times you were wincing and hoping for Sunderland that it wasn't going to be a really big score," Quinn told Sky Sports.
"They have had results this season but this match was more about performance and style. City completely toppled teams at times last year and their fans will be going home thinking: 'We are right at it again now'. City look ready to go on."
Dangerous
Quinn, who also enjoyed a successful stint at Sunderland, lavished praise on City scorers Kolarov and Aguero, but says Mario Balotelli, handed a starting berth on Saturday, must become more consistent.
"The game was easy for Kolarov," added the ex-Republic of Ireland hitman. "The pace and direction of his free-kick goal was wonderful and he put some very dangerous balls into the box.
"He never gave the ball away, and cleared his lines when he had to like all good defenders do; everything he did both defensively and offensively was done with panache.
"Aguero is so energetic and is always so positive. He scored his goal not long after he came onto the pitch, he dropped deep, and he played some great passes. He did everything at a hectic pace, which was probably the opposite of Balotelli, the man he replaced, who was both good and bad.
"I was always told when I was young that you put a shift in and the rest comes. Balotelli does it the other way around but then he gets goals out of absolutely nothing. He is a useful guy to have around but is not a definite starter every week."
Dynamic
Quinn believes that Sunderland, who have the small matter of a home clash with Newcastle next up, will make further progress this season under Martin O'Neill's tutelage, but says the Mackems must add more cutting edge to their game.
"I think Martin will slowly and surely build a team that will defend well and be organised as possible," added Quinn. "The next step for him is to find a dynamic push to the team that gets them to score goals and players confident enough to take people on.
"At times against City they were so worried about making mistakes that they ended up giving the ball away. We thought the two wingers (Adam Johnson and James McClean) would be key for Sunderland but they spent the day defending.
"I also don't think Sunderland used the outlet of Steven Fletcher enough; it is difficult playing against Man City but instead of trying to bring Fletcher into play they would knock it around the defence and eventually hoof it forward in a poor way.
"The Newcastle game is always massive and determines the mood of the people up there for weeks afterwards. It's going to be a blood, guts, and thunder game and crucial for Sunderland - and if Fletcher gets the winner there will be songs written about him!"