Jovetic to City?
With reports suggesting Fiorentina forward Stevan Jovetic has emerged as Manchester City's next target, Adam Bate examines what the Montenegro international could bring to the Premier League.
By Adam Bate - Follow me @GhostGoal
Last Updated: 12/11/12 1:35pm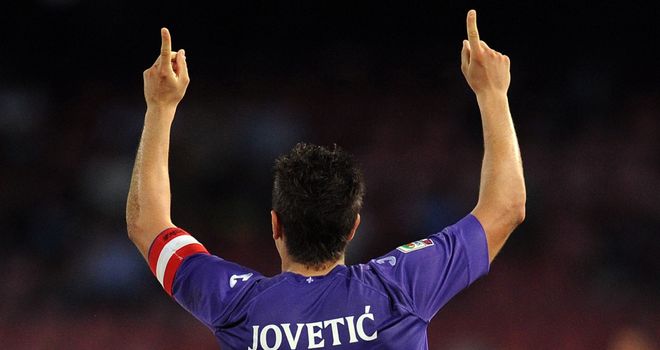 With five goals in seven Serie A games, 22-year-old Fiorentina forward Stevan Jovetic has made an eye-catching start to the season. Of the 19 players to score more than a couple of league goals in Italy so far, only one - AC Milan's Stephan El Shaarawy - is younger than Jovetic. But unlike many players of his age, his presence on the scoring charts is no surprise. The former Partizan Belgrade star has been earmarked for the top from an early age.
Stevan Jovetic was a prodigy. Having scored a UEFA Cup hat-trick at 17, the Montenegrin was soon given the club captaincy and attracting the interest of clubs such as Manchester United and Real Madrid. "I am not surprised by the interest of Manchester United, said the president of his national FA, former Milan hero Dejan Savicevic. "Stevan could play in any of the biggest clubs in Europe."
But for injury it seems certain that Jovetic would already be playing at a top Champions League club. A cruciate knee ligament problem in the summer of 2010 saw him miss an entire season at a pivotal point in his career. It could have been a setback that hampered his long-term development but Jovetic allayed those fears last season with 14 Serie A goals. And he's improving.
His current form has earned the attention of Manchester City boss Roberto Mancini, a former manager of the Viola himself. If the prospect of that transfer leaves Sir Alex Ferguson regretting his decision not to do a deal for the teenage Jovetic, he'd be joined in his lament by another former rival. In fact, ex-Liverpool boss Rafa Benitez still sounds like a man coming to terms with missing out on his man.
The Spaniard wanted to buy the Montenegro international back in 2009 but did not receive the backing of then owners Tom Hicks and George Gillett. He remains convinced that the addition of Jovetic, as well as some adequate defensive cover, would have allowed the Reds to kick on to glory. "The tall, powerful, intelligent Jovetic, would have given Liverpool the squad we needed to build on the previous year's title challenge, when we had run Manchester United so close," said Benitez as recently as last month.
"We would be punished for the disappearance of that money - and our failure to sign Jovetic - again and again that season," he added. "That was supposed to be our year, the season it all came together. Instead it was a long, hard campaign, a battle from start to finish."
Assets
Benitez highlights the player's strength and power as the key assets he could have brought to Anfield but in truth it doesn't come close to summing up the Montenegro international's talent. He actually has a wide-ranging skillset, as tactics expert Michael Cox explains. "Jovetic is a slightly strange player," wrote Cox in The Football Ramble last year. "He is clearly an exceptional talent, but it's difficult to pinpoint a particular attribute he excels at, or compare him to another player based upon his abilities.
"He's something of an all-rounder - he links up well, he can dribble, shoot from long range, and has a poacher's instinct in front of goal. He's been used as the main striker, behind the main striker, and occasionally out on the wing when Fiorentina have need a more defensive outlook in away games."
Serie A stats - 2012/13
 
Player
Goals
Cavani, Edinson
6
Gilardino, Alberto
5
Jovetic, Stevan
5
Klose, Miroslav
5
Hernanes
4
Cassano, Antonio
4
El Shaarawy, Stephan
4
Bianchi, Rolando
4
Player
Shots, Total
Jovetic, Stevan
28
Boateng, Kevin-Prince
26
Diamanti, Alessandro
22
Hernanes
22
Vucinic, Mirko
20
Player
Dribbles Attempted
Dribbles Completed
Jovetic, Stevan
49
23
Weiss, Vladimir
46
18
Ibarbo, Victor
45
16
Diamanti, Alessandro
42
25
Caprari, Gianluca
42
11

The statistics for the early part of the season certainly highlight the potency of Jovetic's dribbling as well as the goal threat that he can bring. Mancini may well feel that he can give the Premier League champions something different - the ability to carry the ball in the final third. For all the quality options at the Etihad Stadium, no City player has managed more than 10 successful dribbles in Premier League this season.
The only man to get close to topping that figure is Carlos Tevez. And while Mancini was content to call on the Argentine when circumstances demanded it in the spring, the City boss could be forgiven for examining a forward line that also includes a frustrated Edin Dzeko and Mario Balotelli being Mario Balotelli and feel the need for fresh impetus.
Negotiations
It certainly seemed to be the thinking in the summer. But negotiations began too late and Jovetic would not be rushed into a decision. "I stopped those negotiations," he told Gazzetta dello Sport last month. "By the time they had made their move from England I had already decided that I would be staying in Florence. Am I happy to still be here? Absolutely and I have no regrets. The objective here is to get back into Europe and I won't leave here until this club is competing at the levels it should be."
Admirable words they may be. But there can be no doubt that Jovetic will move when the time is right for all parties. As the technical director of the Florence club, Eduardo Macia, acknowledges: "It will be very difficult to keep him at Fiorentina, he is a great player, who will eventually play for another club."
Reports suggest Jovetic is now ahead of Radamel Falcao on City's list of targets, with the 26-year-old Atletico Madrid striker regarded as the more expensive option - a man for today rather than tomorrow. As a result, the man who Benitez believes could have drastically altered the Premier League landscape in the past could yet have a huge role to play in its future.