Copying Barcelona?
As the Premier League's best sides continue to adopt a more expansive approach, Adam Bate wonders whether they could be sacrificing success in the name of progress.
By Adam Bate - Follow me @GhostGoal
Last Updated: 13/11/12 6:24am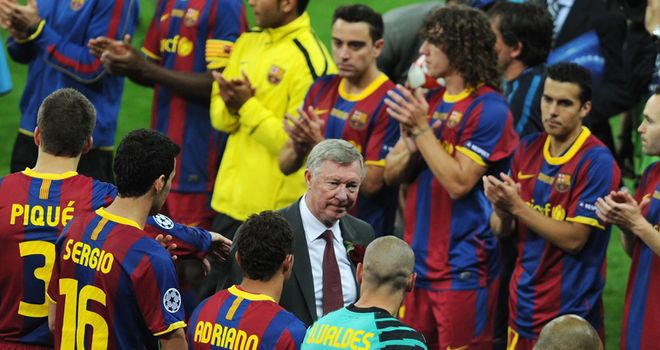 The advertising campaigns have long spoken of the unique excitement of the Premier League. And by any standards, last season delivered. Not only was there a last-gasp finale but it was preceded by a barely believable sequence of results between the nation's Champions League representatives. Forty-seven goals in games between the top four included scores of 3-5, 1-6, 8-2 and a relatively mundane 3-3 draw. But as the drive towards ever more attacking play continues, with defence a mere afterthought, could this be damaging for Premier League sides' European ambitions?
Manchester United had amassed 10 clean sheets by November of last season. They have so far managed just two in the current campaign. And after conceding two goals or more in a Premier League game on just six occasions throughout the entirety of 2011-12, United have reached that figure in just 11 matches this term.
Question Sir Alex Ferguson on the reasons and he is strangely reluctant to admit he has thrown defensive caution to one side, even using Michael Carrick and Antonio Valencia in his back four. Necessary because of injuries? Maybe. But the manager was singing Carrick's praises as a centre-back in the summer. He also insists he has never played a holding midfielder - evoking the example of Barcelona as evidence for the wisdom of his approach. "Xavi and (Andres) Iniesta are small players - you can't call them holding players," Ferguson told United's official website, seemingly ignoring the presence of Sergio Busquets just behind them. But the veteran boss isn't alone in having his tactics shaped by the success of Barcelona.
PL - Goals conceded per game
 
 
Team
2010/11
2012/13
Manchester United
0.97
1.45
Manchester City
0.87
0.91
Chelsea
0.87
1.00

After a circumspect 2010-11 campaign, Manchester City boss Roberto Mancini was credited with removing the shackles from his team as they became Premier League champions in May. But it's worth noting that City still kept 22 clean sheets last year. They managed none in their opening 10 games of this season and are winless in the Champions League after a series of performances in which they gave their opponents far too much space.
Mancini has spoken openly of a desire to see his team evolve to encompass new systems. While Ferguson appears tempted by the idea that Carrick has the tools to operate as a quasi-Javier Mascherano at the back for United, likewise Mancini seems wedded to the notion that it is Barcelona's back-three that offers the opportunity to progress. "We tried a different solution because a top team needs to know different systems," explained the Italian. Its deployment is yet to bring anything resembling success.
It's quite understandable that aping Barca is perceived as the route to glory. By most criteria, the Catalan giants are the greatest side of the 21st century and have become the perennial favourites for Europe's premier prize. But in mimicking their expansive approach, English sides have misunderstood the prerequisites for Barca's success. As Jonathan Wilson notes in Sports Illustrated, "Barcelona have shown how effective a team can be packing a side with ball-keepers rather than ball-winners. But United are a long way from being Barcelona."
And this is the key problem for all of the English copycats, a category in which Arsenal can clearly be included as long-time advocates of the Barcelona-lite policy. While Tito Vilanova's side are averaging 850 passes in the Champions League, Manchester City were outpassed by Ajax. No team has conceded more shots on goal than City after four games of this season's competition. Not CFR Cluj; not Nordsjaelland. If you're not dominating and you're not pressing, then having Gael Clichy in your back-three is a surefire sign of vulnerability rather than a platform to perform.
Of course, the irony is that Chelsea are the current champions of Europe, having beaten Barcelona courtesy of a breathtaking backs-to-the-wall triumph in the spring. It was arguably the only way the Blues could have eliminated Pep Guardiola's team... And they promptly abandoned those methods for a more expansive game in the summer. Eden Hazard and Oscar joined Juan Mata in the starting line-up. Fans were thrilled. And Chelsea were thrashed 4-1 in their very next European fixture against Atletico Madrid.
"There are times when you look and things might not be as tight, or you're feeling a bit more exposed than normal," Chelsea defender Gary Cahill told the Daily Mail. "Sometimes when you do play so attacking, against an attacking team, you are going to get hurt. That's probably where we need to be a bit more disciplined, but without taking anything away from our attacking players because their first thought is to go forward and try to score and hurt teams. It's hard to get that balance. With the players we've got, if we were winning 1-0 would people be happy with that? Or are they happy with the way we're playing this season? It's entertaining."
As in the early years of the Premier League era, if everyone else is doing it then the chief domestic consequence of attacking football is indeed greater entertainment. And the combination of exciting football and the funds to bring in world-class players puts the English game on a long-term path that will surely guarantee glory in the end. But in the meantime, nobody should be surprised by the occasional lesson in Europe to remind the Premier League powerhouses that they would be ill-advised to take liberties when it comes to the small matter of stopping the opposition scoring goals.