David Villa could be ready to leave Barcelona for Manchester City
Graham Hunter says that David Villa could be ready to leave Barcelona for Manchester City.
Last Updated: 21/11/12 2:36pm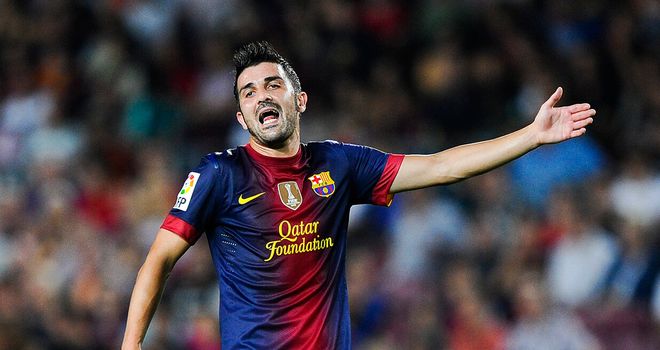 The 30-year-old forward started Barcelona's 3-1 victory over Real Zaragoza at the weekend that left Barca three points clear at the top of the table. But he was once again substituted before the end of the match as the club continue to protect him following a long period out with a broken leg.
Once again Messi was the star of the show for Barcelona as he scored twice and set up Barca's third goal for Alex Song.
And Hunter believes Villa, who was left on the bench for Barca's Champions League clash with Spartak Moscow on Tuesday night, could be itching for a move away from the Nou Camp if he is not given more game time.
"Villa was taken off after an hour again (against Zaragoza) and he is a very proud man," Hunter told Revista. "Certainly we have pointed out in weeks gone by that they have had angry gestures and words but any professional footballer will say that is part of the job.
"Where I think there is a problem is that Villa believes on his current form, what he brought from his time with Valencia and Spain and his first two seasons at Barcelona he deserves more game time.
"He has been feeling that for a long time. The club say that it is a medical thing and they are looking after him after such a bad leg break. He now thinks that he has earned two 90 minute displays.
"I think that is fair and the tension is building up to the extent that Manchester City have been alerted and have had a gentle word with his agent."
Responsibility
Fellow Revista pundit Guillem Balague reiterated Messi's importance to the current Barcelona team and even suggested it could be having a detrimental effect on Barca's other forwards.
"Messi has scored 22 goals and had seven assists this season and 54% of the goals have gone through Messi," he told Revista. "It is one of those situations where you can argue that as long as he keeps scoring it is fine but it also takes away responsibility from others.
"Pedro and Villa did not shoot on goal at all in the game (against Zaragoza) and that is a bit strange. You need more from everybody and the question is do you need less from Messi?"
"We have known for a while that it has never been easier to get David Villa to the Premier League. I think he will listen to offers and he would have left Barcelona already were it not for the injury."
Could Real Madrid star Cristiano Ronaldo also be on the move? Click here for the Revista boys' view...