Derby lessons - City
Nick Hext focuses on Manchester City in the wake of their 3-2 derby defeat by Manchester United on Sunday
Last Updated: 11/12/12 9:15am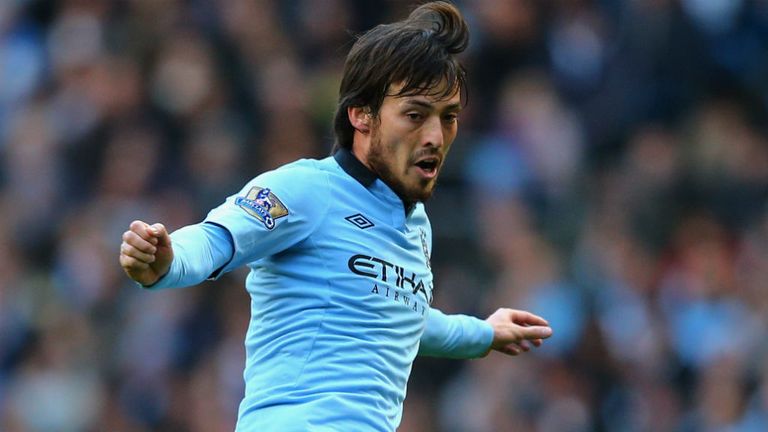 The issues would still have been the same if it was Carlos Tevez who scored a late winner in the Manchester derby rather than Robin van Persie. Manchester City have a number of problems that need resolving and both the good and bad from the Etihad Stadium outfit were clearly visible during Sunday's 3-2 defeat in this season's biggest Premier League game to date. It is obviously easier to focus on the bad after such a heartbreaking defeat by your local rivals but there is no point getting carried away as City will keep battling for top spot for a long time yet.
David Silva's return from injury against United added an extra touch of class and Sergio Aguero clearly rivals Van Persie as the No.1 striker in the English top flight. It is not so long since that fantastically chaotic end to last season and not much really changes in such a short space of time. That is not to say Roberto Mancini has it all fine and dandy. There are deficiencies that need sorting and the Italian has to take the blame for some of them. City's failure to find an experienced centre-half to add to their squad in the summer came into sharp focus when Vincent Kompany left the field early on.
Kolo Toure just doesn't have the quality to deal with the cream of the Premier League's attacking talent any more and Matija Nastasic, although a fantastic prospect at 19, can't be expected to lead a defence after only a few months in England. Joleon Lescott is still to return to the starting XI but it remains clear another body is needed. In the aftermath of City's 2-1 victory over Chelsea back in March, John Heitinga was suggested by some as the type of defender needed at the Etihad Stadium and that opinion has not changed a few months down the line. Every team would miss a figure as colossal as Kompany departing early in a key match but City just do not have the strength in depth that United can muster in the heart of the defence.
Money
Do you remember how deadline day went at the Etihad? Matija Nastasic, Javi Garcia, Scott Sinclair, Richard Wright and Maicon were added to the ranks and the latter four names on that list have not made too much of an impact. It would be hugely unfair to write off Garcia at this early stage and Wright was brought in as a third-choice goalkeeper on a free and therefore would be a bizarre deal to grumble about. Sinclair and Maicon, however, seem to have no real role to play at City right now. It certainly does not look like Sinclair will be having the kind of impact that has already seen Victor Moses prove himself at Chelsea following his step up to a title contender. Those two deals are not the reason City have crashed out of the UEFA Champions League and are behind United in the title race but you do not have to be too controversial to suggest the money would have been better spent elsewhere.
January is always an awful time for the Premier League's top sides to strengthen their squad but City should get that extra central defender and it would be good news if the interest in Roma's midfield lynchpin, Daniele De Rossi, could come to a positive conclusion. The Italy international would clearly be an astute addition to the squad but plenty of work needs doing if that deal is to be completed.
As night follows day, though, the majority of column inches after the derby despair will be devoted to Mario Balotelli and that is fair enough. Balotelli is clearly one of the Premier League's more interesting characters but his performance against United was tepid and you get the feeling from Mancini's post-match quotes there is not an unending amount of patience with the striker. The former Inter Milan man will be at the Etihad for the rest of the season but who knows about after that? After scoring another five goals just hours after the Manchester derby, Atletico Madrid striker Radamel Falcao is probably the hottest property in football at the moment and would be well worth City spending big.
Hot property
That would possibly throw Carlos Tevez's long-term future into doubt, too. The Argentine striker, who made such an impact off the bench on Sunday, clearly has a big role to play for the rest of the season but it would be best if next summer was the time he found pastures new. City have a way to go in their bid to become one of European football's superpowers and United boss Sir Alex Ferguson has proved time and time again the dynamics in a squad can be changed with success maintained. Credit goes to Tevez for the work done to get back at the top of his game after a long spell on the golf course but Mancini does not have a short memory and there are other players he can rely on in his squad.
This season is still a long way from over for City and owner Sheikh Mansour deserves credit for the way he has so far backed Mancini. The City manager has got the majority of things right during his tenure and you cannot knock that he did what was needed to break the club's long trophy and title drought, even with the huge sums of money at his disposal. He is still the best fit for the club and do not be surprised if this time next year we are talking about City at the head of the title race and still fighting in the Champions League.
Mancini pointed out in his programme notes on Sunday how unpredictable and "strange" the Champions League is and pointed to the example of Borussia Dortmund as to what can be learnt after a disappointing European campaign. The Italian must take note of his own words and performing a little bit of a rejig would not do City any harm in their bid for continued success.