It's all over now
As ever with Mario Balotelli, the focus is on off-field matters and whether Roberto Mancini and Manchester City simply ran out of patience with the Italian striker. But Adam Bate argues that, despite all they hype, the player's biggest problems were on the field.
By Adam Bate - Follow @GhostGoal
Last Updated: 30/01/13 8:55am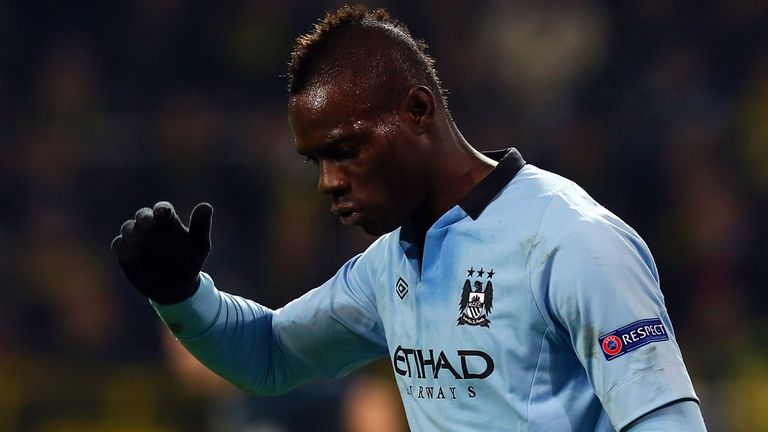 For many Manchester City supporters, their patience was exhausted long ago. It was fun while it lasted, Mario, but it was time to go our separate ways. Such is the Balotelli narrative that the debate is framed in such a way as to review his City career as a series of incidents and accidents. "Seems like Balotelli has turned the corner from loveable rogue to nuisance for most City fans. What was the last straw?" asked Manchester Evening News reporter Rob Dawson on Twitter last week.
So many to choose from. Some of them humorous. Others infuriating. Plenty of them untrue. The altercation that would most obviously fit the notion of a 'last straw' would be the training ground tussle with manager Roberto Mancini earlier this month. But like many of the headlines Balotelli generated following his arrival in England in 2010, even this had more froth than substance. It wasn't even obvious the player was to blame.
No. Despite the fascination of the media and the appetite of the public for the latest anecdote, the mundane truth for Balotelli is that - like most footballers - his time at the club comes to an end because of his performances on the field. This season, they simply haven't been very good.
Again, it's not about the drama. That came last season against Arsenal when Balotelli was red carded for an act of stupidity as City's title race looked to be run. "Arsenal away seems to be a tipping point for a few," replied one City fan to Dawson's Twitter question. And Sky Sports pundit Jamie Redknapp articulates why.
"He was sent off for Manchester City at Arsenal and betrayed his team-mates with an outrageous act of petulance," explained Redknapp in the Daily Mail. "If Manchester United had gone about their business in their normal professional manner, that would have been the single most significant moment that cost Manchester City the title. Instead, he is a champion - thanks mainly to the efforts of his team-mates while he was suspended."
It's a harsh assessment fuelled more by the obvious frustrations that watching Balotelli can bring rather than rooted in fact. In truth, the striker's sending off didn't even cost City a point let alone the title. It came in the final minute at the Emirates Stadium with his team already losing to a Mikel Arteta strike at the other end of the pitch. A fact that - like Faustino Asprilla's magical moments for Newcastle back in 1996 - threatened to become lost in the wider narrative.
Except Balotelli played his part in changing his own story. It was the Italian who provided the assist for Sergio Aguero in the final moment of that game against QPR. He contributed. Just as he contributed for much of the title-winning campaign. Certainly more than Carlos Tevez - a man who had effectively gone on strike for six months of that season (a far greater transgression than anything Balotelli has done, incidentally).
But the difference does not come down to a comparison of off-field misdemeanours. It isn't even because of Tevez's more overt hustle and bustle, although that undoubtedly engenders more supporter sympathy. The key contrast is that Tevez has seven Premier League goals this season. Sergio Aguero has eight and Edin Dzeko 10.
Balotelli has found the net just once. And that's the currency that has proven costly for Mario.
Premier League 2011/12 best mins per goal (mins 10 goals)
 
 
 
Player
Minutes Played
Goals
Mins per goal
Cissé, Papiss
1113
13
86
Balotelli, Mario
1321
13
102
Rooney, Wayne
2839
27
105
Dzeko, Edin
1497
14
107
van Persie, Robin
3334
30
111
Agüero, Sergio
2600
23
113
Defoe, Jermain
1287
11
117
Yakubu
2451
17
144
Hernández, Javier
1476
10
148
Holt, Grant
2245
15
150

When he mucked about with a bib back in March 2011, he'd scored in two of his last three games. When he scuffled with United players at Wembley later that year, City had just reached the FA Cup final. And through all the tribulations of last season, Balotelli was firing in the goals with more consistency than his detractors would wish to give him credit for.
For all the hype, Balotelli delivered last season and the 22-year-old deserved his medal. Of Premier League players with 10 goals or more, only Papiss Cisse with his astonishing hot streak had a better goals-per-minute strike rate than the former Inter man. The antics haven't changed this year. But that goal return has.
This season Balotelli required 34 shots for his solitary Premier League goal. To put that into context, Adam Le Fondre has eight goals from his 39 efforts. His shooting accuracy dropped from a creditable 58 per cent to an appalling 23 per cent. Despite his limited involvement, Balotelli managed almost as many shots off-target as during the entirety of last season. He began to resemble the caricature.
And most problematic for Mancini, his €22million investment didn't have the conspicuous work ethic to ride the storm. Not for him the easy applause of scuttling to charge down a keeper's kick. Without the indulgence of manager and supporters alike, Balotelli was a player bereft without goals.
Of course, the narrative will dictate that Manchester City got fed up with the antics. Platitudes stressing the importance of a team ethos and a focused dressing room will inevitably follow his transfer to AC Milan. But if the history of professional football tells us anything it's that managers - from Mancini to Sir Alex Ferguson - will put up with anything as long as the goals are going in.
It's when they dry up that the sympathy stops. And it was this that proved the real final straw for Roberto Mancini and the Manchester City supporters.
Maro Ballotelli in Premier League
 
 
Season
2011/12
2012/13
Appearances
23
14
Minutes On Pitch
1,321
588
Goal Attempts
 
 
Goals
13
1
Mins per goal
102
588
Shots On Target
32
6
Shots Off Target
23
20
Shooting Accuracy
58%
23%
Chance Conversion
24%
4%
Blocked Shots
27
8
Passing
 
 
Goal Assists
1
0
Chances created (inc. Assists)
21
8
Mins per chance created
63
74
Total Passes
471
182
Pass Completion %
77%
80%
Dribbling
 
 
Dribbles & Runs
49
19
Dribble Completion %
45%
42%
A version of this article originally appeared earlier this month.