Craig Bellamy hails Daniel Sturridge and Jordan Henderson in Liverpool draw at Manchester City
Craig Bellamy says Liverpool's draw at Man City proves they've "arrived" as a Premier League force.
Last Updated: 03/02/13 6:57pm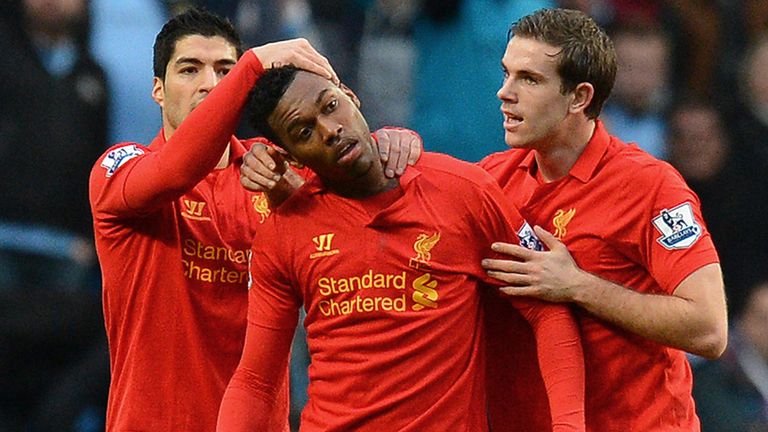 Brendan Rodgers' side looked on track for an away victory against the champions after goals from Daniel Sturridge and Steven Gerrard had put them in charge at the Etihad Stadium, but they were ultimately denied by an outstanding equaliser from Sergio Aguero.
However, former striker Bellamy says the team are no longer reliant on the influential Gerrard and Luis Suarez and now have strength throughout the team, highlighting the improvement of Jordan Henderson and Stewart Downing.
But it was man of the match Daniel Sturridge that impressed him the most.
"I thought Liverpool were outstanding in the way they passed from start to finish," Bellamy told Super Sunday.
"For me, I've seen Liverpool play really well this season and not get the result and today they arrived. To come here to the Etihad against one of the top clubs in Europe and the best team in our league from last year, they were outstanding.
"Players like Jordan Henderson and Stewart Downing have really impressed me in the last month or so. Sturridge has fitted in straight away and has been an incredible signing and then you've got Suarez and Stevie G. To me, Liverpool look a real team now and are really pushing forward.
"I thought Henderson was outstanding today. His forward runs and his energy are great, but his quality on the ball has really stepped up in the last few games. Stewart on the other side is more direct and can cut in.
"They've got a connection with Sturridge as well - it's not just all Suarez - and he'll make a big difference for them as well. He was outstanding today.
"As a forward he led the line outstandingly well, but it wasn't just that. It was his cleverness and from the word go he was outstanding and his overall performance as a forward was exceptional. He went long, he was spinning, he was coming short and I don't think he gave the ball away once. He was at the heart of everything Liverpool did.
"Liverpool needed him, but I also believe he needed Liverpool. He needed to get to a stage in his career where he plays week in, week out and he's' playing in front of probably the best fans in the world.
"At Anfield he's going to be loved. If he puts in performances like that, he's going to be adored like Luis is and like Gerrard is. To be loved by Liverpool fans is something special."
Ball out
Sturridge's goal provoked the ire of City manager Roberto Mancini after the game because he felt his side should have been given a free-kick for a foul by Daniel Agger on opening goalscorer Edin Dzeko - and then Liverpool should have put the ball out when the striker was down injured.
Liverpool scored from that passage of play, but while Bellamy agreed the referee should have blown for a free-kick, he didn't think it was up to the away team to put the ball out.
He said: "It's a definite foul, but should Liverpool kick the ball out? It's a difficult one.
"Look, they played on and Manchester City had the opportunity if Javi Garcia could have sorted his feet out to clear it himself.
"You leave it to the referee and you hope that he'll blow, but if he doesn't you carry on. Liverpool weren't really in the wrong by not kicking it out.
"Dzeko didn't need treatment, he didn't go off for treatment and he stayed on the pitch. It's a difficult one and I can understand why Liverpool played on."