Feeling the heat?
If Manchester City leave Old Trafford on Monday night with their tail between their legs and trailing neighbours United by 18 points more questions than ever will be asked of Roberto Mancini. Daniel Storey ponders over whether the Italian deserves such scrutiny...
By Daniel Storey
Last Updated: 08/04/13 8:50am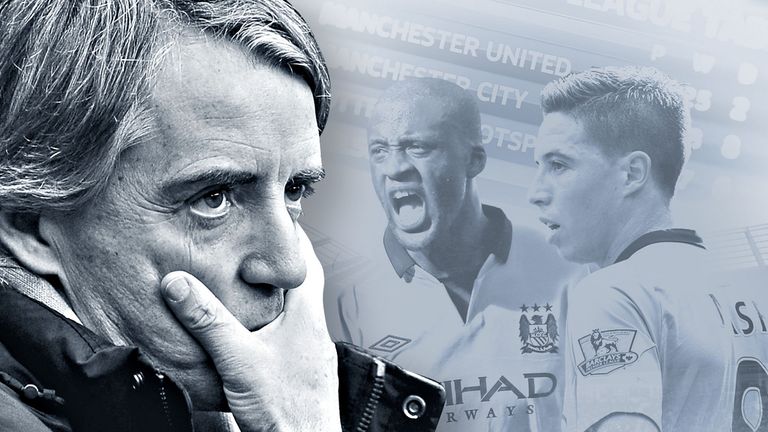 The non-existence of a title race has forced our footballing eyes to switch focus of late. Many have questioned whether the quality of teams in the bottom third of the Premier League has always been so meagre, but the reality is that we are simply giving this more attention due to our demand for some meaningful competition. Manchester United's domestic dominance over an under-par Manchester City has provided little intrigue since the turn of the year.
You would be forgiven, therefore, of assuming that there is little left to run in Manchester's football story this season. United sit 15 points clear at the top, coasting in a second gear that has been comfortably sufficient almost since the season began. Chelsea's loss at St Mary's now leaves City five points clear of any realistic challenge for second place.
Roberto Mancini would be foolish for taking such a view, however. Before their next home game on April 17th, his City side face United and Chelsea on the road. Without resorting to false hyperbole, this must rank highly amongst the most important periods of the Italian's tenure at the Etihad.
In the FA Cup, Wembley hosts an FA Cup semi-final against Chelsea which will be realistically (if unromantically) be billed as the decider of the eventual winner. Millwall and Wigan will face each other to determine the unlikeliest English entrant into European football next season, but the final would surely be a step too far. This is the real test.
Considering City's season is already tinged with underachievement, failure to win the FA Cup will only make things worse for Mancini. In the Premier League, his team have regressed in almost every area. City have scored fewer goals and conceded more than at this stage last season. At home they have dropped 11 points, whereas in 2011/12 they dropped their first point at the Etihad on April 1st. But the biggest culprit has been an apparent complacency against weaker teams. Whilst United have 48 points against bottom-half sides, City's total stands at just 36. Indeed, scoreless matches away at West Ham, Everton, Chelsea, Sunderland and QPR should provide immediate worries given the resources at the manager's disposal.
Additionally, whilst last season's Champions League campaign was seen as a superfluous addition to a maiden Premier League title bid, they have again suffered from deterioration. Montpellier, Dinamo Zagreb and Nordsjaelland were the only other winless teams in this season's group stage, and all three are operating in different financial spheres to City.
Mancini has been quick to defend his own personal performance, deflecting the attention to the club's transfer activities. "The first reason (for mistakes) is because we didn't do what we should have done in the summer transfer market - we worked really badly in the market."
Whilst City's £42million spend on Javi Garcia, Scott Sinclair, Jack Rodwell and Maicon can be viewed negatively in hindsight, it is another quote from the Italian that offers a rope to those who wish to hang him. "At this moment Robin Van Persie is a very important player for United. At the moment, he is the difference between us. We were very close to signing him, I know what the reason was but I won't say."
Blaming a season of underperformance on missing out on one forward is a dangerous tactic from a manager who has spent £89million on strikers since his arrival, and inherited a squad which had bought a further three forwards for £67million in the previous transfer window. There is little doubt that City are currently the most expensively-assembled also-rans in football history, and that's a reputation that offers little other than negativity.
Unfortunately for Mancini, his opposite number at Wembley will also be desperate for success in order to safeguard his future. Much has been made of Rafa Benitiez's decision to rest players for the trip to Southampton, but their replay victory over United gave him personal vindication. As an interim, why should he look to prioritise future benefits (Champions League football next season) over more immediate success (a trophy)? Such a mind-set merely seems logical, especially given his reception at the club since his arrival.
Benitez is not coaching for his future at Stamford Bridge (a ship that we can all agree sailed some time ago) but instead for his future employment. After his debacle at Inter, ensuring Chelsea's fifth FA Cup in seven years would certainly enhance the status of his next job offer.
Nor should Mancini expect any sympathy in the first half of his crucial double header - the league fixture at Old Trafford next Monday. If United achieve their 13th consecutive home victory they will be likely to surpass their top-flight record of an 18-point winning margin, set in 1999/2000. That United could achieve such a feat does not reflect well on the lavishly spending City and their lack of progression. That United have done so in a merely workmanlike manner makes for sober viewing from across the city.
Sir Alex Ferguson's recent team selection (notably, Robin Van Persie starting against Sunderland but benched for Chelsea in the FA Cup) hints that such a record matters, and there is nothing that United's manager, players and fans would like more than putting City further in their place. Late title defeats will do that, and Mancini can expect to be taunted for his inability to kick on. There is much less joy in knocking teams off perches if you let them clamber back up at the earliest opportunity.
Much has been made recently of managers being treated as victims of their own success (Adkins, McDermott, Di Matteo), but in Roberto Mancini's case the opposite is true. Sergio Aguero's last-second goal has enshrouded the Italian in a protective blanket. Supporters continue to chant his name and the owners offer their support, but they would do well to remember that the manner of their title victory was the only fairy tale aspect of the story, with the vast outlay on expensive performers providing the meat of the script. One title on goal difference doth not an empire build, and the truth of the matter is that City's title victory last season should have started an era in which the two Manchester clubs fought for dominance.
If we can fairly judge managerial performance by achievement against reasonable pre-season expectation, which Premier League managers have fallen shorter than Mancini this season and remain in a job? Alan Pardew and Paul Lambert are the only alternative answers to a difficult question.
After their FA Cup victory in 2011 captain Vincent Kompany eloquently spoke of a club laying the foundation. "We must now build the house" was the rallying cry. In the last nine months, that building site has sat worryingly inactive. Defeat in either or both of City's next two games may have serious consequences for Mancini's continued presence as Head of Construction.
This article first appeared on Football365