Sky blue for Manuel?
Much has been made of the fact Manuel Pellegrini has never won a major trophy in his long career but Daniel Storey feels the job he has done at Malaga illustrates why he's one of Europe's more astute tacticians. Manchester City could do worse, if that's the way they're thinking of course
Last Updated: 13/05/13 10:54pm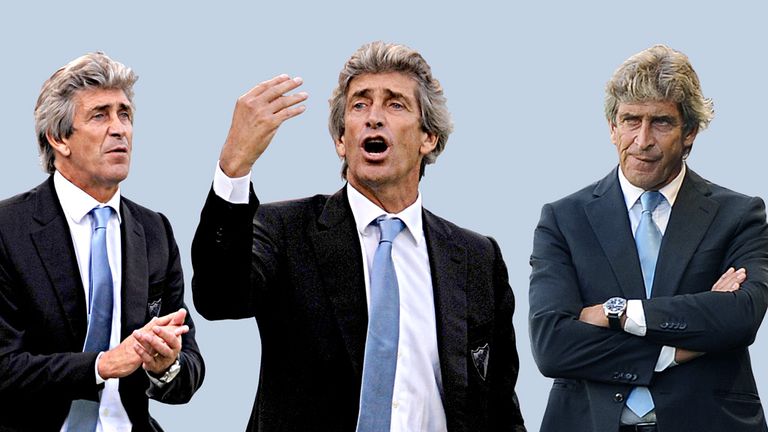 It is nothing more than common sense to suggest that off-field issues at a football club will affect the performance of the team. If your employer was noted to be struggling financially, with a mix of facts, rumours and spurious nonsense spouted across multimedia channels regarding your continued employment, would you be able to operate at maximum? Or would, inevitably, morale, drive and motivation ebb away as you became more worried about the self than the collective? Football may be a team game, but that is a cliché less relevant in times of financial hardship. Players will be forced to think of their own well-being, and cannot be criticised for doing so.
All of which makes the recent achievements of Malaga CF and Manuel Pellegrini over the last 18 months all the more impressive, given they have been in an almost constant state of limbo since 2010. When Sheikh Abdullah Al-Thani strode into town, he made the sort of promises so typical within modern football. There was to be a new stadium, a new academy, a new manager, new players and, most importantly, a new mindset. Malaga were no longer to be just another football team, and would become trendsetters for a new breed of club able to take on Europe's elite.
Initially, signs were promising on the Costa del Sol. Al-Thani made good on his claims of meaningful investment, and the club signed Salomon Rondon, Eliseu and Martin Demichelis, amongst others. Most importantly, Manuel Pellegrini was recruited as head coach, experience that was vastly required during such upheaval. After a 17th place finish in 2009/10, Pellegrini led the team to 11th in La Liga. The owner, sensing the potential for quick improvement, invested further still in player recruitment, bringing in Ruud van Nistelrooy, Isco, Jeremy Toulalan and Santi Cazorla to the new 'project'.
Halfway through last season Malaga were tenth, but a late surge saw them finish in fourth place, the club's highest ever league finish and hence their first qualification for the Champions League. It was only the second time La Rosaleda would host European football, and the owner's principal goal had been achieved in just two seasons. These were truly halcyon days.
As so often seems to occur, the wheels soon came off. Whether Al-Thani lost interest, passion or disposable income (the latter would seem hugely unlikely), Malaga have become a very modern tale: rags to riches and back to rags. It started last summer, when individuals filed complaints that they were owed wages from the club. In the close season, a host of first-team players departed, including Cazorla, Van Nistelrooy, Rondon, Joris Mathijsen and Enzo Maresca. The club recouped £30million in transfer fees but spent just £600,000 on a season-long loan for Roque Santa Cruz, and Javier Saviola was brought in on a free transfer.
These were not the dealings of a club on the up, and it became clear that the owner no longer wished to fund his illusions of footballing grandeur. On December 21st last year, UEFA dropped its bombshell. Malaga were banned from European competition for one season and fined £244,000 due to the debts still owed by the club for transfers involving Cazorla, Rondon and Toulalan. The full extent of such debts are not known, but it is clear that Malaga have been operating on borrowed time for months rather than weeks.
And yet, amongst such a storm of football economics, Pellegrini remains stoically at the helm, steering his side admirably on the field. Despite all the summer departures, Malaga sit sixth in La Liga. There were mid-season thoughts of a top-four finish, but these have eroded as the club have seemingly accepted that even should they qualify, UEFA would block their participation.
In the club's debut Champions League season, results have been even more impressive given the instability. In reaching the first knockout stage Los Boquerones played eight games, and remained unbeaten (only Juventus and Dortmund joined Malaga in avoiding defeat during the group stage). In taking four points off every team in the group stage (including Zenit St Petersburg and AC Milan) Malaga established themselves as the surprise package of this season's competition.
Whilst many observers saw the knockout rounds as a stage too far, Malaga defeated likely Portuguese champions Porto despite defeat in Oporto, and only suffered elimination to Dortmund in heartbreaking last-minute fashion, losing the away leg 3-2. We all know what the Germans went on to do to Real Madrid in the Westfalenstadion a fortnight later.
There is a clear contrast here with Roberto Mancini's performance this season. Whilst Malaga progressed against tricky opposition, City joined Montpellier, Dinamo Zagreb and Nordsjaelland as the only clubs to end their Champions League campaigns winless. Whilst Sheikh Mansour will have been delighted with domestic success last season, European glory must now be the assumed aim?
Given the downturn in resources and insecurity surrounding the club, Pellegrini's performance cannot be overstated. He has utilised a fluid front four of Saviola, Joaquin, Francisco Portillo and Isco, who has been La Liga's unheralded star this season. Left-back Eliseu is invited to venture forward, but the defensive solidity provided by Demichelis at the back and Toulalan in midfield has been incredibly effective.
Doubt has been cast on Pellegrini's possible appointment at Manchester City by the Chilean's performance at Real Madrid in 2009/10, something that Sky Sports' Guillem Balague has been quick to rebut. In truth, Pellegrini realised almost instantly that the job was not suitable for him. President Florentino Perez did not want his coach to play Arjen Robben and Wesley Sneijder (bought under the previous president's reign), but Pellegrini saw them as valuable members of the squad. He still gained 96 points in La Liga, and no manager in Real Madrid's history has won a higher percentage of his matches. Not exactly a huge failure, then?
At Malaga, Pellegrini has fought against a tide that has swept many aside, and performed admirably amidst the madness. One suspects, however, that the muscle of financial restraint has finally proved too much to bear. Manchester City's interest in (and presumed appointment of) Pellegrini is a testament to such performance in difficult times.
Put simply, as Balague goes on to say, Pellegrini is a manager that reaches potential. After all, he took a Villarreal side to the Champions League semi-final, they now find themselves in Spain's second tier, and has brought unprecedented success to La Roseleda.
That ability to make a team more than the sum of its parts is exactly what Mancini has failed at since last May.
Guillem Balague's view
Who is Manuel Pellegrini? Check his CV, he has won league titles, he has been in different countries, he speaks excellent English. But his biggest attribute? He maximises the potential of his teams. I hope nobody talks of him as if he was just another manager - not everybody gets the Real Madrid job, for instance, even though there have been 24 coaches in 27 years at the White House. He did a great job at Madrid, pursuing till the end the title in a titanic fight with the best Barcelona in history. Any other year he would have won the league.
Pellegrini is not just a good manager. Look at what he has done with Villarreal (semis Champions league), Madrid and Malaga too. He is actually one of the top managers in the world. He will soon change the mind to the doubters, specially the ill-informed ones.