Football Podcast!
Fergie's farewell, Moyes' goodbye, Mancini's future and Wigan's shock FA Cup final win.
Last Updated: 13/05/13 5:55pm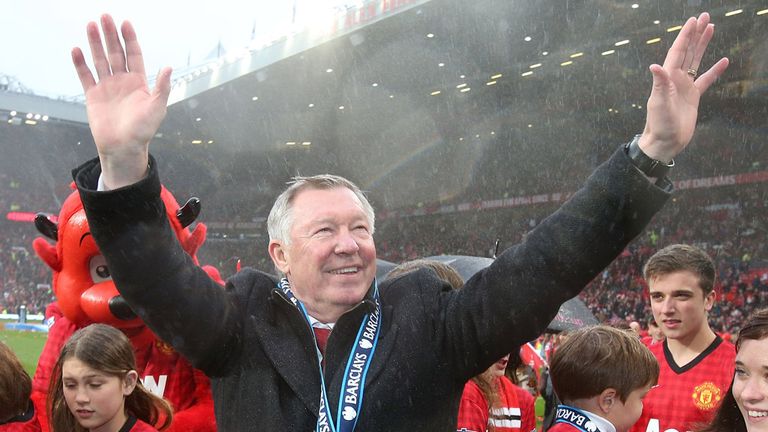 Sky Sports News Radio presenter Mikey Burrows is in the hosts' hot-seat and is joined in the studio by TEAMtalk.com Editor Simon Wilkes, TEAMtalk veteran Rob McCarthy and FanZone's Liverpool blogger Richard Garnett.
If you want to get a mention on the next Football Podcast, send a tweet to @TEAMtalk with the hashtag #ilovethepodcast - and we'll give your Twitter page a plug.
The quartet start proceedings with a heated argument about the FA Cup final, with Burrows claiming perusing his Chinese takeaway menu was more interesting than the game itself, and Wilkes saying he thought it was an entertaining affair and waxing lyrical about Callum McManaman's display.
The future of Roberto Mancini is discussed, with Burrows having a pop at Manchester City over their handling of speculation surrounding him, then they turn their attention to Wigan's Premier League survival hopes, with all four journalists equally divided at 2-2 on whether they will stay or go.
Wilkes tips Arsenal to pip Tottenham in the race for Champions League football, much to McCarthy's disgust, then gets shoved in the corner following some wild claims about Wigan's Roger Espinoza.
Sir Alex Ferguson's Old Trafford farewell and David Moyes' Goodison goodbye also take centre stage, followed by a quick chat about who might be in charge at Chelsea for next season.
There is plenty more discussed and you can click here to download the Podcast as an MP3 file.
You can also access the Podcast on iTunes.