Sacking Roberto Mancini was harsh but understandable, says Andy Hinchcliffe
Man City sacking Roberto Mancini was harsh but, in a way, understandable, says Andy Hinchcliffe.
Last Updated: 14/05/13 2:12pm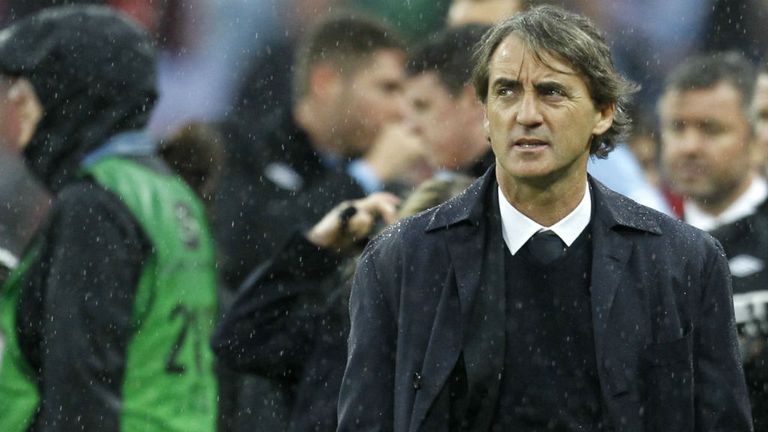 After a trophyless campaign, the Italian was shown the door late on Monday night amid reports Malaga boss Manuel Pellegrini has already been lined up to fill his shoes.
Hinchcliffe, who began his career at the club in 1986, believes it was the club's failure to fire in Europe, rather than Saturday's shock FA Cup final defeat to Wigan, that prompted owner Sheikh Mansour to call time on Mancini's tenure, a year to the day since he secured City's first Premier League title.
Hinchcliffe told Sky Sports: "I'm not surprised because there were so many rumours flying about. I feel he's been treated rather harshly, though. It has been a difficult season and there were reasons why City haven't done so well in the Premier League.
"Losing to Wigan in the FA Cup final was maybe the final straw, but he signed a long-term contract at the back end of last season and that seemed the right thing to do with players getting tied down too. I thought the signs were good. The foundations were laid.
"Things have drastically changed. I don't know whether that's because of the failures domestically or the failures in Europe or whether it is because of Pellegrini - the owners have to come out and explain. I'm disappointed though because I thought he deserved another 12 months and another Champions League campaign.
"The owners will have discussed it thoroughly and I'm sure they'd have discussed it with the manager, so I'm sure Roberto would've known it was touch and go. It's never an easy time. They could've waited until the summer but they're looking to get someone in and give that manager a real chance to bed in and bring some players."
Ambitions
Hinchcliffe believes the next City boss must accept success on the European stage is a must, given the need for the club to fund their high-earning and expensively assembled squad.
"The Champions League is one of those competitions that everyone wants to watch across the world," he said. "It's the financial gain of it too, and I do think this decision is based on the fact that they are looking at doing well in that competition further down the road. That didn't happen this year. They had a tough draw and didn't get through.
"They're looking at City as a world brand now and to do that you have to be doing well in Europe because that's where all the top clubs are. Clubs like Real Madrid, Barcelona and Bayern Munich. It's the top table. You pump in the kind of money they have at City, and playing in the knockout stages of the Champions League is absolutely vital.
"You can look at that FA Cup final defeat but ultimately, they asked if Mancini would have taken the club forward next season in the Champions League. They have to get out of the group stages and they maybe think they have a better chance under Pellegrini."
Demands
Hinchcliffe accepts Pellegrini has won trophies abroad and reckons the Chilean will boost City's performances in the Champions League - however, he pointed out how he will cope with the demands of the Premier League remains to be seen.
"I looked at Pellegrini's CV and he's got a fantastic record of managing in Spain but he's not a manager who's won things regularly or in recent seasons," he said.
"He's very experienced and I think they're talking about him running the club with an holistic approach. It's maybe about Pellegrini's experience in Europe, too, but whether he can bring that to the Premier League remains to be seen.
"He hasn't managed in England so it'll be tough. You just wonder if things don't go well for them, are City going to be looking for another manager in 12 months time? You don't want to get into that cycle."