Take Five
Next up in the dugout as part of our long-running Take Five series is Super Furry Animals keyboard player turned solo artist Cian Ciaran. A dyed-in-the-wool Manchester City fan, Cian was only too happy to assemble his dream five-a-side team for Sky Sports
By Alex Dunn - @skysportsaldunn
Last Updated: 03/09/13 9:07am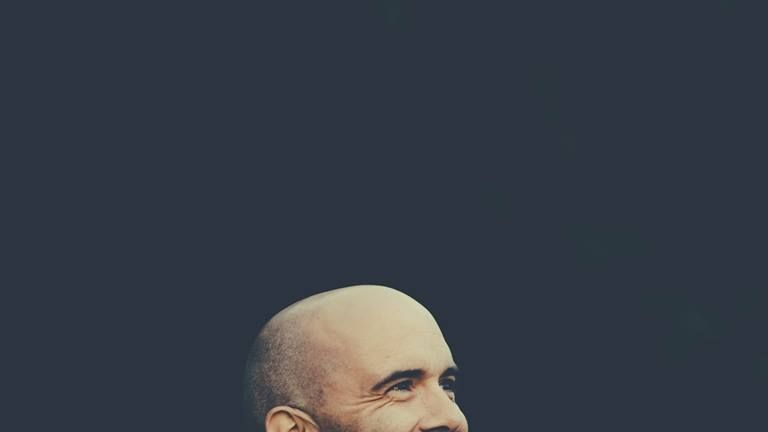 Like a deep-lying schemer who never misplaces a pass but doesn't make headlines, Cian Ciaran is the quintessential underappreciated genius.
Anyone with ears should make time for the Super Furry Animals, with whom Cian is a founding member, and the same can be said of his critically lauded solo material.
His debut album Outside In was one of the best albums released in 2012 and from what we've heard, there's nothing to suggest follow-up They Are Nothing Without Us won't trouble similar lists come December.
Written on guitar rather than piano, They Are Nothing Without Us is, according to Cian, 'a protest album' that is typically uncompromising in its criticism of the powers that be.
If it doesn't sell it'll be a travesty but at least he's got football management to fall back on...
Neville Southall
In terms of going to watch Wales he was a little bit before my time, though I did see him a couple of times. He was a fantastic goalkeeper and a real character. I met him in the box at Gary Speed's memorial, where we (Super Furry Animals) played before the game. He came across as a sound guy. It was a really emotional day and you just feel for his kids and family. He was part of a really great Wales team that went so close to qualifying for a World Cup in 1994, when Paul Boden missed a penalty in the key qualifier against Romania. Dean Saunders, Mark Hughes, Ian Rush, Neville Southall, Kevin Ratcliffe - all great players who should have played at a major international tournament. I imagine Neville would be decent in five-a-side goals. I've followed Wales all over the world down the years. I love an away trip overseas.
Vincent Kompany
Is it boring to have current City players in my team? Vinny has been magnificent since we moved him to centre-half. He was always decent in the middle when we first bought him but since pushing him further back he's become the club's leader. His influence becomes most apparent when he's out injured; he's the calming presence you need at the back. Coming from north Wales it's pretty normal to choose an English club to support and I plumped for City despite my dad, who's from Manchester, being a Red. Daf is a big Liverpool fan. He's somehow managed to get Jerzy Dudek's gloves from the Champions League final, which as far as football memorabilia goes takes some beating!
Diego Maradona
I was going to have Gareth Bale in my five but then remembered I needed to get Diego in at the last minute (in a Take Five first Cian rang us back half an hour after his interview to make a substitution). I need a little bit of rock and roll in my team and who better than Diego? And then there is the 'Hand of God' of course, which is a massive bonus. I loved that after he'd done that and everyone was moaning, he went on to score one of the best goals of all time to underline his genius. A magnificent player who has lived the most unbelievable of lives, all to his own rules.
Sergio Aguero
You can't be a City fan and not put Aguero in your team, can you? He wasn't at his best last season due to injuries but hopefully Pellegrini will get him firing again. He comes across as a players' manager so I'm quietly optimistic. I was a big Bobby Mancini fan though. I was watching that game against QPR at a mate's house, who's also a big City fan. His nine-year-old son was watching it with us and was getting angrier and angrier as City did their utmost to balls it up. When he was coming out with the old 'typical City' line I was trying to reassure him by saying 'we'll do a United in '99'. Did I believe it? No, did I hell. No chance, but I'd mentally prepared myself for disappointment so was ready for it. Then Aguero did his magic and the rest is history. The calmness of his touch in the box and then his explosive finish was something else. It was such an amazing climax to the season, I don't think it'll ever be beaten. Certainly not for City fans, anyhow.
John Charles
What can you say about John Charles that hasn't been said already? The man is an absolute legend. Ask any Welshman and they'll say the same. I don't think we've ever had a better player. Obviously I never saw him play in the flesh but his legend burns as bright as ever. He was a bit of a trailblazer in moving to Juventus and he was loved over in Italy as much as he was in England with Leeds. He was a beast of a man and his goalscoring record is unreal. A proper centre-forward.
On the bench...
Gareth Bale
He's been a bit unlucky but Bale's got the hook. He's a brilliant player but he's not Diego. Yet. It'll be interesting to see how he does out in Madrid. He seems like a really quiet guy, very focused on his football so he should be fine. Him and Ronaldo might need a ball each mind. They'll either be unstoppable or not quite click. Either way, he should have joined Barcelona though; I'm more of a Barca man than Madrid. I met him once (see Twitter picture) when he was in the same restaurant as me in Cardiff. I waited until he'd finished eating before asking for a quick picture. He was sound but didn't say much, I think he was embarrassed more than anything. He might have to get used to the attention in Madrid. To keep Gareth company on the bench I'll have Robin Friday (look him up).
To learn more about Cian's majestic new album click here