Simply outclassed
It is sometimes pointless to criticise the losers when the winners are simply this good. Manchester City were beaten 3-1 at home to Bayern Munich in the Champions League on Wednesday night. Nick Miller admits City were bad, but only because they weren't allowed to be anything else...
By Nick Miller
Last Updated: 03/10/13 4:22pm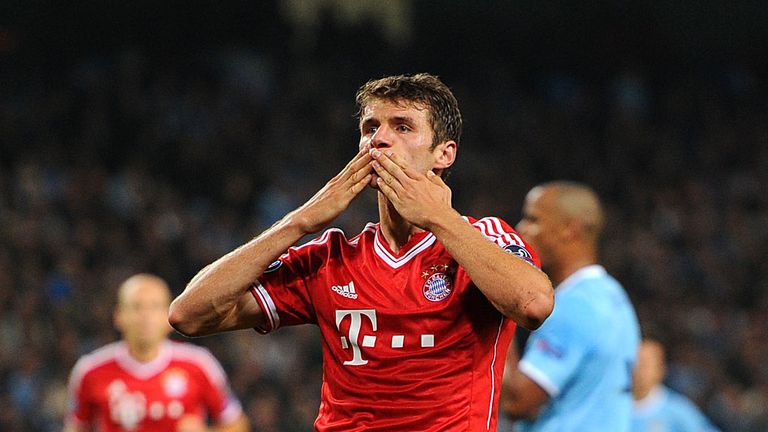 Well, that was comprehensive.
This could be a piece about how long England and even Manchester City can put up with Joe Hart's poor form for. Another couple of mistakes, another couple of shots allowed in at the near post. It was perhaps unfortunate for Hart that his latest iffy showing happened the night after Fraser Forster was so impressive for Celtic. Let's see him play in a serious league before we start talking about him taking over for England, eh?
This could be a piece about City's inconsistency. It's hard to imagine that the team who destroyed Manchester United is the same one that threw away the points against Aston Villa, or the one that were so thoroughly pasted by Bayern.
This could be a piece about Gael Clichy's laughable defending for Thomas Muller's goal. This could be a piece about why Manuel Pellegrini didn't react to being overrun in midfield by introducing another player in there. This could be a piece about any number of problems with the City side.
Missing the point
However, that would be to miss the point somewhat. Bayern Munich simply outclassed Manchester City. They were just better in almost every aspect of the game. It is sometimes pointless to criticise the losers when the winners are simply this good.
The pace at which this game started was frightening, but it did call to mind another match that City were involved in recently. Bayern essentially did to City what City did to United a few weeks ago. Bayern pressed and ran at their hosts so ferociously, right from the start of the game, that it was impossible for the bewildered City players to do anything except perform badly.
It almost seems churlish to pick one player out as particularly exceptional for Bayern, but Bastian Schweinsteiger, before his withdrawal, was exceptional. From his advanced midfield role he poked and probed and was basically at the centre of everything good Bayern did - which was a lot. To throw some stats at you, Schweinsteiger completed 95% of his passes, completed both long passes he attempted, created three chances and made one tackle. He's quite good, and it is perhaps no coincidence that City's best spell of the game came in the 15 minutes after he went off.
Complement
"We didn't expect an easy game like that - I expected a little bit more from City," said Arjen Robben after the game. This may well be true, but of more relevance was his next statement.
"I think it's a big complement to our team," Robben continued. City were bad, but only because Bayern's performance didn't allow them to be anything else.
The Manchester City official Twitter account gave us this remarkable version of events in the closing stages: 'City have created some good chances in the closing stages and on another day might have nicked it!'
Another day, another universe - potato/potato. City were comprehensively outplayed, and while you could view this as an indicator of the gap between City/English clubs and the elite of Europe, you should already know there's quite a gap. This was a pasting, but not necessarily something for City to worry about.
A version of this article originally appeared on Football365