Football Expert & Columnist
Graeme Souness feels Joe Hart was to blame for Manchester City's loss to Chelsea
Graeme Souness says Joe Hart was 100 per cent at fault for the goal that cost Man City at Chelsea.
Last Updated: 28/10/13 3:53pm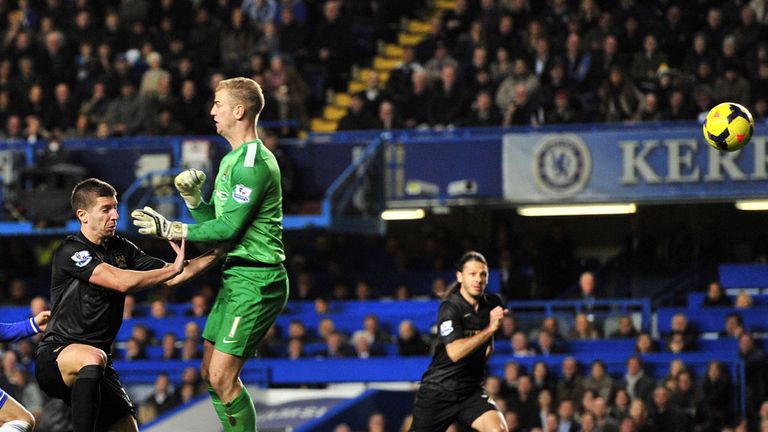 Fernando Torres snatched the late winner in a fascinating match at Stamford Bridge thanks to a defensive mix-up between Matija Nastasic and City's England No.1.
Torres had earlier set up Andre Schurrle brilliantly to put the the Blues in front before Sergio Aguero scored a stunning goal to equalise - Read the full match report here.
After the game, Souness criticised Hart's decision-making on Super Sunday.
He said: "It was 100 per cent Joe Hart's fault. A large part of goalkeeping is making the right decision - when to come for a cross, when to leave your box and Joe's just got it wrong there; he came, he shuffled to go backwards and then came again. Nastasic is watching the ball come out of the sky, it's over his shoulder and he's in complete command.
"Fernando Torres was not on Nastasic's shoulder, there was no pressure. These are all things Joe Hart should have seen, if he stays it's just a simple, simple header back to the goalkeeper. It's hard to put on Joe because he's having a difficult season but I'm sorry, we're here to call and it's his fault today."
Title contenders
The win puts Chelsea up to second in the table, but even though City lost Souness believes these are the two teams who will challenge for the title.
"I thought it was a really, really good game of football. I think we saw the two best teams in England right now," he added.
"You can talk about Arsenal's tiki-taka football, you can talk about Liverpool right now being impressive, but I think these two teams can win ugly. I think these two teams have the best group of players and I think if you're going to win the Premier League this year you're going to have to finish in front of both of them.
"I think today is the perfect example of why Chelsea will challenge for the title, it's a game they shouldn't have won and they've gone home with the three points.
"They weren't the best team today but they've won the game because when they were inferior in the first half they've dug in, they hung in there. They worked their socks off to make sure the City midfield weren't dominant.
"Jose Mourinho can win games that he doesn't deserve to. He did that when he was here the first time in England, he did it in Italy and he'll do it here again this time around. It makes him quite a potent force."
Terrific Torres
Fernando Torres made one and scored one in a hard-working performance which left Souness impressed.
"Today, he took part in the game and was doing the right things for most of the game," he said.
"As a striker you're judged in black and white terms where you've played so many games and scored so many goals, but he took part in the game and did his bit for the squad.
"Maybe that's the difference that Jose Mourinho is getting out of him. If he's not scoring goals he's a threat. If he's not scoring goals he's trying to put pressure on for a team-mate.
"I used to come here (Stamford Bridge) and would leave thinking 'what did Fernando Torres do today?' But you wouldn't say that about him today. The centre-backs and the two defenders for City knew he was a danger today.
"Torres has had good managers before. Part of being a good manager is psychology, you've got to understand how the player thinks. Now there's been good managers here before that have not got anything from him, but as he (Mourinho) reminds us constantly, he's the Special One."