Moyes momentum?
United on a run? Jose on top? Saints on the march? City's defence and the SAS. We look at the key Premier League issues ahead of what promises to be another fascinating weekend
By Adam Bate, Daniel Storey and Nick Miller
Last Updated: 01/11/13 3:53pm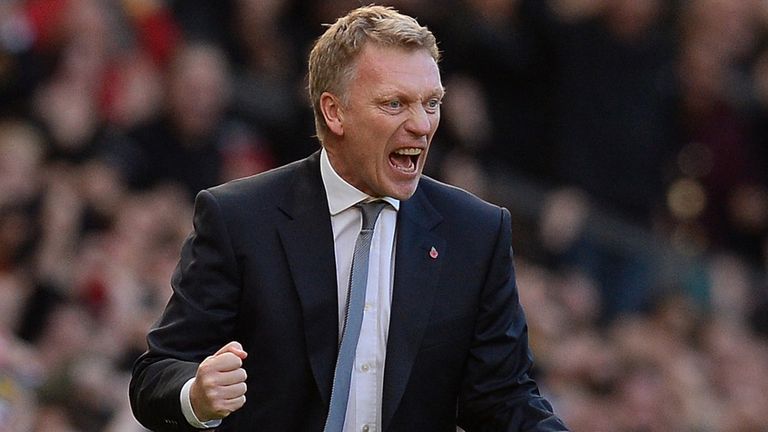 Mourinho knows best?
Chelsea finished third in the Premier League last season, 14 points adrift of Manchester United. While money was spent in the summer, it was a fraction of Manchester City's spending. A look at the current standings shows Arsenal in top spot. And yet, nine games into the season it is the Stamford Bridge club installed as the favourites for the title. That's the Jose Mourinho factor. After question marks over his handling of Juan Mata, Chelsea are now on a roll having won eight of their last nine games including six on the bounce. Even Fernando Torres has found his form. A win at Newcastle could well take the Blues top and frontrunners don't come any better than Mourinho.
Read more on why Mourinho deserves the credit for Chelsea's status as favourites here
Title rivals?
Arsenal and Liverpool have been reviving memories of their title battles of a generation ago with their early season form but doubts remain about the staying power of the two teams. The Gunners' home defeat to Chelsea in midweek highlighted the squad depth of their rivals, while Liverpool's hopes seem squarely on the shoulders of strike duo Luis Suarez and Daniel Sturridge. With an astonishing 10 goals between them in their last four games, the pair are in fantastic form and it seems certain we will find out more about Arsenal's defence at the Emirates on Saturday.
Read more on Liverpool and Arsenal's title hopes in our full-length feature here
And some thoughts on Sturridge's renaissance with the Reds here
Momentum for Moyes?
Patrice Evra may have claimed that Manchester United need to win 10 games in a row before they can be satisfied their form has returned but one suspects David Moyes will be relieved to be on a run of three consecutive victories and six undefeated in all competitions. The pressure never goes away at United, however, and anything less than a win at struggling Fulham this weekend will put the spotlight firmly back on the Scot. Two goals from Javier Hernandez in midweek had assistant Steve Round hinting at the possibility of a three-pronged attack but United fans might be more worried about an old favourite - Dimitar Berbatov - stealing the show at Craven Cottage.
Jol under pressure
"I don't feel pressure because we're not bottom of the league, there are six or seven other teams on similar points and lower."
Martin Jol's dismissive answer following Capital One Cup defeat at Leicester City was rather transparent. Whilst he may claim to not feel the pressure, that is no indication that such pressure does not exist. Since an impressive ninth-place finish in his first campaign at Craven Cottage, Fulham finished 12th last season, only seven points from the drop, and are now just two points ahead of the bottom three. They have beaten one top six side since January 2012.
The worry for Jol is not just that Fulham have a new owner in charge (who is presumably less than impressed), but that his side looked limp, lacklustre and lacking fight or desire. At a time when the manager is the favourite to be the next Premier League manager to lose his job that's a rather worrying scenario. Still, only Manchester United and Liverpool to come in their next two games.
Crowd pleasers
Andre Villas-Boas was critical of the White Hart Lane crowd last weekend but it should be noted that he was rather more positive about the away support. Tottenham have won three of their four matches on the road and appear to have more joy when the opposition try to come out and play rather than rely on stoical defending. That should make for an entertaining contest with an Everton side impressing under Roberto Martinez. No Premier League team has lost fewer games than the Toffees and they can overtake the visitors with three points here. That would really get the Goodison Park faithful dreaming - And make for more murmurs of discontent back at Spurs.
Read more on why Tottenham fans are finding it hard to fall in love with AVB's side here
City defence
Costel Pantilimon's two-hour shut-out of Newcastle in the Capital One Cup in midweek has heaped further focus on Joe Hart in the Manchester City goal but he's not the only one responsible for the defensive doubts at the Etihad Stadium. Manuel Pellegrini has put the emphasis on a more attacking game and while Sergio Aguero shines, issue at the back refuse to go away. With Joleon Lescott out of favour and question marks over the pace of Javi Garcia and fitness of Martin Demichelis, it's a big ask for young Matija Nastasic to hold the defence together in Vincent Kompany's absence. No slip ups will be tolerated at home to Norwich on Saturday.
Read why it is inexcusable for Man City to be missing Kompany so badly by clicking here
And why the statistics do not make good reading for Hart over the past two seasons here
Can Saints go marching in?
Mauricio Pochettino continues to impress at St Mary's and his Southampton side are the surprise package in the top six, above both Manchester clubs. It's no fluke either with Gary Neville pointing out they are the best organised team in the division - a view supported by the fact that they have the best defensive record with just three goals conceded so far this season. A trip to the Britannia Stadium to face Stoke is rarely an easy one but with no team having scored fewer goals than Mark Hughes' side, concerns remain over the ability of the Potters to find the net. Victory for the away side is far from unthinkable and could lift Saints to as high as second in the table.
Where's Sparky's spark?
2012/13 - After nine games Stoke had nine points. They had scored eight goals and conceded nine.
2013/14 - After nine games Stoke have eight points. They have scored six goals and conceded ten.
It's all very well promising football of a more expansive, attractive and watchable nature, but at the lower end of the table success comes down to points and goals, both scored and conceded, and in all three of those Mark Hughes is falling short of his expectations. Stoke may have scored and led twice at Old Trafford last weekend, but the end result was the same as in three of their four previous league matches - no points gained.
The case for the defence can point to games against Liverpool, Manchester City, Arsenal and Manchester United, but the counsel for the prosecution is now clearing its throat. Home games against Southampton, Sunderland and Cardiff in the next month may define Hughes' immediate future.
Overdue goal for Anelka?
West Brom have taken up their now customary position in the middle of the Premier League table and will be looking to move into the top half with three points against bottom club Crystal Palace at the Hawthorns on Saturday. But one of the problems thrown up by the Baggies' burgeoning status as Premier League perennials is an embarrassment of options and Steve Clarke doesn't seem to know his best team. Nicolas Anelka has had his manager's faith so far but no goals in seven games leaves Victor Anichebe, Shane Long and Matej Vydra pushing for the chance to lead the line. Someone will hope to stake their claim against the second leakiest defence in the league.
Read our analysis of Anelka's struggles in front of goal by clicking here
Crunch time for Palace
There's a rumour doing the rounds that Palace might not be able to appoint a new manager until the international break. That's another two weeks and two league games before a new man is at the tiller, which seems rather silly. While November is a very early time to be writing off seasons, if their losing run continues for much longer (current count: six) then it'll be a 19-team Premier League before long, with one simply travelling around the country playing glorified exhibition games, like a terrible Harlem Globetrotters.
West Brom away obviously isn't an easy game, particularly for a side as bad as Palace, but it is most definitely under the banner of 'winnable'. Indeed, this starts a run of games that could easily be filed in that particular, erm, file. After the Baggies they host Everton, but then it's Hull, Norwich, West Ham and Cardiff. A couple of victories from that lot and the teasing pinprick of hope might start to get a little brighter.
Poyet's push
Watching their team snap into tackles and show such endeavour in their win over Newcastle last weekend must have been a sight for sore Sunderland eyes. But delivering a committed performance in the cauldron that is the Stadium of Light on Wear-Tyne derby day is one thing, repeating it week in week out quite another. And that's what the Black Cats require such is the perilous position. Hull's only four defeats this season have come against Chelsea, Manchester City, Tottenham and Everton so Gus Poyet won't be expecting an easy game against Steve Bruce's side. Especially when the former Sunderland boss has a point to prove.
Away day for Lambert
Aston Villa have already lost four home games this season with their only win in front of their own fans coming against Manchester City. Perhaps this is a product of the counter-attacking style of Paul Lambert's team - they're happier when the opposition are making the running. Their only defeat on their travels was an unfortunate 2-1 reverse at Chelsea so a trip to West Ham should offer hope. Not that a team who've lined up in a 4-6-0 formation for their last three Premier League games can be relied upon to force the issue. Will it be a cagey affair at Upton Park?
Welsh derby hits the top flight
The Premier League welcomes its first ever Welsh derby, but with it being played at the slightly questionable time of 4pm, one suspects any holiday requests for Sunday within South Wales police will have been filed in the folder marked 'Not On Your Sodding Life Sunshine'. Supporters' clubs of both teams have released messages urging for calm using all the right words - showcase, right reasons, great rivals, played in the right spirit - but let's just say that we'll keep our fingers crossed. Meanwhile, Swansea's Leon Britton summed up the on-field worries rather succinctly: "There have been a few sendings-off in recent games, but not too much trouble or 22-man brawls." Boasting about a relative lack of fights involving every single player on the pitch does paint a rather ominous picture.
Read Jamie Carragher's thoughts on some of the Premier League's iconic Welshmen here