Football Expert & Columnist
Redknapp on Man Utd v Arsenal, Sunderland v Man City & Spurs v Newcastle
Jamie Redknapp gives his view on the main talking points from a thrilling Super Sunday hat-trick.
Last Updated: 10/11/13 8:17pm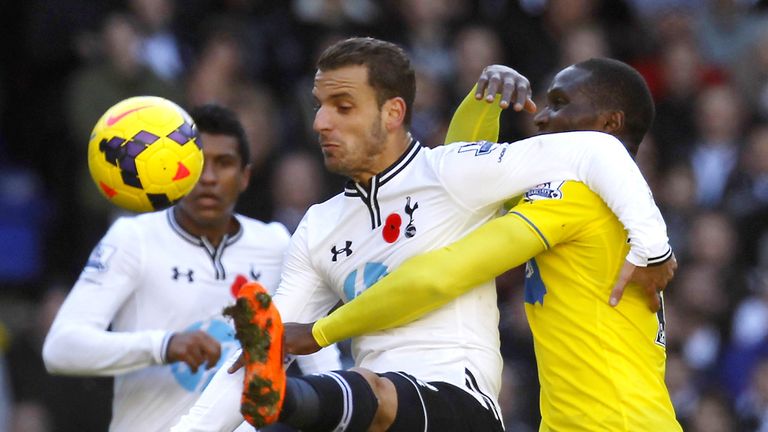 Tottenham 0-1 Newcastle
Krul stops Spurs
I don't think the Europa League was to blame for Tottenham's loss because if it were, how would you produce the second half of football that they did?
They pretty much battered Newcastle and if it wasn't for Tim Krul they'd have got a result, so no I don't think Europa league is an excuse.
Tottenham have got a huge squad, they've spent vast amounts of money, I just don't think the team are performing well enough. I think they're over-reliant on Andros Townsend and unless he's going to cut in and score from 25 yards you actually look at Spurs and think - where are they going to open the door? Where's that little bit of imagination that they've had so often?
It hasn't really happened for Christian Eriksen, does Erik Lamela get a game now - for £30million you expect him to get on the pitch at some stage. Soldado needs the right kind of service and the balance isn't right in the team.
Sunderland 1-0 Manchester City
Sloppy City outdone by defiant Black Cats
I think you have to question the attitude of the Man City players really.
I think the City players must think when they go away they're just going to turn up and play and teams will roll over - it just doesn't work like that.
Yes they're missing David Silva, of course they miss Vincent Kompany but they still have so much money you expect so much more from their players.
You could have given the Man of the Match award to any of the Sunderland players in a red and white shirt, they were amazing. They played football under pressure, they dug in and rode their luck at times.
But it wasn't the same as the Tottenham game where it was chance after chance after chance. I think Sunderland defended brilliant and as I said before the game: Can Wes Brown and John O'Shea handle Negredo and Aguero?
The answer was yes and it was emphatic and an amazing result for them and one that gives them a real chance of survival.
Man United 1-0 Arsenal
Rooney shines and steps up United's season
Wayne Rooney was magnificent.
I think when you need someone to step up, set the tempo, chase lost causes also add that bit of quality bringing people in to play, and he's the man.
I think he epitomised everything that Manchester United did well today.
There were a lot of question marks at the start of year - will this affect him with what's going on contractually?
But if I was Manchester United I would get him signed up as quickly as possible because in a year's time he can start talking to other clubs and there is still a lot of good football in that man - there really is. He was the leader of that team.
Arsenal really struggled to contain Rooney and Van Persie. Rooney has been so good for Manchester United this season, because they haven't been vintage - even today they struggled and had to defend and really dig in but he was there 'go-to' man.