Glenn Hoddle
Football Expert & Columnist
Bayern Munich v Man City: Scratching our heads at Pellegrini's decision, says Glenn Hoddle
Glenn Hoddle was baffled by Manuel Pellegrini's substitution choice in Man City's win at Bayern.
Last Updated: 11/12/13 10:55am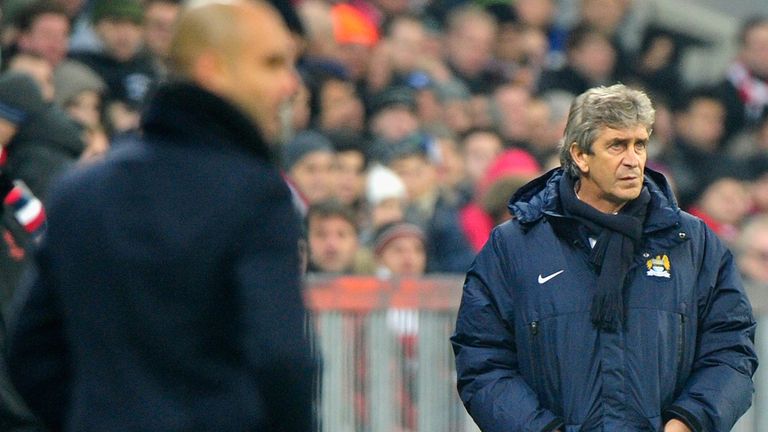 Pellegrini appeared to be unaware that City needed only one more goal against the reigning champions to top their UEFA Champions League group and decrease their chances of drawing one of the top sides in the next round.
Finishing second means City could now face Real Madrid, Barcelona, Paris St Germain or Atletico Madrid in the last-16 in February, the draw for which takes place next Monday.
Sky Sports expert Hoddle couldn't believe that the City manager would rest players for the final part of the game for the sake of their Premier League clash with Arsenal at the weekend.
Read the full match report here
Hoddle said: "We're all scratching our heads after it goes 3-2 as to why he hasn't put Aguero on for the 4-2 win and make them top the group. That was the real key for me.
"I said during the game, 'Does he understand that 4-2 gets him through?' because at that stage there was no urgency to make the substitution.
"And when he said that 'if it went to 4-2' I'd have put Aguero on', you're thinking he thinks it's a three-goal difference.
"For 10 minutes of football he could now draw Real Madrid."
Strange
City came back from an early two-goal deficit thanks to goals from David Silva, Aleksandar Kolarov and James Milner in a match Hoddle described as 'strange'.
"Milner deserved his goal," added Hoddle.
"It was a strange game because they showed a lot of character. Did they really step up a gear in the way that they played, I'm not so sure? They kept at it, though.
"I thought Bayern Munich were so complacent.
"If Guardiola was really disappointed with his own team when they won 7-0 at the weekend (at Werder Bremen), then tonight he's going to be absolutely down their throats in that dressing room and rightly so because they got complacent and that's unusual for them to do that.
"Their defending was horrendous on the night and, to be fair, when they came City took their chances."